Brazilian World Cup Protesters Decry Perceived Corruption Of Their Beloved Game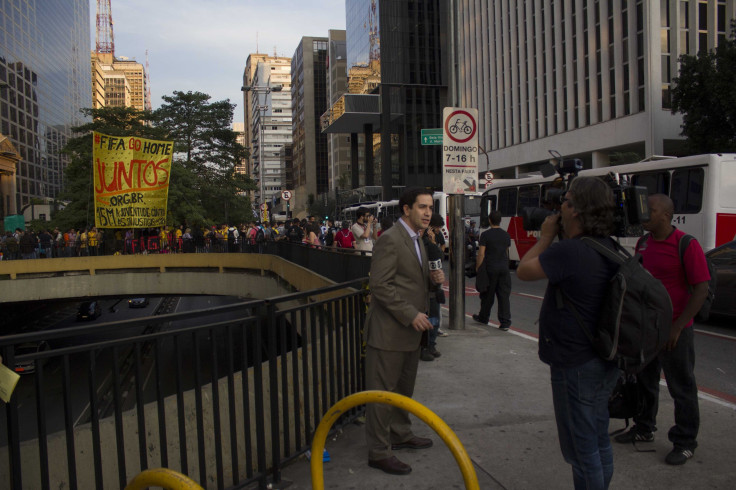 SAO PAULO – On the surface, last week's anti-World Cup protest in Brazil seemed antithetical: Soccer fans in a soccer-obsessed country protesting soccer, of all things.
In fact, protesters took to the streets on Thursday to express their displeasure over the perceived corruption of their national pastime by the World Cup. Among the affronts: Brazil's new anti-protest laws, the squandering of $3.6 billion on over-budget stadiums, and even a FIFA-mandated food and beverage plan that will eliminate traditional soccer stadium fare -- cheap soul-food dishes such as pernil, a pork dish, and tropeirão, a mix of bacon, cornmeal and beans.
The General Law of the Cup, passed by the Brazilian legislature with lobbying from FIFA, mandates that only World Cup sponsors are allowed to sell inside stadiums and immediately adjacent to them, which restricts street vendors from wide swaths in Brazil's 12 host cities. As a result, fans will be limited to food and drink provided by Burger King, Budweiser and Coca-Cola.
"This contrasts to 20th-century-era Cups," observed Alexandre Machado de Rosa, a presenter at last week's 2nd Annual International Soccer Symposium at the University São Paulo. "The World Cup of 1930, for example, was an opportunity to get to know the local tradition. Visitors ate Uruguayan things and partook in Uruguayan culture. In 2014 that's not the case; FIFA homogenized the World Cup."
Beyond the food, Brazilian sports columnist Márvio dos Anjos lamented to IBTimes that FIFA requires stadiums to eliminate standing-room-only seats that typically go to the poor.
The second day of the soccer symposium coincided with a massive protest last Thursday at a major intersection a few miles away from the university. During the day, protesters assembled signs and prepared a light projector, and when darkness fell, they blasted their a manifestos against a 12-story building, slide-by-slide in five-foot-high letters.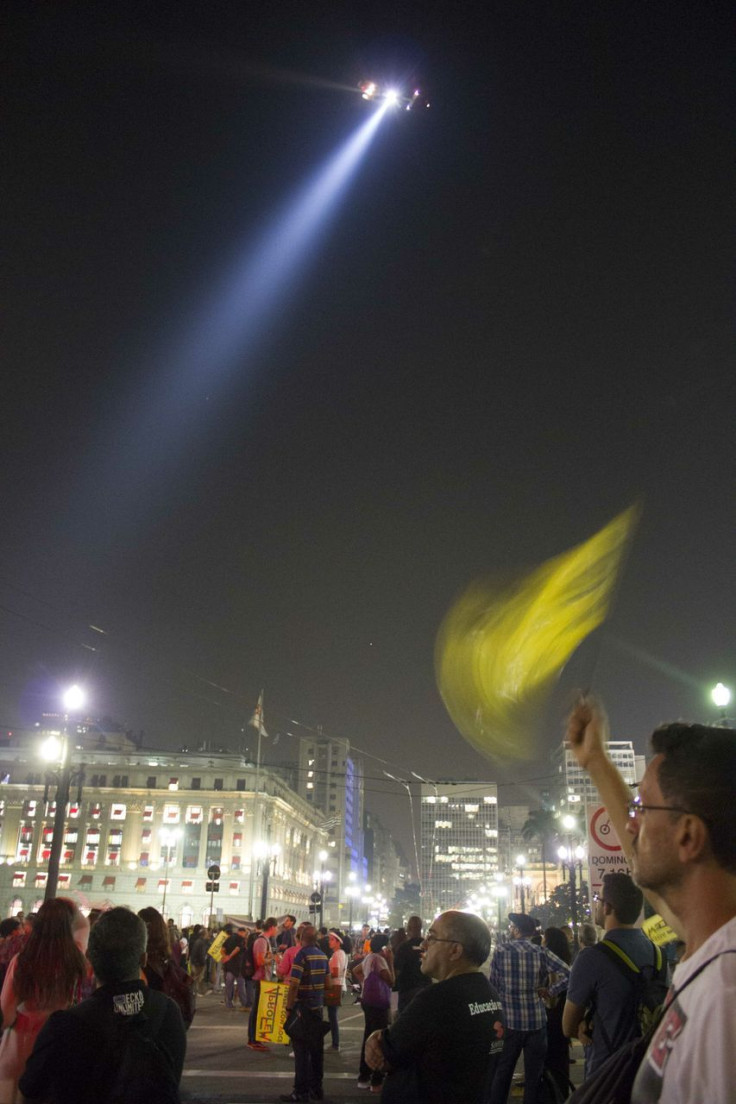 "FIFA are terrorists," read one slide. "Who's the Cup really for?" read another. Despite a peaceful beginning, the protests ended in clashes with police, vandalism and violence.
Jorge, an accountant on his way home from work who gave only his first name, criticized the protesters' past tactics and called for tougher security measures. "There are many problems in Brazil, and I agree with the protesters' criticisms. But they shouldn't break things, and the police should stop them," he said.
As the evening progressed, some protesters overturned a police guard cabin and set garbage on fire.
Though many do not share the same philosophies about civil disobedience, the feeling that the World Cup has gone off course has brought together a diverse array of groups in much the way a hodgepodge of ingredients makes up feijoada, Brazil's national dish. "Last year," noted Gilmar Mascarenhas de Jesus, another speaker at the soccer symposium, "it was a leftist movement, but it's grown. Now, it includes a broad spectrum, from anarchists and punks to the most pro-dictatorship and pro-authoritarian."
The 2013 protests were sparked by a rise in bus fares. This year the World Cup vies with upcoming fall elections for popular disapproval, and in many ways has become synonymous with anti-government and anti-globalization politics.
At last week's protest, the youth advocacy group Juntos erected a yellow banner with the hashtag #FIFAgohome. Thiago Aguiar, organizer and co-founder of the group, said that underlying the World Cup protests were deeper problems. Brazil, he said, "lacks direction. The majority of us hoping for an expansion in public spending for improved health care and education. [The World Cup only] brings profit and gain to big companies. We youth are questioning who's profiting from the World Cup, and questioning the limits of our democracy."
In another section of the protest, an elderly man held a white sign with red letters calling for a boycott of the Cup.
Aguiar disagreed with that approach.
"Brazil is a very hospitable country and everyone is welcome here," he said. Instead of a boycott, he added, "The world should question the machinery of FIFA. What FIFA did here it already did in South Africa, it's going to do it in Russia [in 2018] and in Qatar [in 2022]. It's a machinery that works against the poor and against governments."
© Copyright IBTimes 2023. All rights reserved.