Brazil's Students Occupy Schools In Rio De Janeiro To Protest Conditions Ahead Of Olympics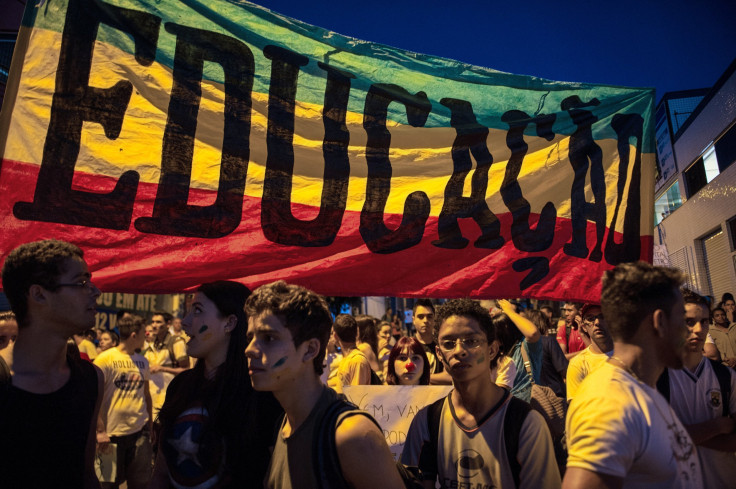 The International Olympic Committee has a square white clock on its website counting down the days to the Olympic Games in Rio de Janeiro this summer. But in the Brazilian state itself, a group of young activists is counting up the number of days they've occupied their schools to protest for better learning conditions.
For more than a month, students have been camping out in more than 70 schools in 23 cities across the state, which is home to about 16 million people. They are demonstrating mainly regarding concerns with school infrastructure and education quality, according to HuffPost Brasil. This includes problems ranging from broken toilets to overcrowded classrooms.
"They say they have no money, but what they really mean is no money for education," Arthur Cesar, a protester at Gomes Freire de Andrade high school, told the Global Post. "Public schools are seen, basically, as society's trash. Wherever the politicians can take money out of the budget, they're going to take it."
Brazil's economy is in dire shape. After growing by about 4 percent in 2011 and 3 percent in 2014, it shrank 3.8 percent in 2015 — its worst decline in 25 years, according to the Guardian. It was hit hard by low oil prices and political scandal surrounding President Dilma Rousseff, who has been accused of covering up the deteriorating state of the economy in order to win re-election. She may soon be impeached for her involvement.
Education funding was on the upswing nationally before Brazil's recent economic troubles. From 2000 to 2008, expenditures per student rose by 121 percent, according to a report from the Organisation for Economic Co-operation and Development.
More recently, the state education department had a debt last year of 166 million reals, or $46 million, O Globo reported. By contrast, the government is funding the Olympics to the tune of about $2 billion, according to USA Today.
The students argue cuts to the education system have left them without textbooks and unable to access libraries. Classrooms don't have air conditioning, and guards have been laid off. Humanities classes have been canceled, and teachers have been forced to teach up to 70 students at a time, Rio on Watch reported.
"The students are the first to suffer the consequences of Rio's complete lack of investment in education," teacher Cristiane Ferreira told the website. "As teachers, we did not initially support the movement because we are very afraid for our students' physical well-being ... but we do believe that they are right to protest."
The students have their instructors' support in part because the teachers are striking, too. Since early March, thousands of staff members have been protesting their low wages and deteriorating pension system.
In occupied schools, students are doing some of the needed maintenance on their own. At Amaro Cavalcanti, they painted the restrooms, O Globo reported. They are also receiving food and water donations so they are able stay in the schools.
Student João Victor told Rio on Watch it is frustrating to see government officials prioritize visitors over citizens. "The reality is this: There are students sleeping on the floors of their high schools, fighting for their right to study," he added.
The state education department has responded to student and teacher demands with various proposals and offers to negotiate, but the occupation stretched on this week. And not everyone is in favor: R7 Noticias reported Wednesday that a group of counterprotesters held a march to request that the students vacate the schools and stop "squatting."
"I think they are hurting us," high schooler Cindy Carolina Bazoli Caetano told R7 in Portuguese, adding that she couldn't take her exams because she couldn't access the school buildings. "They are supporting the teachers? We are too. ... We would gain much more civilly and have more results from staying in school than preventing students and teachers who want to study and teach from entering."
© Copyright IBTimes 2022. All rights reserved.
FOLLOW MORE IBT NEWS ON THE BELOW CHANNELS