Brexit: David Cameron To Step Down After Historic Referendum To Leave EU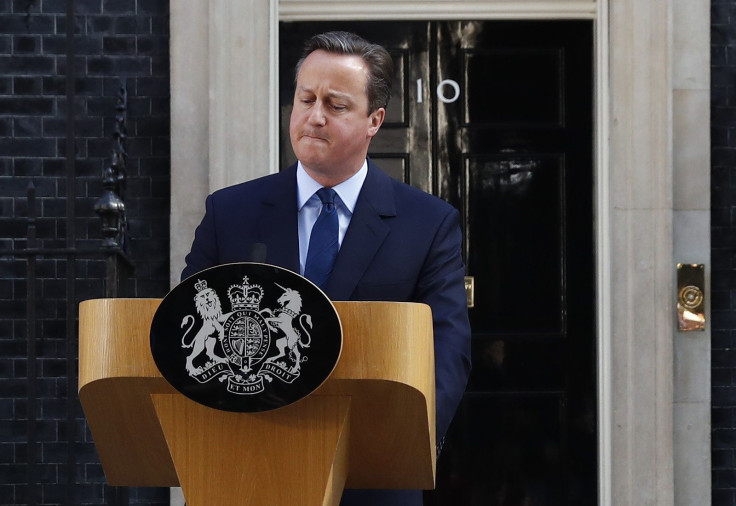 UPDATE : 4:37 a.m. EDT — British Prime Minister David Cameron's resignation has elicited reactions from across the political spectrum in the U.K., with many calling it the "honorable" and "decent" thing to do. Cameron, many of whose colleagues in the Conservative Party had gone to bat for the "leave" campaign, announced his resignation following a crushing defeat for the "remain" campaign in Thursday's historic referendum.
"I think the PM would have been the best person [to negotiate], but it's his decision, it was the honorable decision, now we've got to get on and make this work," British Defense Secretary Michael Fallon told the BBC, adding that it is "a bit too early" to begin speculating who the next prime minister would be.
Labour leader Jeremy Corbyn, who is now facing criticism from many within his party for not doing enough for the "remain" campaign, also praised Cameron. "I want to thank David Cameron for the work he's done on social issues in Britain. ... I do think he needs to be recognized for that," Corbyn said.
Meanwhile, U.K. Independence Party leader Nigel Farage, a staunch supporter of Brexit, welcomed Cameron's resignation.
UPDATE: 3:25 a.m. EDT — British Prime Minister David Cameron announced Friday that he will step down as prime minister by October. "I think the country requires fresh leadership. I do not think it would be right for me to try to be the captain that steers our country to its next destination," Cameron said. "There is no need for a precise timetable. I will continue in post for the next three month."
Original story:
British Prime Minister David Cameron "remains the prime minister and will carry out the instructions of the British people," the U.K.'s Foreign Secretary Philip Hammond, who backed the "remain" campaign, said Thursday, after the British public voted in favor of leaving the European Union. The non-binding referendum saw the "leave" campaign garner 52 percent of the votes against "remain" group's 48 percent.
England and Wales voted strongly for Brexit, while London, Scotland and Northern Ireland voted in favor of staying within the 28-nation bloc. However, the U.K. will not leave the EU immediately, sticking with it for at least two years even if Cameron invokes article 50 of the Lisbon treaty — the provision that represents a formal notification of a decision to leave.
"[The government's job is to] get on with that decision, protecting the economy and doing all we can to get the best outcome for Britain," Hammond reportedly said. "What the country needs now is a sense of continuity and stability."
Although Cameron has, throughout the campaign, stated that he plans to remain in the office, many believe his pro-EU stance may make his position untenable. And, even if he decides to quit, he may still stay on as the prime minister while resigning as the head of the Conservative Party — many of whose members backed the "remain" campaign.
Cameron has already begun facing calls to resign immediately from leading advocates of the "leave" campaign. Nigel Farage — the leader of the U.K. Independence party — said it is "very difficult" to see how Cameron could stay on as the country's prime minister.
"The first thing we have to do is have a government that is committed to Brexit. That is absolutely key. I think it is very difficult for [Cameron] to stay on as prime minister given that he involved himself so heavily in the campaign, told us that dreadful things would happen to us if we were to leave, recession, threats of war and all the rest of it," Farage reportedly said. "I find it difficult to believe that he could become a Brexit prime minister. I might be wrong, but I doubt it."
The British prime minister is scheduled to address the nation later Friday.
© Copyright IBTimes 2023. All rights reserved.
FOLLOW MORE IBT NEWS ON THE BELOW CHANNELS