Brian Laundrie Search Update: Sketch Artist Gives Clues To Help Identify Gabby Petito's Fiancé
KEY POINTS
Lois Gibson shared six new sketches of what Brian Laundrie might look like now
She holds a Guinness World Record for most identifications by a forensic artist
She said she believes Laundrie might have changed his appearance
A famous sketch artist has released new portraits of Brian Laundrie which she thinks could help identify and locate Gabby Petito's fiancé.
The extensive search for the 23-year-old has been going on for three weeks with no concrete clues about his whereabouts. Lois Gibson, who is arguably the world's greatest forensic artist, shared six new sketches of what Laundrie might look like now on News Nation Now's "Banfield" show Monday. Gibson claimed it was likely that Laundrie might have done something to change his appearance in order to evade capture.
"I've got my opinion, having worked murders for 39 years," Gibson, who holds the 2017 Guinness World Record for most identifications by a forensic artist, said on the show. "This is what I think he would do."
"He (Laundrie) has like super distinctive facial hair," Gibson said. "It's incredibly distinctive. So if I were him, I would shave."
She also added Laundrie has distinctive teeth, which could be used to recognize him. She suspects he will have "too much sun" and has likely lost weight. Among the two main things that criminals use for disguise are a ball cap and sunglasses, claimed Gibson.
The search for Laundrie continued Monday with the FBI and other law enforcement officers trying to locate him. Investigators are waiting to question Laundrie in connection to the death of his fiancée, whose remains were found in a national forest in Wyoming on Sept. 19, nearly three weeks after he returned to his parents' home in Florida alone on Sept. 1.
Over the weekend, a hiker told authorities he believes he saw Laundrie near the Appalachian Trail.
Meanwhile, Laundrie's sister Cassie opened about her brother's disappearance saying she doesn't know if her parents are involved in any way in the case. "We are just as upset, frustrated and heartbroken as everyone else," Cassie said, according to News Nation Now, while talking to protesters outside her home in Florida on Monday night.
"I'm in the boat where I'm getting ignored by my family and thrown under the bus by my family's attorney," she said, while slamming the family's attorney, Steven Bertolino.
More details about the Petito case can come to light when television personality Dr. Phil McGraw interviews her family. The conversations, which air this week on the daytime program "Dr. Phil," will detail about their grief, plans for her "legacy," and insight on where they think Laundrie is hiding.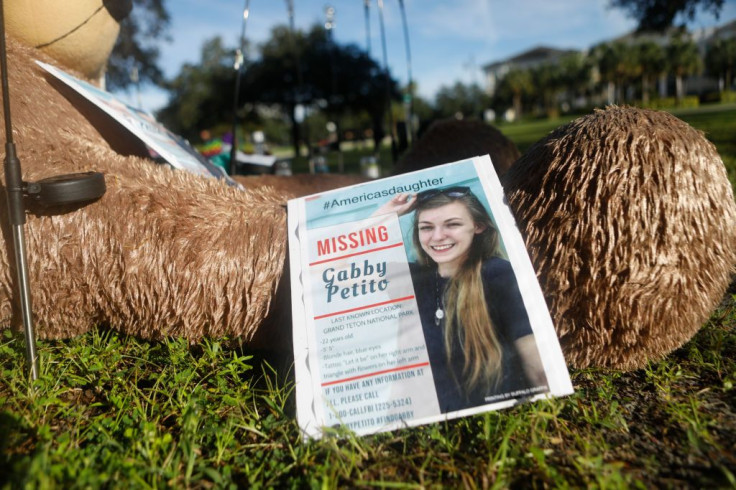 © Copyright IBTimes 2022. All rights reserved.
FOLLOW MORE IBT NEWS ON THE BELOW CHANNELS