Brian Laundrie Update: Family Could Face Charges Amid Suicide Confirmation, Ex FBI Agent Says
KEY POINTS
It was confirmed Tuesday Brian Laundrie died by suicide using a gun
A report claimed his parents handed over all firearms to the authorities, except one
A month ago Laundrie's remains were found at a Florida preserve
Brian Laundrie's family could find themselves in legal trouble after it was confirmed the 23-year-old died by suicide.
Ex FBI agent Jennifer Coffindaffer spoke to NewsNation Now Thursday about the possibility of charges against Chris and Roberta Laundrie. "I think the Laundries have possible culpability under 18 U.S.C. 3, which is accessory after the fact, and possibly 18 U.S.C. 1519, which is obstruction in terms of if they tampered with any evidence after that crime was committed," Coffindaffer said.
Forensic scientist Larry Koblinsky also believes Laundrie family members could be in hot waters soon.
"The likelihood is that [Brian Laundrie] didn't do this alone," Koblinsky said. "He may have had assistance. And whoever did help him can be penalized, can suffer legal consequences for aiding and abetting his escape."
The attorney representing Laundrie's family confirmed Tuesday an autopsy showed Gabby Petito's fiance died of a self-inflicted gunshot wound to the head.
"The family was asked to not make any comments and let the FBI continue their investigation. The family was also asked to wait for the United States Attorney's Office to make a determination on whether any additional individuals will be charged," Petito's family said in a statement.
Concerns about the Laundrie family grew after a report stated four days after their son went missing from his house in North Port, Florida, his parents reportedly handed over all firearms to the law enforcement, except one that was missing.
"While law enforcement was at the Laundrie home on Sept. 17 to complete the missing person report for Brian, we volunteered to surrender all guns in the home to avoid any possible issue going forward," Laundrie family attorney Steve Bertolino was quoted by New York Post. "While retrieving and taking inventory of the guns, it was realized one pistol was missing."
Laundrie, 23, was reported missing after authorities found Petito's remains at a national forest in Wyoming. Petito's death was ruled a homicide by manual strangulation, and Laundrie was determined to be a person of interest in her disappearance.
A month ago Laundrie's remains were found at a Florida preserve after weeks of searching for him. At the time, the autopsy came back inconclusive and was sent to an anthropologist for further evaluation.
Meanwhile, Petito's stepfather Jim Schmidt paid Thanksgiving tribute to his family, including their late daughter, his mother and grandmother whom he lost in the same year, Thursday.
"Went to visit mom today. Our first thanksgiving without her, grandma, and Gabby. I miss you all immensely," he tweeted. "I know you are all together watching over us. Life is truly a gift and love every minute of it. Be present in every moment with your family, and live life to the fullest."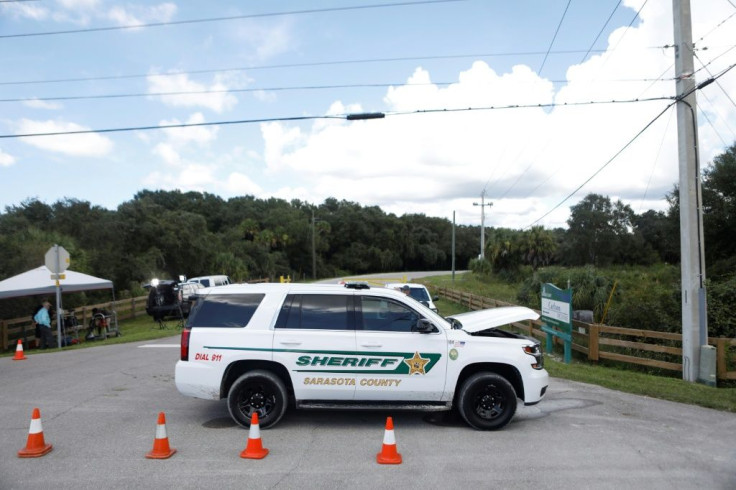 © Copyright IBTimes 2023. All rights reserved.