British Volunteer Aid Worker Alan Henning Threatened By ISIS In New Video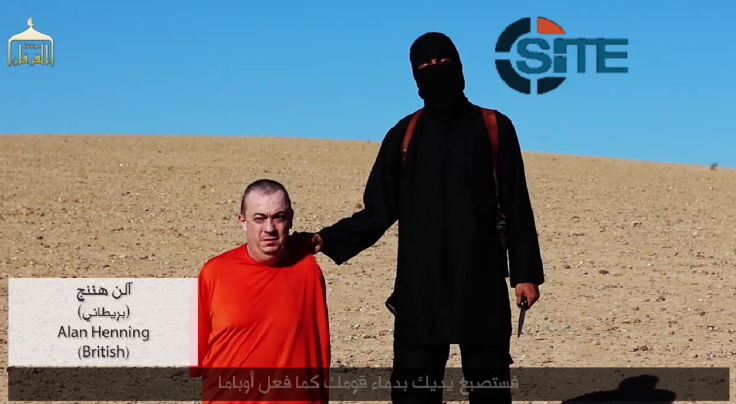 Alan Henning, the second British hostage being held by the Islamic State group, is a volunteer aid worker who left his job as a cab driver in England to deliver supplies to refugees fleeing the Syrian civil war, according to media reports.
Islamic State released a video on Saturday allegedly depicting the beheading of David Haines, who was also a British aid worker. At the end of the video, which was similar to those that showed American journalists James Foley and Steven Sotloff being killed, the Sunni Islamist group threatened to kill Henning next.
Alan Henning, a 47-year-old father of two from Manchester, was kidnapped by fighters loyal to the Islamic State, formerly known as ISIS, in December last year after travelling to Syria to deliver humanitarian aid to locals displaced by the civil war, according to a Daily Mirror report. The report added that it was his second trip to Syria in 2013.
"He described how he had been there before, how he had visited a refugee camp, and had quite a life-changing experience," BBC journalist Catrin Nye said. "He said ever since he had got back things had not quite been the same…It had really touched him and he had a real desire to go again and help."
Henning, who reportedly had no formal training for the role, was part of a group of volunteers who were raising money to purchase medical equipment, including ambulances, for a hospital at Idlib in northwest Syria, The Guardian reported. He was reportedly seized just beyond the Turkish border with Syria when a convoy of ambulances carrying food and medical supplies was ambushed.
After being captured, Henning was lodged in a jail in Al-Dana, a town in the Islamic State stronghold in northern Syria, Dutch journalist Harald Doornbos, who interviewed a Syrian prisoner lodged in the same prison, said on Twitter.
Doornbos added that Henning was later moved to the city of Raqqa, which is currently also under the control of Islamic State. Since then, The Guardian reported, the Henning family and the British Foreign Office have been involved in behind-the-scenes attempts to negotiate his release.
"Henning was told not to go to Syria… but insisted on going in because he had put in so much time and effort in the project," Middle East journalist Tam Hussein, who had spoken to Henning before his abduction, told New York Daily News. "Henning wanted to make sure aid reached the intended. Henning was genuinely trying to help the Syrian refugee crisis -- nothing more. People spoke very highly of him."
© Copyright IBTimes 2023. All rights reserved.