Brussels Terror Attacks: How New York City Commuters, Tourists Reacted To ISIS Belgium Bombings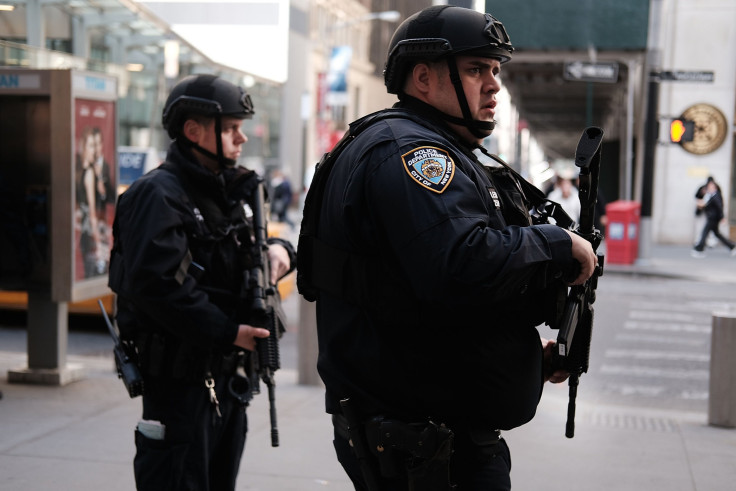 Camille Dandola was already on edge Tuesday morning after she saw news reports of deadly terror attacks carried out in Brussels. Her fear level increased after she disembarked a New York City subway train at major transit hub Penn Station, where five SWAT officers armed with large rifles stood just inside of the turnstile gates.
"My stomach dropped," said Dandola, a resident of the city's Long Island suburbs who is among the millions of New York metropolitan-area commuters who ride public transportation to the city for work daily. "I feel very scared," she said of the stepped-up security presence, as she waited with dozens to board a Long Island Rail Road train.
But Dandola was in the minority of officials, tourists and others who used the city's public transportation Tuesday, as most were unconcerned about risks to their safety after terror attacks struck a major European city for the second time in less than four months. In the city where the Sept. 11 attacks killed 2,606 workers, police officers and first responders at the World Trade Center 15 years ago, some commuters said they're accustomed to some level of increased security after a terror threat. As long as it is visible and not too intrusive, New York and federal authorities have earned travelers' trust, they said Tuesday.
"Ultimately, the proof is in the failure of success of what happens in an attack," said Dorsey Smallwood, of Houston, who traveled with his wife through the Port Authority Bus Terminal in Midtown Manhattan. The Smallwoods were visiting their son who lives in the city.
"The big thing is to not let [terrorists] see you daunted by these kinds of things," Smallwood added. "They win when you show them you're afraid. That's one thing I like about New York; they refuse to let you see them afraid."
Afraid or not, news of the overseas attacks prompted major cities across the U.S. to reiterate publicly their counterterrorism protocols. The U.S. Department of Homeland Security said Tuesday afternoon that it had not raised the terror threat level after the attacks in Brussels, which left at least 30 people dead and scores injured in bombing attacks at the Brussels airport and in the city's subway system. Militants affiliated with the Islamic State group claimed responsibility for the mayhem in Brussels, widening global concerns about the ability of ISIS to coordinate attacks in major Western cities.
The attacks came days after Belgian and French police forces apprehended a key suspect in the November 2015 gun and bombing attacks in Paris. Those events, which left 130 people dead and hundreds injured, caused officials in the City of Lights to temporarily shut down public transit systems.
New York City Mayor Bill de Blasio said Tuesday that the police were on increased alert across the city's five boroughs as a result of the Brussels attacks. "While we take this threat seriously, we will not live in fear," de Blasio said. "Our lives will continue today in honor of those lost to terrorism. Securing New York City is our show of solidarity with the people of Brussels and the victims of terrorism worldwide."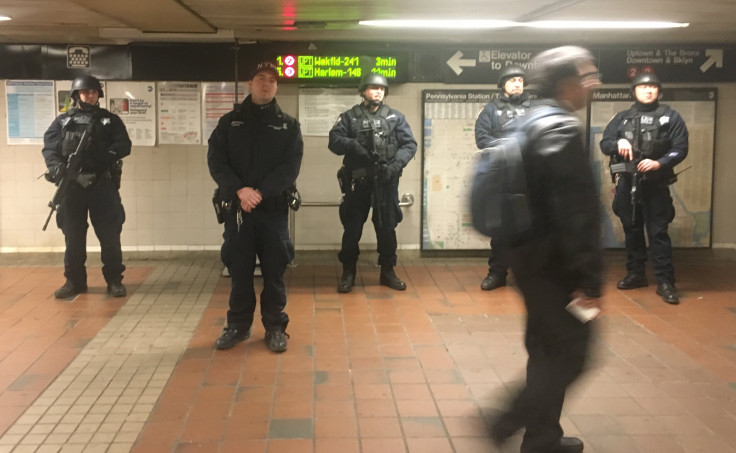 New York Police Commissioner William J. Bratton said in a news conference Tuesday in lower Manhattan that the city had activated an elaborate set of counterterrorism plans, some visible and some invisible to the public. Those measures included officers being held over from the previous shift and redeployed to transit hubs and major landmarks in the city, a NYPD intelligence and counterterrorism official said. "This is something that we are continually modifying," Bratton said, according to the New York Times.
Whether by train, bus or car, the daily commute to New York City increases the city's population by an estimated 608,000. Over 4.3 million people ride the subway system every day, according to the Metropolitan Transpiration Authority, which also operates the subway and regional transit systems like the Metro-North Railroad and Long Island Rail Road services.
Security personnel are typically visible in most major transit hubs in New York City. On Tuesday morning there were at least eight pairs of U.S. National Guards troops stationed or on patrol throughout the main concourse level of the Port Authority Bus Terminal. Inside of an adjoining subway station at 42nd Street and 8th Avenue, officers were clustered near main entry points and at least one K9 unit was visible.
People moved throughout the subway seemingly undaunted by security or safety threats. That's a normal sight, even after terror events prompt an increased security presence, said Ian Taylor, a Jehovah's Witness who often stands inside of the 42nd Street subway station to talk about his faith with commuters.
It's also not unusual for subway riders concerned about terror attacks to ask why God allows suffering, said Taylor, who lives in Brooklyn, New York. "We're out here to help people to have a positive view of the future," he said.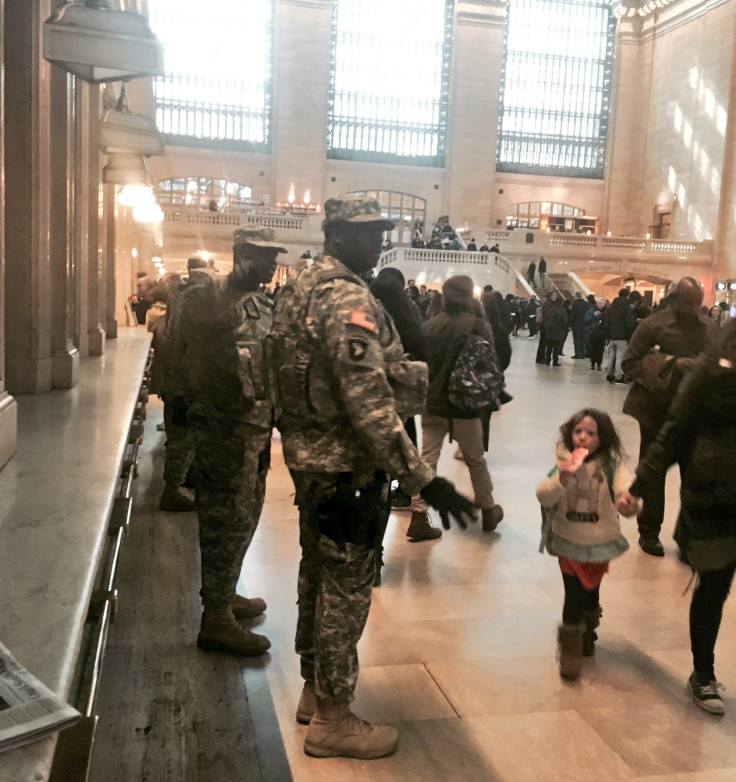 Police and military personnel appear to have earned the respect of travelers in New York City. On Tuesday at Grand Central Station, some passengers stopped to shake hands and offer words of thanks to National Guardsmen in the main lobby. Others went about their day, snapping photos of the cavernous hall and taking photos with selfie sticks.
"I didn't think I was going to feel as secure and safe as I do today," said Alice Volpe, a commuter from South Berry, Connecticut. "You always want the police to be there. It's just a good feeling to see them constantly looking at what each of us have and where we are going."
There were some commuters who said the events of Sept. 11, 2001, had forever changed the way they think about security in the public transportation system. "I don't think I have the ability to be more startled than I was after the World Trade Center was attacked," said Winter Savice, a New York City resident.
While she feels "comfortable" in transit centers, Savice said that feeling came over time. "I couldn't measure how good of a job they are doing, so I wouldn't know how to advise them to make it better," she said. "It's sort of a forced trust."
© Copyright IBTimes 2022. All rights reserved.
FOLLOW MORE IBT NEWS ON THE BELOW CHANNELS