Bryce Dallas Howard, Chris Pratt Wrap Up Filming Of 'Jurassic World: Fallen Kingdom' In A Hug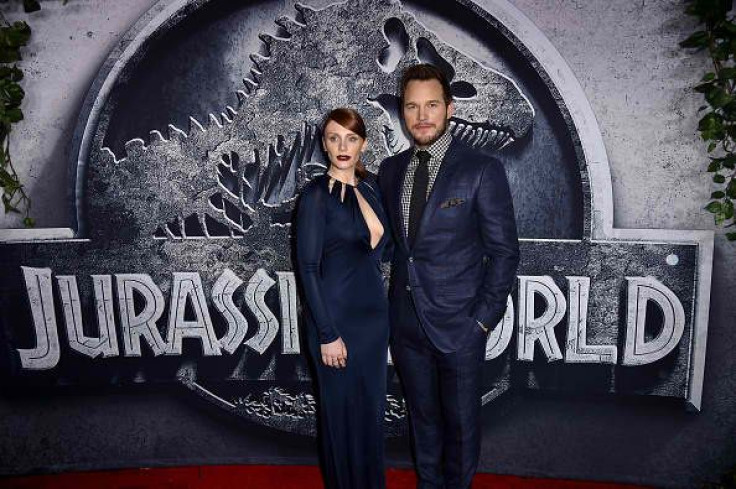 Bryce Dallas Howard and Chris Pratt are done filming for "Jurassic World: Fallen Kingdom."
On Tuesday, Howard shared a photo on Instagram hugging her "Jurassic World" co-star Pratt. "#60 and that's a wrap! Honestly, I ugly cried. Bye, Hawaii!" she wrote in the caption. The pair appear from filming because the "Passengers" star's face is still muddy. They look tired and relieved at the same time.
READ: Jeff Goldblum will return in "Jurassic World: Fallen Kingdom"
Howard and Pratt return in the "Jurassic World" sequel to reprise their roles as Claire and Owen. B.D. Wong will also appear in the upcoming film. "The Help" star was not the only one to celebrate the wrap up on social media. Director JA Bayona also shared a clip featuring Pratt showing his dancing skills on Twitter. "This is a wrap for Jurassic World: Fallen Kingdom! What a journey! Thank you to everyone that made it possible. #JurassicWorldFallenKingdom," Bayona wrote.
Collin Trevorrow who helmed the first "Jurassic World" film congratulated Bayona for his work in "Fallen Kingdom." "Congratulations @FilmBayona, cast and crew. #wrap," he wrote.
Last year, there were speculations that Howard and Pratt were feuding. "Are you both in a fight? I am A HUGE fan of you both and Jurassic world so i hope you're both in it!" one fan asked. "That rumor is so not true!!! I worship Chris! We're shooting next year and counting the days!!!" Howard responded.
Pratt also confirmed that there was no beef between him and Howard by sharing the actress' post. "Love you too Bryce! Just reading the script right now! So awesome! Round two baby!!!" he wrote on Twitter.
The official title of the "Jurassic World" sequel was just revealed last month in a poster that featured Ian Malcom's ( Jeff Goldblum) iconic line that reads, "Life finds a way." Pratt also confirmed the title and even gave a hint about the upcoming dinosaur flick. "[Fallen Kingdom] is going to be a scarier version, a little bit darker, and will continue to expand and carry the story forward in a way that is really unexpected and you wouldn't have imagined," Independent reported.
"Jurassic World: Fallen Kingdom" hits theaters on June 22, 2018.
© Copyright IBTimes 2023. All rights reserved.