BTS Achieves Billboard Success Despite Band's Hiatus
South Korean supergroup BTS made headlines anew after one of its albums re-entered Billboard 200 despite a break in the band's activities.
The famous septet's members are currently pursuing solo activities, but the group's 2017 album "Love Yourself: Her" is back on Billboard 200, which tallies the top 200 albums in the U.S. The 2017 album, which contains the smash hit "DNA," is currently at No. 13 in the said chart.
The group's re-entry into the prestigious chart comes after the vinyl release of the said album this month.
"Love Yourself: Her" is the first vinyl release of the "Mic Drop" singers, which also debuted at No. 1 on Billboard's Vinyl Albums chart this week. This is the first time BTS entered the said chart and also the first time it landed on top of the tally.
Upon its release in 2017, "Love Yourself: Her" was ranked at No. 7 on Billboard 200, which became, at that time, the highest rank ever achieved by a K-pop artist. The singers broke that record with their next album: "Love Yourself: Tear," which debuted at No. 1 on the Billboard 200 when it was released in May 2018.
Meanwhile, BTS members are pursuing solo endeavors following their highly-successful concert in Busan last year.
Group leader RM released his first solo album, "Indigo," in December and made history as the first Korean male soloist to spend four weeks on the Billboard 200 chart. RM also became the second Korean soloist to have an album on the Billboard 200 for four weeks. Band member J-Hope performed three songs from his solo album, "Jack in the Box," as well as BTS songs during the New Year's Eve show in New York City's Time Square.
Oldest member Jin began his mandatory military enlistment in December and is expected to be deployed to a "frontline" unit near the border with North Korea.
Youngest member Jungkook recently made headlines for his powerful performance at the FIFA World Cup opening ceremony in Qatar in November 2022. Meanwhile, Kim Taehyung or V's appearance at Heidi Slimane's Spring 2023 show for Celine was named one of Vogue's biggest fashion moments of 2022. V attended the event with BLACKPINK's Lisa and drew a never-before-seen crowd in a fashion show.
On Tuesday, Suga was named Valentino's newest ambassador, while Jimin, who recently teamed up with Bigbang's Taeyang for the single "Vibe," was also named Dior's new global ambassador.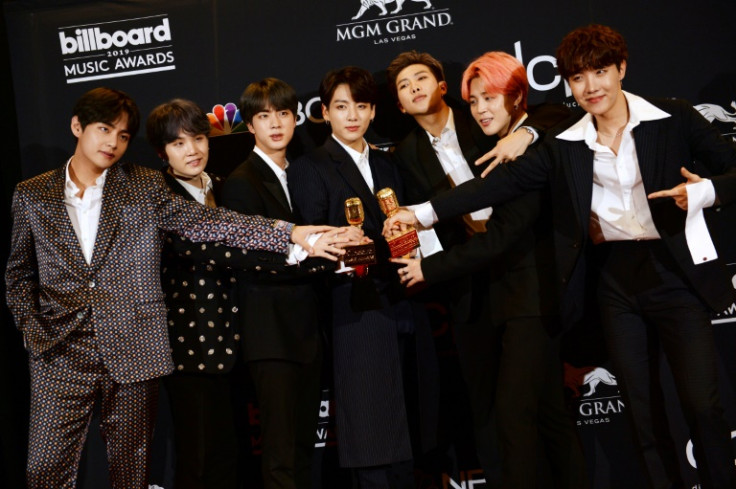 © Copyright IBTimes 2023. All rights reserved.