Build 2015 Keynote: Mobile-Challenged Microsoft Now A 'Platform' Company, Says CEO Nadella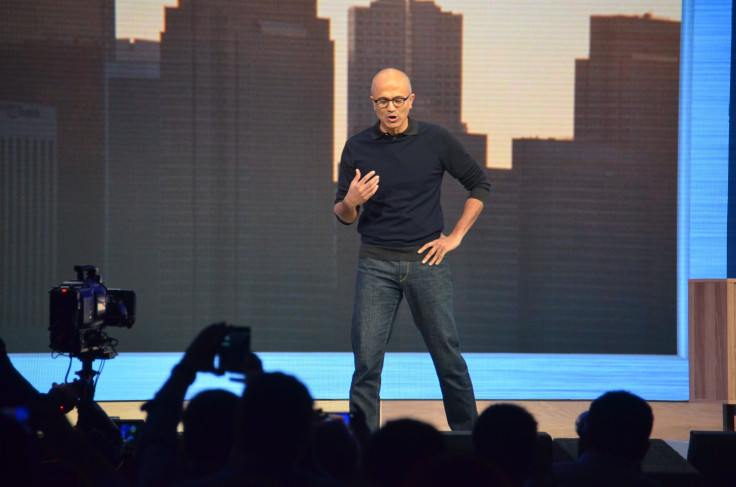 Microsoft started life 40 years ago as a maker of operating systems for the first personal computers -- beloved relics like the Altair 8800. Since then, in generation after generation of DOS and then Windows, the company has layered on support for an array of increasingly advanced services: from networking capabilities to the Internet and World Wide Web.
Now, in its most recent incarnation under CEO Satya Nadella, the iconic tech giant is positioning itself as a provider of online cloud platforms that will run next-generation technologies like the Internet of Things and artificial intelligence. It's a crucial evolution for a company that has fallen off the map in consumer hardware.
"A lot has changed" since Microsoft co-founders Bill Gates and Paul Allen wrote their first lines of code, Nadella said as he opened Microsoft's Build conference early Wednesday in a packed room in San Francisco's Moscone Center. "A lot of devices have come and gone."
Not gone completely, but going quickly, is the desktop's primacy as the main gateway to the Web. In its place have come tablets and mobile phones -- markets where Microsoft has struggled mightily to achieve relevance. To be sure, the company at Build will show off some new tablets like the Surface 3 and smartphones that run Windows 10. But the Redmond, Washington, company is so far behind Apple and Google in those markets that Nadella's plan to emphasize and grow back-end services like the Azure cloud and Office 365, which connect users across devices, not only makes sense -- it's key to Microsoft's long-term viability.
"We want you to bring your devices and languages to our platforms," Nadella told attendees, the bulk of whom are developers Microsoft needs to court if it's to have enough industry support to compete with sexier Apple and Google. "We aspire to build an intelligent cloud platform" that can offer advanced new technologies like machine learning, Nadella said, now more than a year into his tenure as Microsoft's CEO after succeeding Steve Ballmer in early 2014.
Microsoft also wants to "democratize access" to the cloud, Nadella said. That means that, in addition to courting large enterprise customers like Ford, Samsung and NBC Universal, it's also making tools and services available to individuals and small organizations on free or low-cost terms worldwide. Nadella cited a small group of Australian developers who built an app that runs on the Azure cloud. The app can diagnose anemia in children in areas that are underserved by medical professionals. "It's changing lives," Nadella said. The cloud allows "one person or small group with passion to have a huge impact."
Nadella's focus on the cloud is paying off. Azure data centers now support 19 unique regions around the world, more than Amazon Web Services and Google's cloud. And in the past year the company launched 500 Azure services, including support for Docker containerization, which lets developers divide work into smaller, more manageable and secure environments. Microsoft last week said revenues from Azure and in-house servers grew 11 percent in its recent fiscal third quarter.
Nadella's focus on a cloud, or "platform," that supports a broad range of services means it's less critical that the company wins in smartphones. That can be only a good thing for Microsoft, whose share of the U.S. mobile market was a paltry 3.6 percent as of January, Comscore says.
In Microsoft's new worldview, one that albeit was born of necessity, it's less important what device a customer is holding in his or her hand, as long as that smartphone or tablet is connecting to Microsoft cloud services like Azure, Office 365 or Bing. "The mobility of the experience is what matters," Nadella said.
Microsoft shares (NASD:MSFT) were off 0.74 percent in afternoon trading Tuesday.
© Copyright IBTimes 2023. All rights reserved.