The Business Case For Climate Change: Opportunity Of The Century
Hurricanes Harvey and Irma and Maria and the massive floods in South Asia are just some recent demonstrations of the urgency of tackling climate change. Such events will only become more frequent and we need emissions to peak and resilience to build. Last year, more than 24 million people were displaced by weather-related disasters, affecting the economy, business and society at large. The number of such events has nearly quadrupled since 1970.
Climate change affects every aspect of life
Climate change has detrimental consequences and many more than meets the eye. Climate change, for instance, is creating energy inequality and resource scarcity which are intertwined: a negative impact on one has a negative impact on the other. Poverty is closely related to these negative climate impacts as well. Many millions have no access to basic energy services, fresh water or sanitary provisions. Even though the global economic output has increased approximately 100 times since the beginning of the industrial revolution, there continue to be some 1.5 billion people living without access to electricity. A lack of access means that development is slowed, leading to approximately 1.3 billion people living in abject poverty. Mirroring global income disparity is global inequality from an energy and resources entry point. Roughly 60 percent of global final energy is used by the richest 20 percent, with only 5 percent going to the poorest 20 percent.
We do not slow down the use of energy and resources, but the use is growing, rapidly. Growing material and resource use is driven by expanding populations, consumption trends in mainly developed economies and the transformation of developing economies. Demand for resources has shifted from traditionally agriculture-based economies to modern urban and industrial economies.
Climate change adversely affects important aspects of everyday life. If we want to meet the targets of the Paris Agreement of 2015 as they are incorporated in the Sustainable Development Goals (SDGs), there is a turning point right here, right now.
The power of business
For business and capital, there is a major role to play. A role more impactful, crucial and meaningful than ever before. Imagine the power that business has, 50 of the largest economies are in fact corporations, operating throughout the entire planet. Consider the investment potential of private capital which is a much larger percentage than public investment potential by now. For instance, the percentage of total capital flows of donor countries' ODAs into emerging markets has decreased from over 50 percent to under 10 percent, while private capital flows have increased and grown.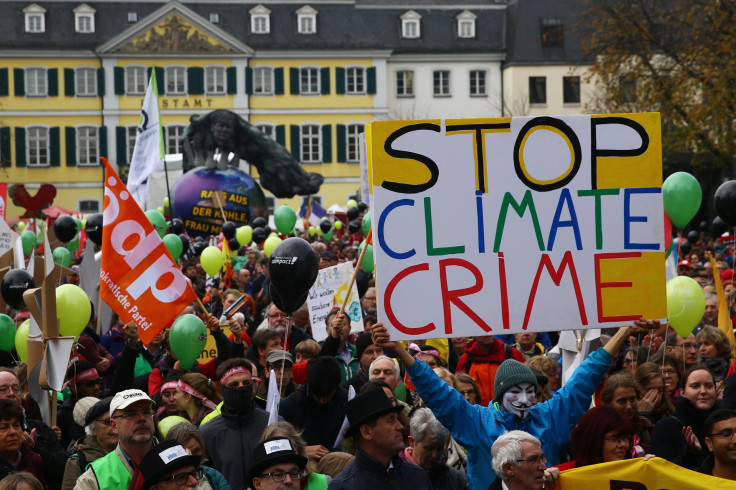 Businesses have a choice and must be aware that they make that choice. They can be part of the solution or maintain to be part of the ever-growing problem. Business and capital can be a huge power for good. And economically, there is no reason not to be. "Climate change is not only a societal disaster but also an economic catastrophe," business leaders like Feike Sijbesma, Gerard Mestrallet and Paul Polman point out regularly. Rightfully so, since without a planet, we cannot have businesses. We need the planet so much more than the planet needs us. Meaning that we have no options — even and also from a business perspective — than to help solve the climate and resources crisis around the world that is staring us in the face.
The business case of climate change
Business solutions for the SDGs and thus climate change, which is in fact affected by all the SDGs, are as much needed as they are profitable. Solutions for reducing food waste dramatically, for instance, prevent huge economic loss, have an enormous impact on climate change since food and land use systems account for over 25 percent of greenhouse emissions, and gets more people fed — which is imperative since there are still nearly 800 million people going to bed hungry.
Examples of such business innovations exist around the globe. For example, private equity fund InterEnergy invested in the development and construction of the Laudato Si wind park in Penonome, Panama. As Central America's biggest wind farm, the 215-megawatt Penonome plant will eliminate 400,000 tons of CO2 emissions a year; roughly the equivalent of taking 84,000 cars off the road.
Creating business models that respond to both energy efficiencies and people's everyday needs can render solutions with major societal impact. As the largest environmental cause of disease and death, air pollution has become one of the major health risks on the planet. Business can be part of the solution here as well. In Mexico City, one of the most polluted cities in the world, the hospital Torre de la Especialidades was designed to transform air pollutants into harmless chemicals such as water. The building's outer layer is made up of a new type of tile called 'ProSolve370e', which has the ability to neutralize the pollution of 8,750 cars a day.
Another inspiring example is of the company Interface that, after having achieved its mission zero objective, proceeded along its journey and made CO2 a friend instead of an enemy. By doing so, it discovered that CO2 could be used as an ingredient for its carpet tiles. The company now calls that project climate take back and is scaling it up throughout the world.
We need to scale up the solutions
The list goes on, but despite all these great examples of innovative business models, more is needed. We need more solutions, at a larger scale to succeed. But the door to the solution is there, it is both an opportunity and a responsibility for businesses to discover and open that door. Which in the end is in its own best interest. And will save our planet.
Marga Hoek is a global thought-leader on sustainable business and author of "The Trillion Dollar Shift", a book revealing the business opportunities provided by the U.N.'s Sustainable Development Goals.
© Copyright IBTimes 2023. All rights reserved.
FOLLOW MORE IBT NEWS ON THE BELOW CHANNELS