California Senate Race: Latest 2016 Election Polls As Kamala Harris Pulls Ahead In Race Among Democrats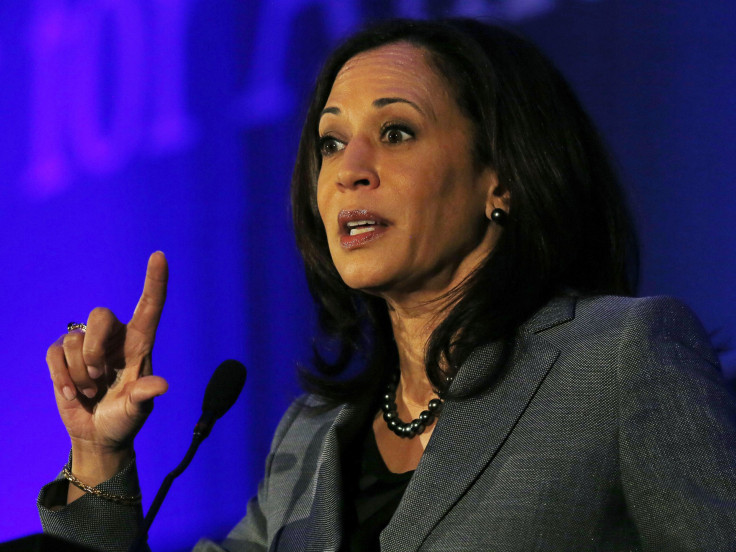 With just over a week until Election Day, the race for California's open U.S. Senate seat appears to be in the control of the state's current attorney general, Democrat Kamala Harris. As of Monday, the polls showed she has opened up a substantial lead over her opponent Loretta Sanchez, also a Democrat.
The Real Clear Politics average of polls gives Harris a 21.7 percentage point lead over Sanchez for the seat vacated by longtime Sen. Barbara Boxer. While state polling is often less precise than national polling, Harris has led by over 20 percentage points in some polls since early September.
The most recent survey in mid-October from the Public Policy Institute of California (PPIC) found Harris led 42 percent to 20 percent. Twenty percent remained undecided. In a race featuring two Democrats, 18 percent said they would not vote. A Survey USA poll carried out just before the PPIC survey found a similar 21-point margin in favor of Harris. The polls-only election forecast from data-driven website FiveThirtyEight gave Harris Monday a 94.4 percent chance of winning the Senate seat.
The favorable polling apparently has Harris already thinking about life as a senator. During the final stretch of the campaign, she has scheduled rallies in California's reddest areas, helping Democrats in tough races and seemingly working toward building relationships with politicians who could prove to be valuable allies in the House of Representatives, reported the Los Angeles Times. She recently pushed for down-ballot Democrats at a rally in Santa Clarita, a typically GOP area in southern California.
"Please give everything you have in your energy and your time and in your heart to make sure that we elect them, because these are difficult times," Harris said at the rally.
Meanwhile, with eight days until the election, the nation was watching intently as the presidential race has tightened between Democratic nominee Hillary Clinton and Republican Donald Trump. Amid new headlines about the FBI reviewing Clinton-related emails, Trump was trailing by 2.9 percentage points in the Real Clear Politics average after it seemed the Democrat was in a position similar to that of Harris — coasting to the finish line while pushing for other Democrats.
© Copyright IBTimes 2023. All rights reserved.