Can Anything Save Magazine Newsstand Sales? Deep Subscription Discounts Are Making Things Worse, Study Suggests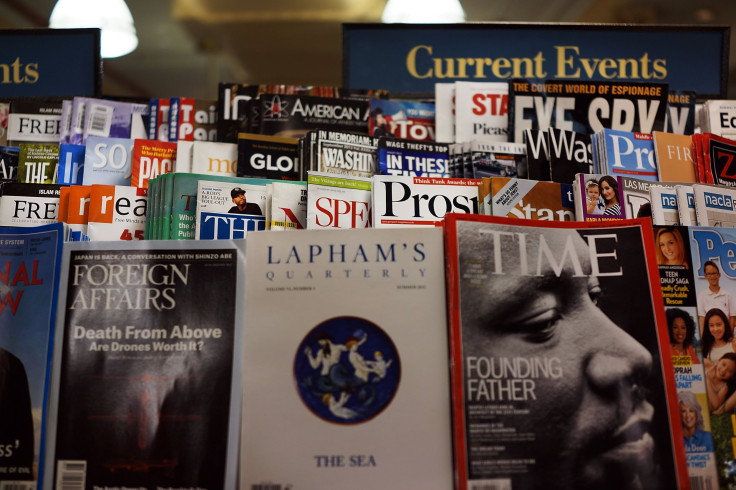 At a time when unlimited information is just a screen-tap away, it's never been more difficult to convince consumers to plunk down six or seven dollars for a magazine.
Even impulse purchases at supermarket checkout counters are no longer the sure thing they once were, as celebrity and gossip titles find they simply can't compete with the lightning-fast speed at which news travels on social media.
Why buy that hardcopy of Us Weekly when there are 5,000 stories about Brad and Angelina filling up your Facebook news feed? No matter how you carve up the data, the outlook is grim: Magazine newsstand sales, once a gold mine for publishers, are dropping across almost every category.
Publishers have reacted to this challenge with what would appear to be a logical strategy: by offering deeper and deeper discounts on magazine subscriptions. Blowout cards and direct mailings are rife with offers of 60 and 70, even 80 percent off the cover price. Heavily discounted subscription deals are nothing new in the magazine industry, but publishers have been more aggressive with them over the last several years as a way of locking in readers and keeping them hooked. The goal, of course, is to ward off any noticeable drop in their circulation numbers so that they can continue to justify their advertising rates.
But now a new study from the Magazine Information Network, or MagNet, suggests that strategy might be making the problem worse. The study looked at magazine sales trends over a two-year period for some 900 titles, including 70 of the top 100 best-selling magazines in the country. MagNet found a strong correlation between discounted subscription offers and declines in newsstand sales — with deeper discounts correlating with steeper declines. For instance, titles that discounted their subscription rates by less than 10 percent off the cover price saw retail sales declines of just around 4 percent during the measured period. But sales declines jumped to 16 percent for titles that offered subscription discounts in the 70 percent range.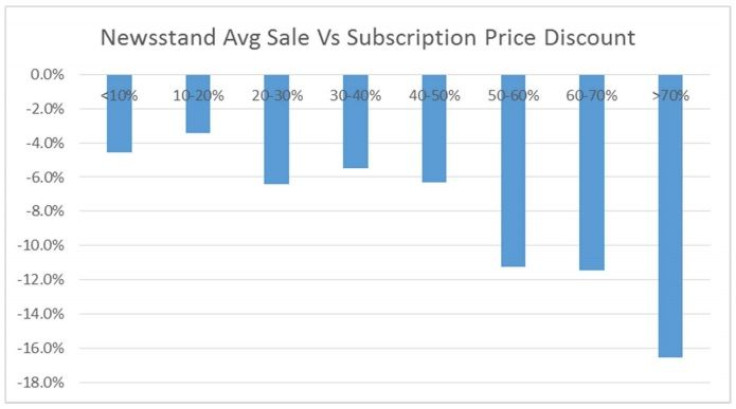 Joshua Gary, MagNet's senior vice president, said the results indicate that aggressive subscription offers are discouraging consumers from buying magazines off the rack, and that could be hurting overall circulation revenue.
"The concept of the newsstand is pretty profitable if you can figure out how to balance it within your entire circulation," Gary told International Business Times. "I think the problem we have today is that there's a really heavy effort on the subscription side, and then people end up in a position where they're wondering why newsstand sales are suffering."
And suffering they are. According to MagNet's own quarterly sales data, single-copy magazine sales in the United States and Canada fell 15.5 percent in 2015, compared with the previous year. Total industry dollar sales fell to $2.12 billion in the United States, from $2.44 billion in 2014. (Notably, magazine distribution took a huge hit in 2014 when Source Interlink, the country's second-largest wholesaler, abruptly went out of business.) Magazine retail sales now generate less than half of what they did in 2007, the year Apple released its first iPhone.
But while circulation revenue is declining, it's still a large piece of the financial picture for legacy publishers with print products. Time Inc., for instance, generates almost three times the revenue from circulation as it does from digital advertising. In the first quarter of this year, the company reported total circulation revenue of $278 million, compared to $102 million for digital advertising. The difference is that digital revenue is rising while circulation revenue is dropping. Moreover, only $84 million of Time Inc.'s circulation revenue came from retail sales.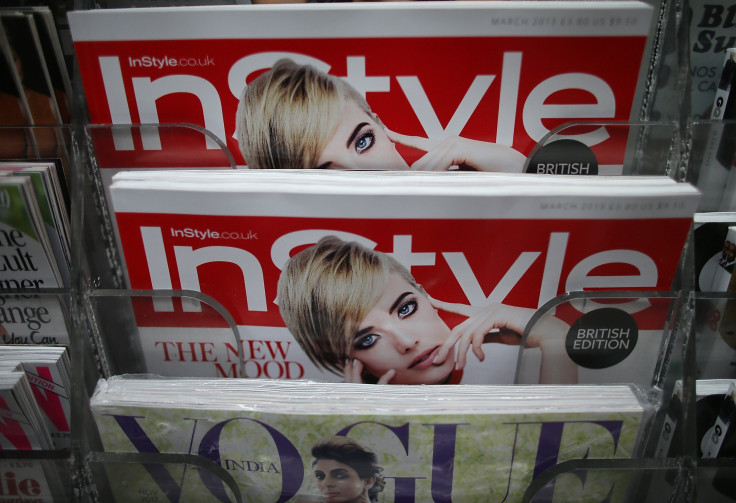 MagNet, which was formed in 2000 by a group of magazine wholesale distributors, provides sales and marketing data to the publishing industry. While Gary doesn't discount the effect the mobile revolution has had on the way people consume content on the go, he maintains that the decline in single-copy sales is the result of numerous factors, and deep subscription discounts is likely one of them.
"It's not necessarily because customers are turning to digital or because they're turning away from print," Gary said. "We think there needs to be a conversation that relates to how publishers price subscriptions."
Admittedly, that pricing scheme is out of balance. Retail sales generate only 10 percent of print circulation in the United States, with the remaining 90 percent generated by subscriptions. That's a huge contrast, Gary said, to elsewhere in the world, including most countries in Europe, where newsstand sales can account for as much as 60 percent of a magazine's circulation.
Gary said he hopes MagNet's new study will encourage publishers to think about creating more parity in their circulation strategies. "It's like saying I'm going to go buy a car online, and it's going to be 70 percent cheaper if I go to the lot and pick it up," Gary said. "You can't have it both ways. Yeah, you'll sell more cars that way, but is it going to be profitable if you're losing on every one?"
Christopher Zara covers media and culture. News tips? Email me . Find me on Twitter and Facebook .
© Copyright IBTimes 2023. All rights reserved.