Cate Blanchett: 5 Reasons Why Oscar Winner, 'Blue Jasmine' Star Is Best Actress Of Our Time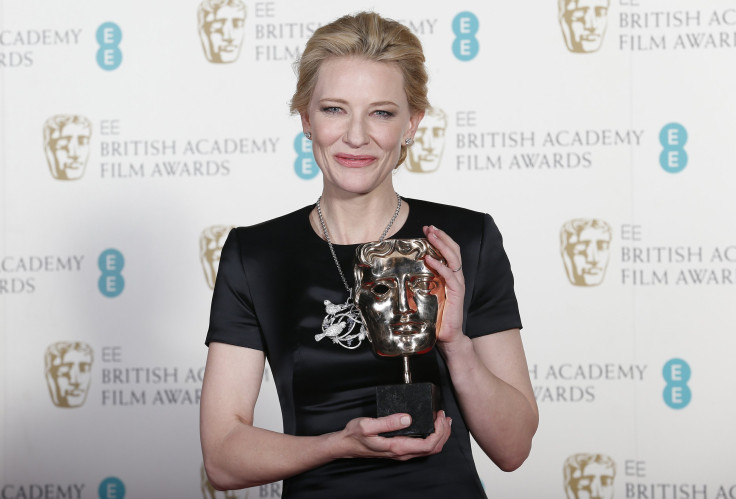 UPDATED: March 5, 1:54 p.m. EST
Cate Blanchett won the Best Actress Oscar at the Academy Awards Sunday night for her brilliant performance in Woody Allen's "Blue Jasmine." This is Blanchett's second Oscar: She won the Best Supporting Actress Oscar in 2005 for playing Katharine Hepburn in "The Aviator." Accepting the statue from Daniel Day Lewis, she thanked Allen for casting her in his movie, paid tribute to the four other actresses in her category, Amy Adams, Sandra Bullock, Judi Dench and Meryl Streep, urged Hollywood to make more films about women, and finally saluted the Sydney Theater Company, where she has worked as co-artistic director.
In "Blue Jasmine," the Australian actress plays a delusional New York socialite who loses her wealth, husband, status and family, and then her mind. Jasmine French is a wealthy Park Avenue woman whose life unravels when she finds out her swindling, Bernie Madoff-like husband (Alec Baldwin) has been having an affair. He tells her he wants a divorce, and she impulsively calls the FBI and has him arrested.
Her world shattered, Jasmine flies to San Francisco—first class—to live with her down-to-earth step-sister, Ginger (Sally Hawkins). You see flashbacks to her earlier life In New York, where she appears to be enjoying her privileged life of leisure, oblivious to her husband's philandering. When she is in San Francisco with her sister, she tries to remake her life, gets and loses a job, and finds a suitor -- but when her lies to him (Peter Sarsgaard) are exposed, she falls apart. Blanchett's character, both humorous and pathetic, experiences multiple changes and mood shifts.
Jasmine is one of the most unforgettable screen characters of all time, a highlight of Cate Blanchett's career as an actress. She arguably rivals Meryl Streep and Judi Dench as the best actress living today. These are five reasons why.
1. Cate Blanchett has incredible range
Like Meryl Streep, Cate Blanchett is able to disappear convincingly into her characters. She also excels with accents. One should note that the Australian Blanchett is always assuming an accent, whether it be Irish, French, German, Elizabethan, London, Middle Earth, Southern or Park Avenue. She memorably played the crusading Irish journalist in "Veronica Guerin" in 2003. She adopted a French accent in "Monuments Men." Opposite Judi Dench, Blanchett played a London schoolteacher having an affair with a student in "Notes on a Scandal," earning an Oscar nomination for Supporting Actress in 2007.
Cate has also morphed into fantasy characters in Peter Jackson's blockbuster "The Lord of the Rings" trilogy and "The Hobbit." One of the few times we have heard her native Australian accent was in the excellent "Little Fish," (2005), in which she played a drug addict. In "Coffee and Cigarettes," (2003), she plays two roles: herself and her less-famous cousin.
Every time she's in a movie she adopts a new accent and persona. In other words, she's not recognizable as herself, in the same way Julia Roberts or Sandra Bullock often are.
2. Cate has a commanding voice and has brilliantly portrayed real people.
She authoritatively took on the role of Queen Elizabeth I, netting two Academy Award nominations, for "Elizabeth," in 1999, and "Elizabeth: The Golden Age," in 2008. You remember her booming voice and inspiring speeches, as well as red hair, in those films. In Martin Scorsese's "The Aviator," she captured Katherine Hepburn's New England patrician voice patterns and demeanor, winning an Academy Award as Best Supporting Actress for the role in 2005.
In addition to Elizabeth 1 and Katherine Hepburn, Blanchett was uncanny as Bob Dylan in "I'm Not Here," which earned another Oscar nomination in 2006.
3. Blanchett shines in blockbusters as well as indies
Cate has appeared in Peter Jackson's blockbuster "The Lord of the Rings" trilogy and "The Hobbit." She chooses her roles carefully based on the director, she has said, earning the respect of top directors like Scorsese, Allen, Steven Spielberg in "Indiana Jones," as well as indie directors Todd Haynes, Wes Anderson, Jim Jarmusch and Terrence Malick (upcoming).
4. She brings out the best in her fellow actors' work.
She collaborates well with other actors, noticeably with Oscar-nominated Sally Hawkins as her sister in "Blue Jasmine." Blanchett goes head to head with Judi Dench in the dramatic "Notes on a Scandal." Dench had the one-way crush in that movie, and both were nominated. She complements Brad Pitt beautifully in "The Curious Case of Benjamin Button," and sparkles with Leonardo DiCaprio's Howard Hughes in "The Aviator." Blanchett also had a dazzling cameo with Matt Damon and Philip Seymour Hoffman in "The Talented Mr. Ripley."
5. She stars on both the stage and the screen.
When she's not appearing in movies, Cate Blanchett works with her husband, director Andrew Upton, at the Sydney Theater Company. They brought productions of "A Streetcar Named Desire," and "Hedda Gabler" to the U.S., with great acclaim. She has said her role of Blanche DuBois in "Streetcar" inspired her performance in "Blue Jasmine."
Cate Blanchett has an amazing body of work, and is fully deserving of the accolades that have come her way. And we hope those accolades include a Best Actress Oscar on Sunday.
FOR FREE to continue reading
✔️ Unlock the full content of International Business Times UK for free
offer available for a limited time only
✔️ Easily manage your Newsletters subscriptions and save your favourite articles
✔️ No payment method required
Already have an account?
Log in
© Copyright IBTimes 2023. All rights reserved.