Caterpillar Inc. (CAT) Earnings Preview: Q3 2013 Profit Falls On Sluggish Mining Demand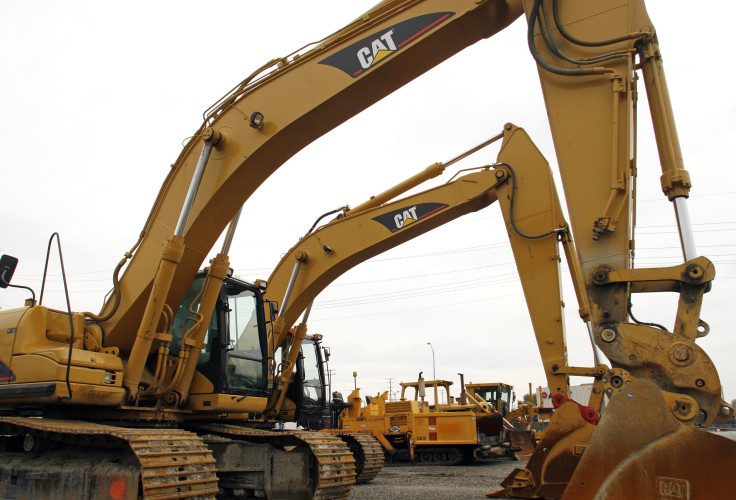 Caterpillar Inc. (NYSE:CAT), the world's largest maker of construction and mining equipment, is expected to report a drop in profit for a fourth straight quarter due to low capital spending from mining companies and inventory reduction by dealers.
Caterpillar, which announces third-quarter earnings at 7:30 a.m. EDT on Wednesday, before U.S. markets open, is likely to report net income of $1.11 billion, or $1.76 a share, on revenue of $14.35 billion, based on the average estimate of analysts surveyed by Thomson Reuters.
In the same period a year earlier, net income was $1.70 billion, or $2.54 a share, on $16.45 billion in revenue. Excluding one-time items, Caterpillar is expected to report earnings of $1.68 a share.
The Peoria, Ill.-based company didn't give quarterly guidance but lowered its 2013 outlook in July to $6.50 a share from its April projection of $7 a share. That compares with 2012 earnings of $8.48 a share. Sales this year are likely to total between $56 billion and $58 billion, down from its previous forecast of $57 billion to $61 billion.
This represents about a 14 percent decline from Caterpillar's 2012 sales level and a 23 percent decline in profit per share.
Caterpillar has reacted to slumping demand with cost cuts, which included temporary factory shutdowns, rolling layoffs and reduced use of flexible workers -- those who can be laid off without severance pay.
On a year-over-year basis, the company has reduced its worldwide workforce by more than 20,000 employees to around 138,000 employees at the end of the second quarter, and said the cost-paring would continue in the second half. However, earnings still slid by 43 percent annually to $1.45 per share in the second quarter.
When Caterpillar reports results Wednesday, William Blair & Co. analyst Lawrence De Maria expects another miss and 2013 guidance cut with weakness across segments. "Mining is likely to remain a headwind to numbers and the share price in the near term," De Maria said.
Goldman Sachs analyst Jerry Revich said in an Oct. 15 note that he expects Caterpillar to provide an initial 2014 total revenue guidance of between $55 billion and $58 billion.
Mining Weakness
Caterpillar's mining equipment sales, which constitute around one-third of its total, are facing pressure from the decline in capital spending from mining companies due to weak demand for many metals and commodities.
Freeport-McMoRan Copper & Gold Inc. (NYSE: FCX), the world's No. 1 publicly listed copper producer, said July 23 that it has cut $1.9 billion in planned capital expenditures and other costs through 2014.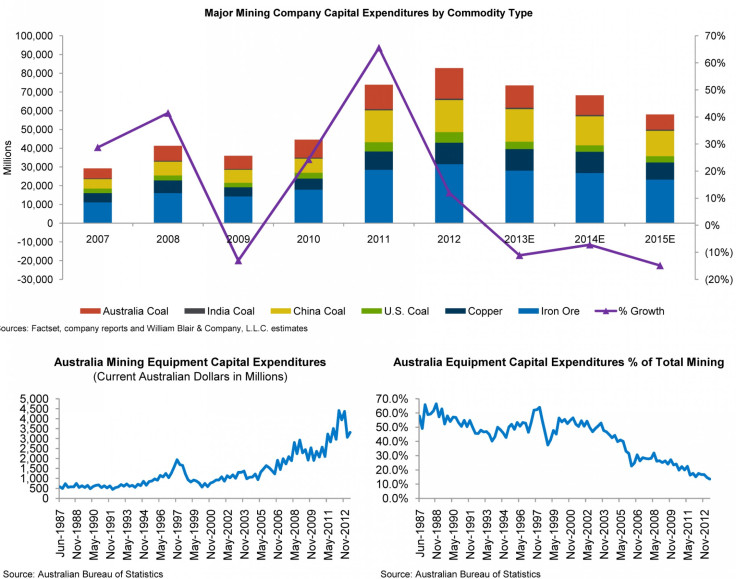 Caterpillar also sells machines and engines to its dealers, who in turn sell them to their end users like mining and construction companies.
Worldwide sales of machinery by Caterpillar's dealers dropped by 10 percent in the three months ended Aug. 31 (the latest data available). Sales of machinery plunged 30 percent in the Asia-Pacific region and were down 12 percent in Europe, Africa and the Middle East. Machinery sales fell 3 percent in Latin America but edged up 1 percent in North America.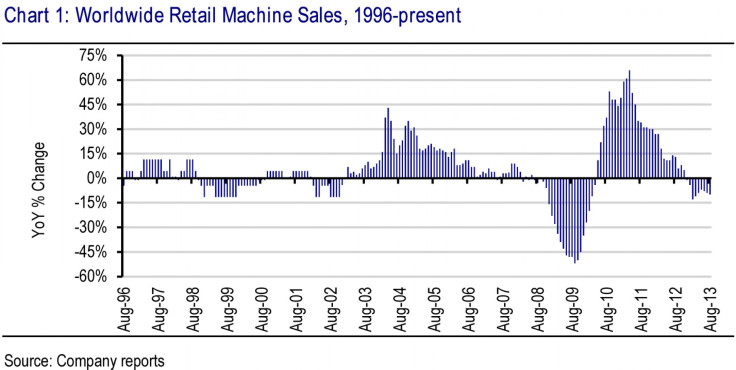 The soft demand from mining companies is forcing nervous Caterpillar dealers to slash their machine inventories, which is further hurting the company's sales.
Dealers reduced inventory by a sharper-than-expected $1 billion in the second quarter. Caterpillar expects dealers to further cut inventories by about $1.5 billion to $2 billion in the second half and end the year at about $3.5 billion lower than year-end 2012.
Caterpillar expanded aggressively into the mining business through acquisitions over the past two years, making its resource-industries unit the company's largest segment by revenue last year. The move, which seemed like a good idea at the time, is now weighing on the company's performance.
Caterpillar paid a premium price when it acquired Bucyrus, a maker of ore-scooping shovels, near the top of a mining cycle in 2011. It also took a big writedown related to the uncovering of accounting misconduct at a unit of ERA Mining Machinery Ltd (HKG: 8043), which Caterpillar acquired last year.
"We don't expect much change in the environment in the short term and the remainder of 2013 will be tough for our mining business," Caterpillar Chairman and Chief Executive Officer Doug Oberhelman told analysts during a call to discuss the company's earnings miss in the second quarter.
Oberhelman, however, still talked up China. "I am not one in the camp of a China implosion -- that China will implode and drag the world down into a massive black hole," he told analysts.
Stock performance
"Investors are very bearish on Caterpillar headed into earnings," Morgan Stanley analyst Nicole DeBlase wrote in an Oct. 16 note.
DeBlase believes that the stock would only become investible if two events play out: 1) a large ($200 million or more) restructuring program is announced within the resource segment; and 2) an achievable ($6-$8) EPS guidance range is provided during the fourth-quarter earnings.
"We do not see a near-term catalyst to drive the stock out of its recent $81 to $88 trading range," DeBlase added.
Caterpillar is trying to make up for the lackluster performance by becoming more shareholder-friendly.
Oberhelman said the company's balance sheet and strong cash flow "puts us in a good position to reaffirm our commitment to stockholders, even in the midst of a downturn."
The company repurchased $1 billion of stock in the second quarter and said in September it would buy back an additional $1 billion of shares in the third quarter. Shareholders generally like buybacks, because they reduce the number of shares outstanding, which increases the portion of the company held by the remaining shareholders.
Caterpillar's board authorized a $7.5 billion buyback in 2007. It had bought back $4.8 billion worth of shares as of the end of June, the company said. It also raised its quarterly dividend by 15 percent in June.
Caterpillar competes with machinery makers such as CNH Global NV (NYSE:CNH), Deere & Co. (NYSE:DE), Joy Global Inc. (NYSE:JOY), Cummins Inc. (NYSE:CMI) and Astec Industries Inc. (NASDAQ:ASTE).
Shares of Caterpillar Inc. (NYSE:CAT) closed up 0.41 percent, to $87.71 a share in Monday's session. So far this year, the stock has lost 2.1 percent.
© Copyright IBTimes 2023. All rights reserved.
FOLLOW MORE IBT NEWS ON THE BELOW CHANNELS