Catherine Deneuve Stuns In Gaultier Dress At Cannes Premiere Of 'Le Tete Haute'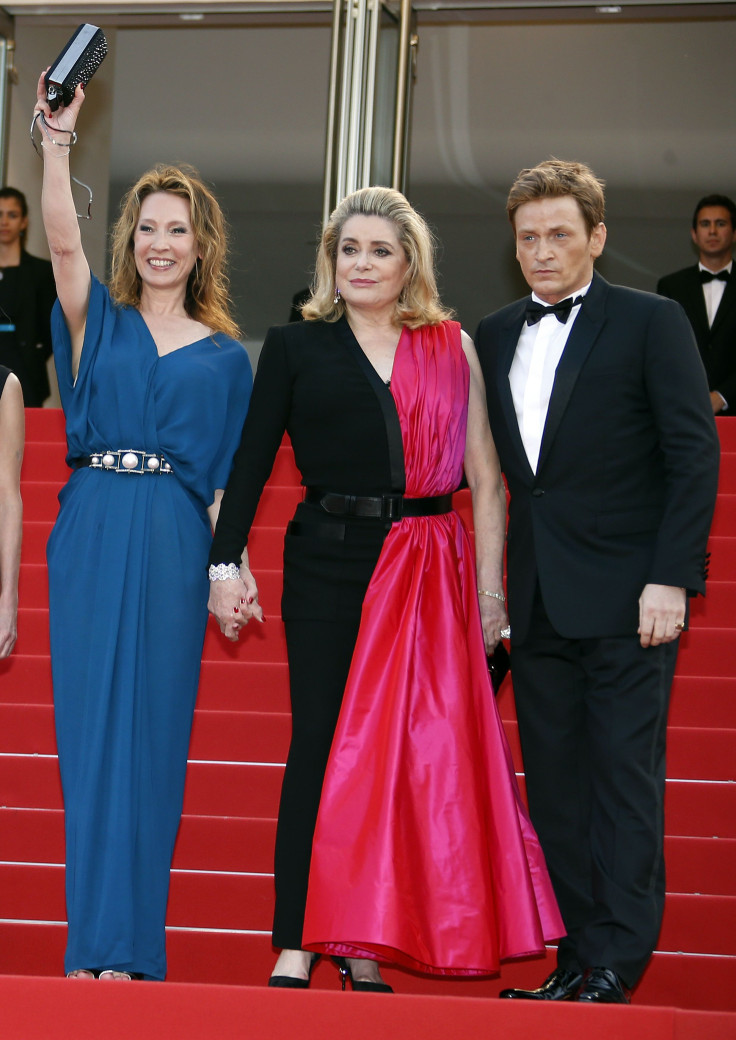 Iconic French actress Catherine Deneuve hit the red carpet Wednesday at the 2015 Cannes Film Festival for the premiere of her new film "Le Tete Haute." The 71-year-old stunned in a black and fuchsia pink hybrid dress by Jean Paul Gaultier. A mainstay at Cannes, she has been attending the event every year since 1966, according to People.
The dress is from the designer's Spring 2015 haute couture. It was custom-made for Deneuve with a bold pink color and has an element of quirkiness to it. Tailored like a man's suit on one side and draped like a dress on the other, it is classic Gaultier. The dress is an adaptation of Look 15 from Gaultier's collection. The spring collection includes 60 hybrid looks that juxtapose masculine and feminine elements.
The floor-length dress featured long sleeve on one side, while the other side was sleeveless. It was cinched at the waist with a wide black belt. Part black tuxedo and part pink, satin ball gown, Catherine paired the drapey dress with simple black pumps. Her short blonde hair was styled into her signature bouffant.
Catherine stepped onto the red carpet in her regal fashion, her poise and her signature wave. The actress has a strong dislike for social media. She made headlines for denouncing social media and said that it demystifies the glamour of being a celebrity as "being a star entails glamour and secrecy; it's hard to keep any degree of mystery nowadays."
For any questions/comments on the article, you may contact the writer at: barnali.ibt2015@gmail.com"
© Copyright IBTimes 2023. All rights reserved.