CBD Drinks: Why Marijuana's Buzziest Ingredient Is Shaking Up The Beverage Industry
With all of the health benefits attributed to cannabidiol (CBD), it's little wonder that many mainstream beverage manufacturers are trying to catch that lightning in a bottle — especially one filled with something delicious, thirst quenching and health enhancing.
A host of CBD-enhanced drinks are already on shelves in dispensaries, and more potables are on the drawing board, including early exploration by Coca-Cola. There are now CBD coffees and beers, for instance, so you can wake up with cannabidiol and party down with it as well. There are a host of scientifically backed health benefits for these drinks and other CBD formulations, but so far, the main thing these beverages seem to be causing is confusion — among both the drinking public and would-be bottlers.
But before we get into that, whet your whistle on some heady stats concerning the promise of the cannabidiol business: Hemp Business Journal estimated the market for CBD products grew 50 percent between 2016 and 2017, which saw $190 million in sales. By 2022, that figure should look more like $646 million. It's hard to predict how much of that will be in drinkable form, but it still makes one want to raise a glass to toast this non-psychoactive component in cannabis.
One key point of confusion to clear up: Cannabidiol won't make you high, unlike tetrahydrocannabinol (THC), its more famous cannabinoid cousin. But there's growing evidence CBD is a powerful anti-inflammatory and brain balm with neuroprotectant properties. You could argue that, when news broke in 2013 about how CBD extract helped a young Colorado girl named Charlotte Figi calm her seizure disorder, it was a shot across the bow, and it centered on boosting cannabis research and bolstering state medical marijuana programs.
It's one thing to deny Cheech or Chong another joint. It's another thing entirely to deny a child an effective natural cure. It's not about getting high, the reasoning went, it's about improving your health, and America was suddenly ready to explore the possibilities of CBD — and increasingly, drink up.
CBD interacts with the body in myriad ways. Cannabidiol is one of many phytocannabinoids, i.e., plant-based substances that interact with the body's endocannabinoid system (ECS). The ECS helps regulate metabolism and the nervous system, and introducing a source of CBD from outside the body — like a hemp-based tincture, edible or drink — is thought to encourage the body to use more of its own endocannabinoids, which can heal in lots of ways. CBD is active neurologically, which is why it helped Charlotte, and why preliminary research shows that it may one day play a role in helping people quit cigarettes and addictive drugs. Anxiety and insomnia are also on the CBD hit list. No wonder bottlers are clamoring to add it to sodas, teas, coffees and flavored waters.
So what's the confusing part? There are several, actually.
People confuse CBD with THC. As noted above, the most famous thing that marijuana does is make people high, so it stands to reason that any compound in the plant must be psychoactive, right? Well, no. But until recently, the federal government itself was guilty of this kind of muddled thinking about CBD. That is, until Charlotte and a growing body of anecdotal reports and cannabis studies helped set them straight. Now preparations containing CBD, but little or no THC, are gaining legal acceptance. But…
Manufacturers are still worried about shipping it across state lines. Since 1970, the U.S. Drug Enforcement Administration has classified Cannabis sativa L. as a Schedule I substance, meaning that the feds consider it dangerous, with high potential for abuse. That's why many mainstream drinks manufacturers are still hesitant to ship it across state lines, lest they face the same threat of prosecution as if they were shipping heroin or cocaine. And because cannabidiol starts with that provocative prefix canna-, it still carries an illicit stigma. Perceptions are hard to change, even for a healer like CBD.
People are confused by the difference between cannabis, marijuana and hemp. Well, OK, it is a little confusing, especially if you don't remember much from high school biology class. In fact, cannabis plants have been crossbred, for centuries, to produce the maximum amount of intoxicating THC. On the other hand, hemp, in its role as a workhorse fiber and oil-producing seed, is bred to carry as little THC as possible. Hemp is not about getting high, it's about being useful for all sorts of things, including processing it to produce CBD oil.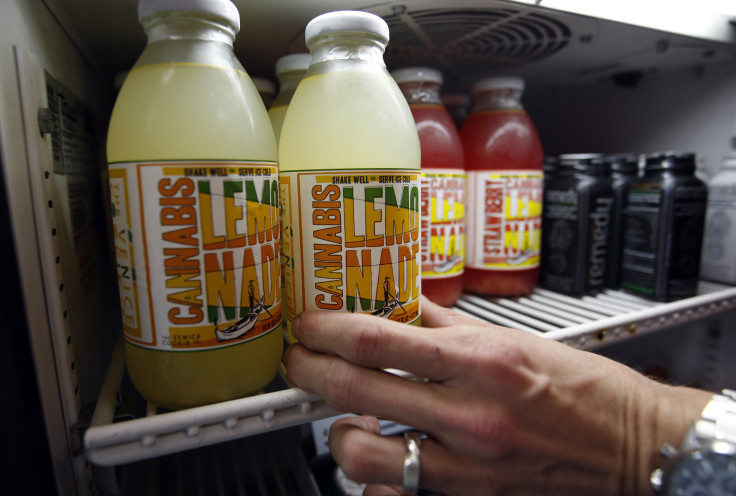 Because of CBD's healing powers, we have every reason to sort out this cannabis confusion. And it's arguable that CBD products are already permissible, even in states that haven't explicitly legalized them — thanks to the 2014 U.S. Agricultural Act (Farm Bill) that opened the door to domestic hemp production, as long as it contains less than 0.3 percent THC. So some companies in the beverage industry are forging ahead with all manner of CBD elixirs. One of Canada's largest cannabis companies, Aurora Cannabis, is reportedly in talks with Coca-Cola to develop a new line of cannabidiol drinks.
So, can Pepsi-Cannabidiol be far behind?
Among the uses CBD drinks might be promoted (and quaffed) for:
As a recovery drink for athletes. CBD is a potent anti-inflammatory agent, and as such, it can help with sore muscles post-workout, or the acute pain that comes from an injury, or the chronic pain caused by a lifetime of pounding the pavements or the gridiron, as many former football players attest.
As a general wellness beverage. We've already seen how popular green tea and kombucha are as feel-good beverages. Prepare for CBD to go that route as well, given its reputation as a promoter of immune system function and body balance.
As a pick-me-up that won't cause the jitters. CBD has well-documented effects related to calming anxiety. Too-strong coffee can produce the opposite sensation. So maybe CBD-infused coffee is the perfect combo: A wake-up call without the worry.
As a diet drink that will actually help you lose weight. Recent lab studies have indicated a role for CBD in regulating metabolism and counteracting diabetes. Put that in your diet soda and drink it.
As a heart-healthy drink that won't make you tipsy. A study in the British Journal of Clinical Pharmacology suggests CBD can reduce the body's physiological reaction to stress and relax constricted blood vessels. And a spill won't stain your shirt, unlike that other potent heart potion, red wine.
These potential benefits have made CBD the "it" ingredient for health and wellness beverages. That popularity isn't surprising among a public thirsting for healthy drinks. But it's still a shocker in Congress. So it may be yet another sign of changing times that Senate Majority Leader Mitch McConnell introduced standalone legislation this year to exclude the non-psychoactive elements in industrial hemp from the Controlled Substances Act. It could free up hemp, and its all-star extract CBD, from the legally murky zone it currently occupies. If that happens, it'll be happy hour in hemp land.
And who wouldn't drink to that?
Robert Di Marco is cofounder and executive director of Boulder Botanical & Bioscience Laboratory, a vertically integrated seed-to-shelf manufacturer of hemp-based CBD extract products.
© Copyright IBTimes 2023. All rights reserved.