CDC Issues New Warnings For Immunocompromised Individuals Due To New COVID-19 Subvariants, Less Protection
The Centers for Disease Control and Prevention is issuing new guidance specifically for those who are immunocompromised, following the pulled authorization of a treatment meant for them that proved ineffective against the most recent strands of COVID-19.
On Thursday, the Food and Drug Administration pulled authorization of Evusheld, a combination antibody injection for people with weak immune systems which was meant to serve as an additional layer of protection in addition to vaccines and boosters when it came to preventing Covid infections. The injection was pulled however because it was deemed as no longer being effective against 95% of the omicron subvariants, including XBB subvariants responsible for as many as 64% of new cases in the United States, and the BQ family of subvariants which are responsible for as many as 31% of infections, according to CNBC.
Now, with Evusheld no longer an option for those with immunocompromised systems, the CDC is issuing new guidance for those members of the population, as they do remain at elevated risk for developing severe illness when they are infected with a variant of the virus.
"Among persons with immunocompromise and their household members and close contacts, prevention measures including wearing a high-quality and well-fitting mask, maintaining physical distance from others, improving indoor ventilation, practicing frequent handwashing, and developing a care plan, should be considered in addition to receipt of a bivalent booster dose," the new guidance reads. "It is important to wear a mask and maintain physical distance from others if it is not possible to avoid crowded indoor spaces."
Among those with immunocompromised conditions are cancer patients on chemotherapy, organ transplant patients taking medications for their transplants, those with advanced HIV infections and those born with immune deficiencies.
According to data from the CDC, reported cases of community infection remain low-medium across most of the United States, though a few specific concentrated areas are seen as having higher community infection rates.
These include Alachua, Bradford, Columbia, Dixie, Gilchrist, Hamilton, Lafayette, Levy, Suwannee and Union counties in Florida; Bland, Buchanan, Dickinson, Russell, Smyth and Tazewell counties in Virginia; Bronx, Kings, Orange, Richmond and Sullivan counties in New York; and Logan, McDowell, Mercer, Mingo and Wyoming counties in West Virginia.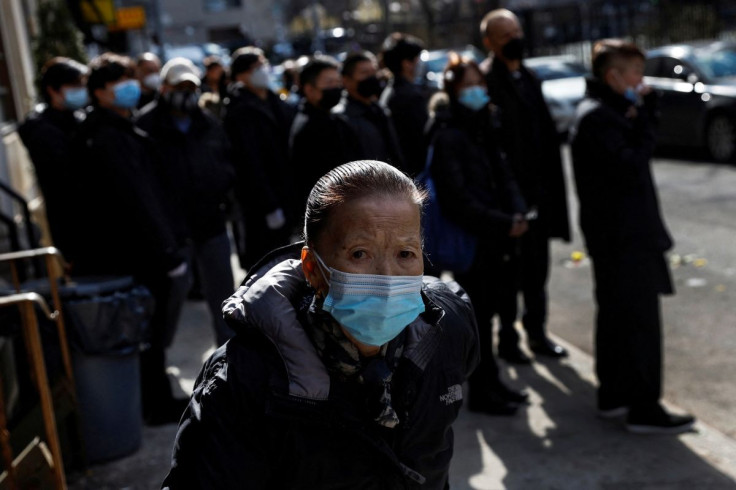 © Copyright IBTimes 2023. All rights reserved.