CES 2018: Samsung Announces Curved QLED Monitor With Thunderbolt 3 Connectivity
Samsung is gearing up for CES 2018. After announcing some of the new C-Lab inventions it will be showcasing at the annual Las Vegas exhibition, the South Korean tech giant is back with another update about a new curved QLED monitor that features Intel's Thunderbolt 3 connectivity.
The newest addition to Samsung's curved display lineup, called CJ791, is the first curved monitor in the industry to have Thunderbolt 3. With this connectivity, the 34-inch monitor can align power source and processing speed into one. Hence, a single Thunderbolt 3 cable alone will enable users to link and dock the new curved QLED monitor with other devices sans the need of extensive wiring.
"As the pioneer of the curved monitor industry, Samsung continues to seek new ways to refine our displays and exceed consumers' expectations on heightened performance and presentation," Samsung Electronics Executive VP of Visual Display Business Seog-gi Kim said in a press release. "The CJ791 aligns Thunderbolt 3 connectivity with our best-in-class curvature and QLED picture quality to captivate and engage users, while also promoting improved organization and productivity."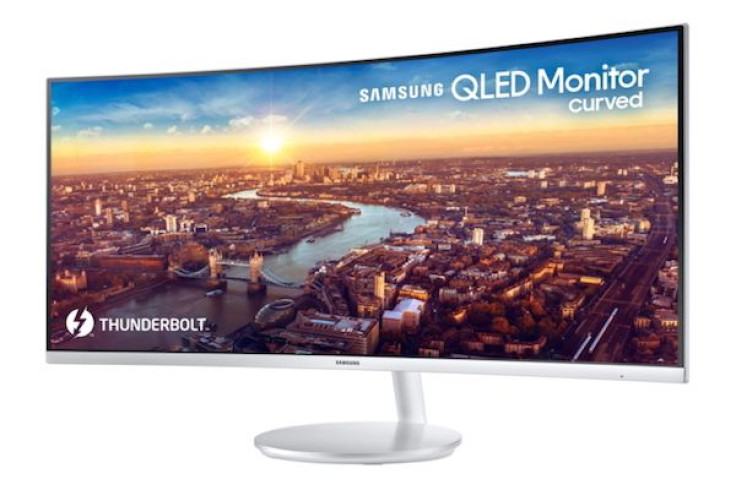 Samsung's CJ791 monitor is designed for both business and entertainment. The 21:9 aspect ratio of the screen and its 3440 x 1440 QHD resolution make it easy for professionals to view large files, tables and spreadsheets without extensive scrolling or zooming. The wide display also makes it possible for users to utilize multi-display setups. Moreover, the adjustable stand and tilt functionality will allow users to adjust the position of the monitor for long periods of comfortable viewing.
Because the CJ791 has ultra-wide QHD resolution, it's also a desirable display for gaming and entertainment enthusiasts. The precise color production creates a visual presentation that's stunning and simply breath-taking. The 1,500R curvature and the ultra-wide 178-degree viewing angle also ensure that the viewing experience is quite immersive.
Thunderbolt 3 makes it possible for the CJ791 to handle processing speed of up to 40 Gigabits per second, which is almost four times faster than conventional USB connectivity. The same connection enables Samsung's new curved monitor to generate 85 watts of laptop charging power. The detailed specs and features of the new QLED monitor will be explained at Samsung's CES booth in the Las Vegas Convention Center.
Meanwhile, Samsung's crosstown rival, LG, introduced its upgraded monitor lineup last month. LG announced its new 32-inch UHD 4K monitor (model 32UK950) and 34-inch UltraWide monitor (model 34WK95U) via its online newsroom last Dec. 21, 2017. Both monitors feature Thunderbolt 3 as well. LG has also teased a new QHD gaming monitor (model 34GK950G) and said that all three monitors will be showcased at next week's CES 2018.
© Copyright IBTimes 2023. All rights reserved.