CES 2021: The Beyerdynamic Phonum Is The Best Device For At-Home Conference Calls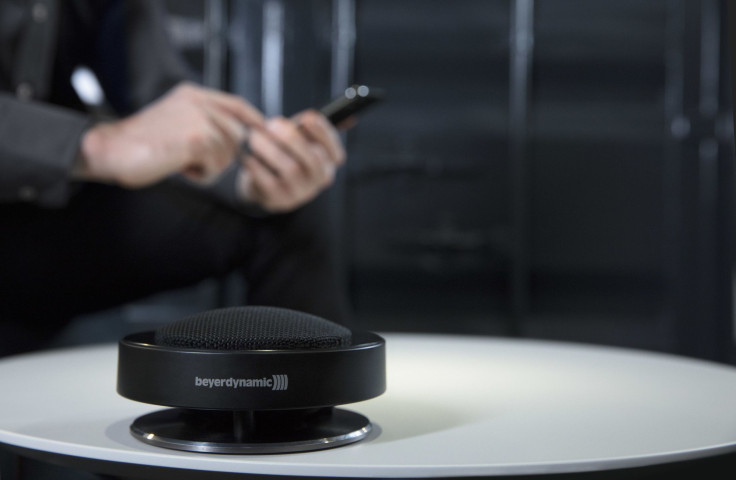 KEY POINTS
The beyerdynamic Phonum makes conference calls while outside of the office a breeze
Bluetooth connectivity means the Phonum can be used with just about every communication app, including Zoom, Skype and Discord
The Phonum microphone has three different modes to best capture voices in multiple settings
Audio technology company Beyerdynamic made a big splash at this year's CES 2021 by showcasing a line of new products including multiple different headphones and microphones. However, the product from Beyerdynamic that really stood out from the competition was the Phonum, which takes expensive conference call hardware and brings it into your home.
The Phonum looks pretty basic, and it is a somewhat straightforward device (until you get under the hood). The concept is simple: the Phonum offers Bluetooth connectivity, allowing users to make conference calls easily with just about any software including Skype, Discord, WebEx Teams, Zoom and Slack. Because of the use of Bluetooth, the Phonum can be connected to both computers and smartphones and can be used wherever there is an internet connection. Bluetooth use also means there aren't any required apps or additional software needed to run the Phonum.
However, as previously mentioned, the Phonum packs a lot of complexity inside its simple frame. The biggest is the Phonum's microphones. There are three different microphone modes to best capture audio. The first is designed to focus on one person who is speaking from a fixed position. This mode is best for someone who is giving a presentation.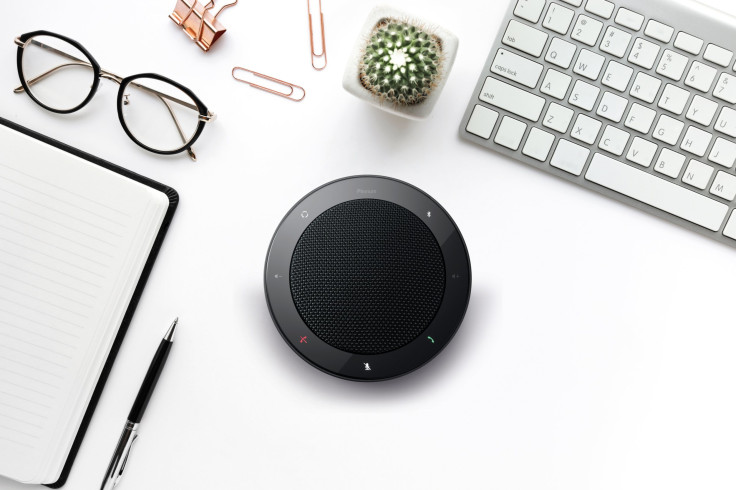 The second mode is called "follow" mode, and it does as its name suggests. The microphones will follow a person to best capture their audio from wherever they may be in relation to the Phonum. This mode is great for someone who paces when on phone calls, or for a group of people that are taking turns talking and presenting.
The final microphone mode is a 360-degree capture set-up. Instead of focusing on one audio source, the Phonum will focus on everything around it. This one is ideal for a group call where multiple people may be speaking simultaneously.
Another cool feature of the Phonum is its ability to fight echoes and other audio distortion. The Phonum uses Beyerdynamics' echo cancellation technology to help eliminate everything except the sound of human voices. This makes conversations flow like normal, and makes everyone sound as high-quality as possible.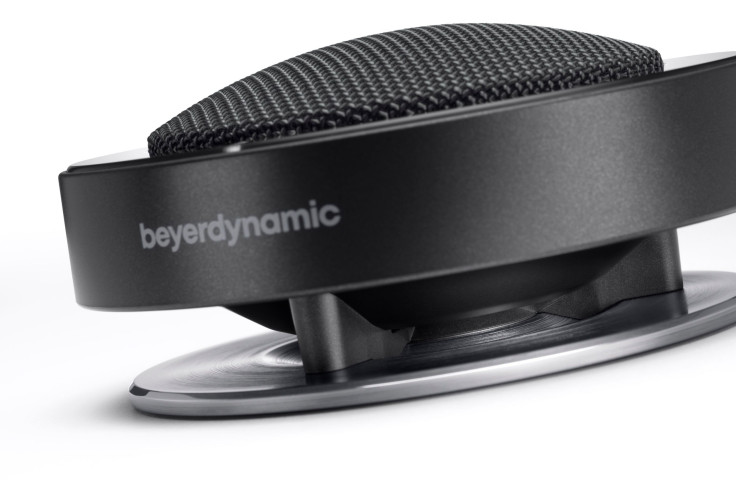 As for the Phonum's speakers, don't be fooled by the grille on top of the device. The Phonum speakers are actually built into the bottom and are pointed down. This may seem counterintuitive, but by sending the audio waves down, they bounce outward and fill a room with sound better than if they were sent out the top of the Phonum. This should make the audio nice and clear for everyone regardless of where they are sitting in relation to the Phonum.
The Phonum comes packed with a rechargeable battery that offers 12 hours of use on one charge. There are also buttons on the Phonum to easily accept or reject calls without having to look at any screens.
The Beyerdynamic Phonum is available right now for $199. It is available through the Beyerdynamic website or via third-party retailers such as Amazon.
© Copyright IBTimes 2023. All rights reserved.