Charlene Tilton Appears On New 'Dallas' As Lucy Ewing; How Long Will She Stay?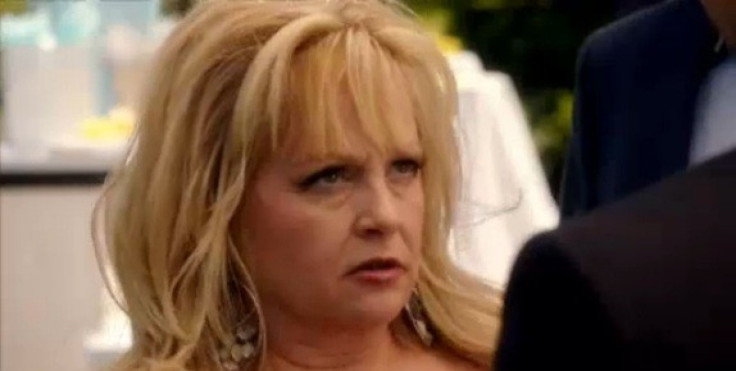 Charlene Tilton, who starred in the original series of Dallas as Lucy Ewing, made her comeback in the 2012 premiere episode. Photo courtesy of TNT.
The new and rebooted season of Dallas 2012 premiered Wednesday night and had fans of the 1980s soap-opera sensation chomping at the bit to see just what has happened to the Ewings over the past 20 years. Original characters, like Larry Hagman and Charlene Tilton, bring some extra wattage to this remake.
Remakes of classics are always questionable. Everyone knows how easily a surefire hit can quickly turn into a miss. But the 2012 version of the original 1980s TV show, Dallas, is more an evolution than a remake. It takes viewers straight from where the show left off in 1991 straight into the 21st century.
One of the ways the show is able to surpass any of the preconceived notions regarding a remake is by bringing back original characters. J.R., Bobby and Sue Ellen Ewing were some of the most-beloved and most-hated characters of their time. The actors -- Larry Hagman, Patrick Duffy and Linda Gray -- are back for the new season of Dallas, helping to bridge the gap between original fans and an entirely new audience.
During Wednesday's premiere, fans of Dallas feasted their eyes on another original character, Charlene Tilton. Tilton played Lucy Ewing, the rowdy niece of J.R. Ewing. She became extremely popular for her wild child character.
Charlene Tilton became a 1980s pin-up girl with her debut role in Dallas. Photo courtesy of Charlene Tilton Facebook fan page.
Tilton made her appearance during the 2012 premiere at Christopher Ewing's wedding.
Count your blessing, Christopher, she says. Those two old geezers would still find a way to fight. The Barnes and the Ewings never did get along. She refers, of course, to Chris Barnes and J.R. Ewing, who have been enemies ever since Barnes took claim of J.R.'s oil business. Without his oil empire, J.R. slipped into a deep depression.
Her popularity continues to boom 20 years later.
Following the TNT show's debut, Yahoo searches on 'charlene tilton' gushed 342 percent, reported Yahoo TV. Related lookups on 'charlene tilton new dallas' spiked over 2,000 percent, and queries for 'how old is charlene tilton' jumped 225 percent (she's 53, by the way). Even her character moved the search needle -- queries for 'lucy ewing' more than tripled overnight.
Tilton, who is now 53-years-old, was born and raised in L.A. and landed the role of Lucy Ewing in the original Dallas series when she was just 17.
[It was a] great working experience, Tilton told UltimateDallas.com. [The show] was a lot of fun, too. Patrick [Duffy] and Larry [Hagman] were always being really funny and cutting-up. When we had the infamous mealtime scenes, food fights would inevitably develop.
Charlene Tilton poses with Dallas 2012 cast members Josh Henderson and Patrick Duffy. Tilton starred with Duffy on the original series. Photo courtesy of Charlene Tilton Facebook fan page.
During her Dallas stint, Tilton bounced back and forth between weight loss and weight gain. Her story became tabloid fodder.
They've got all these skinny people on the front of 'The Star,' accusing them of being anorexic, and then you open it up and they're making fun of Rita Wilson because of her weight and asking if she's pregnant, said Tilton.
When viewers saw her comeback on the new Dallas, some poked fun at her looks, her weight and her age.
Charlene Tilton looks older than Linda Gray. When Lucy calls Bobby 'Uncle', you'll do a double-take, tweeted Lorna Cooper.
Awkward contrast between the old, original actors and model-pretty newbies on #DallasTNT. Poor Charlene Tilton, tweeted Christopher Wynn.
Regardless of the noise coming from critics, fans of Lucy Ewing are in luck! Tilton is set to stick around for more than one episode of the new TNT series.
You know that Charlene Tilton [who played Lucy Ewing] comes back for a couple episodes, and Steve Kanaly [who played Ray Krebbs] and Kenny Kercheval [who played Cliff Barnes] come back for a couple, Duffy told the Huffington Post. Cynthia was asked this a few months ago and she said, 'I will tell you that any actor who has had a part on Dallas and is still alive, the option is out there and they can come back.' So anything's a possibility -- if it would service the show, any of those characters could resurface, as long as that character is still alive.
© Copyright IBTimes 2023. All rights reserved.