Charles Dickens Birthday Quotes 2018: Famous Sayings By World-Renowned English Writer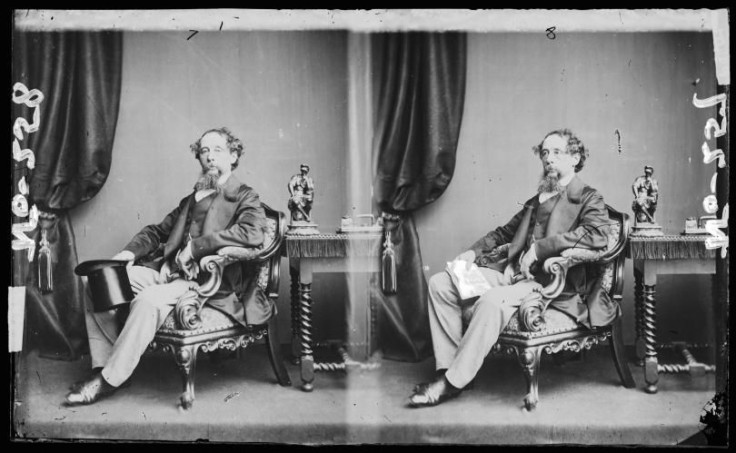 World-renowned English author and social critic Charles Dickens' 206th birthday was celebrated Wednesday. From "A Christmas Carol" in 1843 to "A Tale of Two Cities" in 1859, Dickens dominated the Victorian era.
Charles John Huffam Dickens was born Feb. 7, 1812, in Portsmouth, Hampshire, England. He died June 9, 1870, near Chatham, Kent, England. Dickens belonged to a middle class family. One of his grandfathers was a domestic servant, and the other an embezzler. His father, who was a clerk in the navy pay office, had been in prison for debt. Dickens, who was the eldest son, had to leave school and began manual work in a factory. He worked as a clerk in a solicitor's office, then a shorthand reporter in the law courts and finally, a parliamentary and newspaper reporter. In 1832, Dickens nearly became a professional actor.
In 1833, Dickens published his first work of fiction, "A Dinner at Poplar Walk," in Monthly Magazine — a publication managed by political editor, Richard Phillips. In 1842, he traveled with his family to the United States, a trip he recollected in his travel memoir, "American Notes for General Circulation." From 1843-49, Dickens published three stories with the spirit of Christmas as its theme, "A Christmas Carol," "The Chimes," and "The Cricket on the Hearth."
Below are some of Dickens' most famous quotes:
1. "Any man may be in good spirits and good temper when he's well dressed." – "Martin Chuzzlewit"
2. "It was the best of times, it was the worst of times, it was the age of wisdom, it was the age of foolishness, it was the epoch of belief, it was the epoch of incredulity, it was the season of Light, it was the season of Darkness, it was the spring of hope, it was the winter of despair, we had everything before us, we had nothing before us, we were all going direct to Heaven, we were all going direct the other way in short, the period was so far like the present period, that some of its noisiest authorities insisted on its being received, for good or for evil, in the superlative degree of comparison only." – "A Tale Of Two Cities"
3. "Love is not a feeling to pass away, Like the balmy breath of a summer day; It is not — it cannot be — laid aside; It is not a thing to forget or hide." – "Lucy's Song in The Village Coquettes"
4. "If there were no bad people there would be no good lawyers." – "The Old Curiosity Shop"
5. "If any one were to ask me what in my opinion was the dullest and most stupid spot on the face of the Earth, I should decidedly say Chelmsford." – "Letter to Thomas Beard (Jan. 11 1835), in Madeline House, et al., The Letters of Charles Dickens"
6. "To conceal anything from those to whom I am attached, is not in my nature. I can never close my lips where I have opened my heart." – Master Humphrey's Clock, Vol. 1
7. "The pain of parting is nothing to the joy of meeting again." — "The Life and Adventures of Nicholas Nickleby"
© Copyright IBTimes 2023. All rights reserved.