Cheryl Burke Is 'Ready To Date' Following Matthew Lawrence Split: 'Time To Sext'
Cheryl Burke, who previously said she was nervous to date again following her divorce from Matthew Lawrence, is now all set to enter the dating game.
The 38-year-old professional dancer, who appeared on the "Dancing with the Stars" reality show, says she is now "ready to date."
"Let's just cut the B.S., I need to get out there, because I haven't been on one date since I've been separated, divorced, whatever," she told Patti Stanger who appeared as a guest on her "Burke in the Game" podcast Tuesday. Stanger is popularly known as the "Millionaire Matchmaker" host.
The pro dancer added, "I think it's at least time to sext somebody."
Burke also spoke about her departure from the "Dancing With the Stars" reality show. She was a regular on the show from 2006 to 2022. "It's hit me in so many different ways," she said.
The dancer recalled she had a "flirty" moment with someone on the sets earlier this year, following her divorce. She didn't disclose the name of the person.
She noted it was "the first in-person, flirty thing happening" since her divorce. However, it didn't go any further as she didn't show any interest in that person.
"I just said, 'So be it. You know how to get a hold of me, you know where I am,' and there was just nothing," she explained. "And normally I'd be so heartbroken because I'd have made up this crazy reality in my head, but I just let it go. And I was really proud of myself."
Burke was vocal about her mental health struggles.
"I have body dysmorphia because I'm a dancer," she said in July. "I mean, tell me one dancer that doesn't." Burke went on to explain that she felt she was overweight whenever she looked at herself in the mirror.
The dancer married Lawrence in 2019 and they separated earlier this year. She filed for divorce at a Los Angeles courthouse on Feb. 18.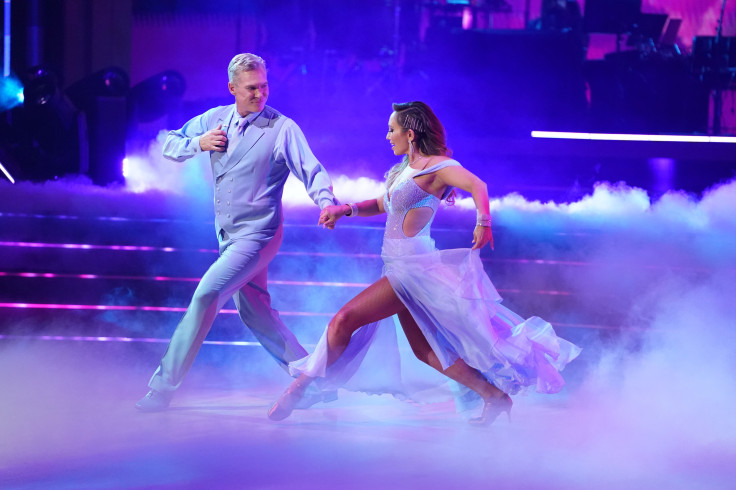 © Copyright IBTimes 2023. All rights reserved.