Chevron Corp. (CVX) Posts First Quarterly Loss Since 2002 As Oil Price Plunge Erodes Profits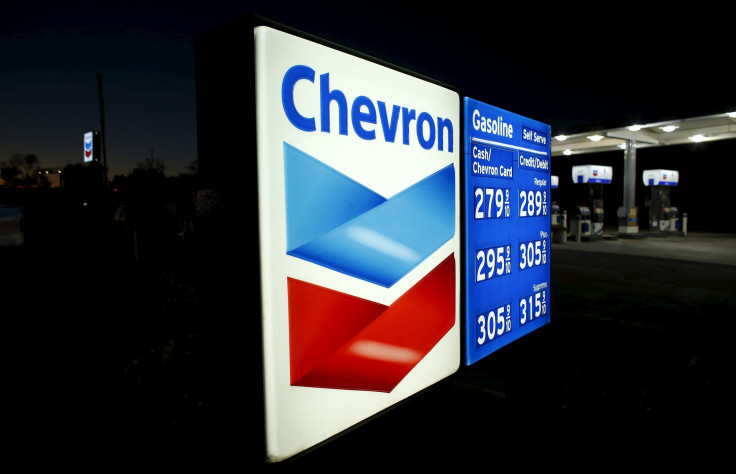 Chevron Corp. swung to a loss in the fourth quarter for the first time in more than 13 years as plunging oil prices hammered profitability across all its divisions. The No. 2 U.S. oil producer vowed Friday to continue tightening its belt and said it will sell off assets to help it navigate what could be another rocky year for the oil business.
Chevron (NYSE:CVX) reported a loss of $588 million in the October-December period, compared with earnings of $3.5 billion in the fourth quarter of 2014. The San Ramon, California, company was expected to report an unadjusted gain of $913 million, according to analysts polled by Thomson Reuters.
Chevron Corporation (CVX) | FindTheCompany
The quarterly loss — Chevron's first since the third quarter of 2002 — arrives as global oil prices have plummeted over 70 percent since the downturn began in mid-2014. Chevron said its average sales price for crude oil and natural gas liquids was $35 a barrel in the fourth quarter, down from $66 a year earlier.
The price plunge forced Chevron to cut 3,500 positions in the past year, with an additional 4,000 job cuts planned in 2016. The company last month slashed its 2016 budget by 24 percent to $26.6 billion, part of its broader strategy to curb costs and hunker down until oil prices rebound.
"We're going to continue to live within our means," John Watson, Chevron's CEO and chairman, told investors on a conference call Friday. "We're taking significant action to improve earnings and cash flow in this low-price environment."
But analysts said Chevron's financial report suggested another strategy is at play: The company is boosting oil production, expanding its reserves and taking on more debt even as Watson suggested future spending cuts and project delays could be in store this year.
"He's speaking conservatively but positioning aggressively," James Brumley, an analyst and feature writer for InvestorPlace, said.
Chevron's production rose 2 percent to 2.62 million barrels of oil equivalent per day for all of 2015. The company added around 1.02 billion barrels of proved reserves last year, amounting to an estimated 107 percent of oil equivalent production for the year. Meanwhile, total debt rose by $10 billion last year for a total of around $31 billion.
"They're pumping out more oil, refining more oil, looking for more oil. That doesn't really say they're thinking all that conservatively," Brumley said.
Chevron's share price has dropped nearly 17 percent in the past year. Shares were down 0.34 percent to $85.63 in New York at 2:24 p.m. EST.
Competitors Exxon Mobil Corp. (NYSE:XOM) and ConocoPhillips (NYSE:COP) are scheduled to report earnings Feb. 2 and Feb. 4, respectively.
© Copyright IBTimes 2023. All rights reserved.