China Car Sales Growth Drops To 3-Year Low In 2015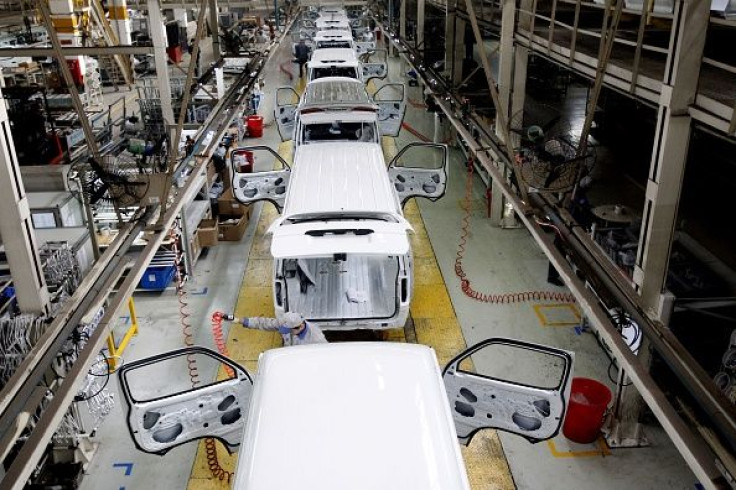 Car sales in China rose by 4.7 percent to 24.6 million units in 2015 -- the slowest pace in three years -- as a tax cut by the government at the end of the year did little to revive sales amid the country's slowest economic expansion in 25 years, media reports said Tuesday. In comparison, auto sales grew 5.7 percent to 17.5 million units in the U.S. last year.
Looking ahead, the China Association of Automobile Manufacturers (CAAM), the main industry group for the Chinese automotive industry, reportedly projected the country's vehicle sales will grow 6 percent in 2016. Vehicle sales accelerated sharply in October after the Chinese government halved a 10 percent tax on vehicles with engines smaller than 1.6 liters in a bid to boost the world's largest car market.
Before the tax break, vehicle sales had fallen for three straight months, prompting international car makers like General Motors Co. and Volkswagen AG to cut production in China to match the sluggish demand. In July last year, CAAM revised its forecast for 2015 growth to 3 percent from 7 percent previously as China's stock markets went into freefall over the summer.
However, the relaxation helped companies post sharply higher numbers in the last part of the year, the industry body noted. According to the Wall Street Journal, China's December car sales rose 18 percent from a year earlier, following a 20 percent rise in November.
China last offered a tax break on passenger cars in 2009, following the global financial crisis. That year, passenger car sales ballooned by 53 percent, pushing China above the U.S. as the world's largest auto market.
While a reprise of such growth in demand is unlikely due to its much bigger base and a cooling economy, industry watchers predicted that September's tax break would remove some of the pressure from car makers. The sentiment was contested by some economists who indicated that China's auto industry was facing a lot more troubles than a dip in sales in the past year.
Robin Zhu, a senior analyst at research firm Sanford C. Bernstein told the Journal that a large buildup of inventory at car dealerships during 2015 might act as buffer, preventing purchase of new stock by dealerships and pushing down car prices -- a key measure of demand. "We are convinced the growth seen in recent months simply cannot last," Zhu said.
"The opportunity for the auto industry in China to consolidate production capacity and improve profitability over the long term was stopped in its tracks when the government lowered vehicle purchase tax that artificially boosted demand," said Steve Man, a Hong Kong-based analyst told Bloomberg.
While speaking to reporters at a Detroit auto show, General Motors Co CEO Mary Barra said Sunday that although growth in the Chinese auto market has slowed, sales will grow significantly over the long term.
© Copyright IBTimes 2023. All rights reserved.