China Coronavirus Death Toll Hits 1,115; Marks Most Deaths In 1 Day With 103
KEY POINTS
Covid-19 killed more patients in China on Monday than on any day since the outbreak began in December 2019
The disease's high-transmissibility means a pandemic can't be ruled out
China reports one bit of good news: new infections on the mainland outside Hubei Province fell for the eighth straight day
Fears of a global pandemic arising from the untrammeled spread of the raging coronavirus (Covid-19) outbreak in China continue to rise with deaths in China surpassing the 1,000 mark on Tuesday and the largest single day death toll being recorded on Monday.
A pandemic is a disease epidemic that's spread across a large region, such as multiple continents or worldwide. The lingering fear of a Covid-19 pandemic is being fueled by the high transmissibility of this new coronavirus for which there is still no known cure.
China's National Health Commission (NHC) reported 108 people in mainland China died on Monday, the biggest single-day death toll from the Novel coronavirus. It also said 2,478 new cases were identified in mainland China.
NHC reported 97 new deaths attributable to Covid-19 and 2,015 newly-confirmed cases as of Tuesday. This brings the national totals to 1,113 and 44,653, respectively.
As of 6:10 a.m., Wednesday, Hong Kong time, there were 45,171 confirmed Covid-19 cases and 1,115 deaths arising from the disease. In addition, 4,771 are said to have recovered from the virus, said NHC.
There was welcome news, however. NHC reported that outside Hubei province -- Ground Zero for the Covid-19 outbreak -- new infections on the mainland fell for the eighth straight day.
This new disease is more contagious than SARS, which raged from 2003-03. It's less lethal than the latter and has a mortality rate ranging from 1 to 2% compared to SARS' almost 10%.
The most common mode of transmission for the highly-contagious Covid-19 is human-to-human, said medical experts. A type of human-to-human transmission, called "nosocomial transmissions," is rapidly spreading the coronavirus to uninfected patients at hospitals and healthcare centers in Wuhan treating Covid-19 patients.
A new study published Friday in the medical journal, JAMA, found 41% of the first 138 patients diagnosed at one hospital in Wuhan with coronavirus were likely victims of nosocomial transmissions. Nosocomial transmissions were also a major source of spread for the MERS and SARS CoV outbreaks in 2012 and 2003, respectively. It might also help trigger a Covid-19 pandemic as hospitals in Wuhan are overflowing with Covid-19 patients.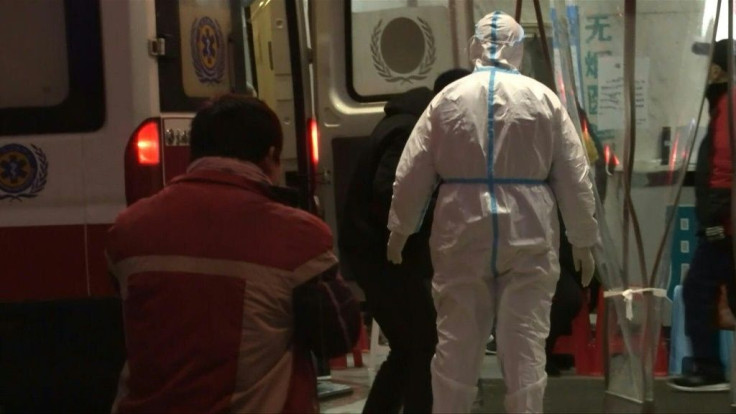 © Copyright IBTimes 2023. All rights reserved.