China Detains 5 Suspects In Monday's Tiananmen Square Incident; Calls It A Terrorist Attack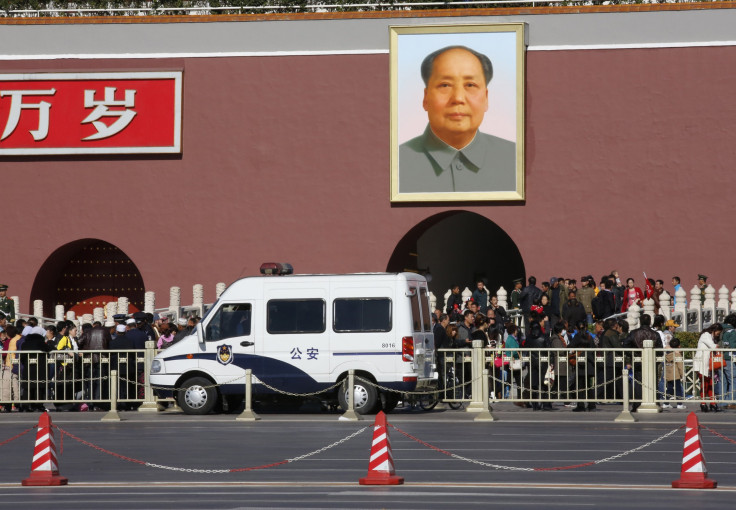 Chinese police said Monday's incident in Beijing's Tiananmen Square, which killed 5 people, was a "carefully planned, organized and premeditated" terrorist attack, state-run Xinhua reported.
According to the Beijing Municipal Public Security Bureau, five suspects from the Uighur Autonomous Region in Xinjiang province in the country's northwest have been detained, the report said.
"The arrests were made 10 hours after the incident, which has now been identified as a terrorist attack," the Los Angeles Times reported, citing state broadcaster CCTV.
On Monday afternoon, a sports-utility vehicle, or SUV, veered onto a crowded sidewalk near the historic square, killing five people, including the driver and two passengers, and two tourists before crashing and catching fire at the entrance to the Forbidden City.
After immediate attempts by local authorities to restrict coverage of the incident -- by deleting related posts from social media websites and photos from foreign journalists' cameras -- China's state-controlled media on Wednesday identified the car's occupants as members of a single family.
Usmen Hasan was driving the SUV and was accompanied by his mother, Kuwanhan Reyim, and his wife, Gulkiz Gini, in the vehicle, which had a Xinjiang license plate, Xinhua reported citing an official spokesman, adding that the family of three died after they set fire to the SUV with the gasoline they were carrying inside the vehicle.
The Xinhua report noted that police also found a flag with "extremist religious content" in the vehicle, and found knives and at least one "jihad" flag at the temporary residence of the five detainees.
Officials also released the names of the five suspects as Husanjan Wuxur, Gulnar Tuhtiniyaz, Yusup Umarniyaz, Bujanat Abdukadir and Yusup Ahmat.
The names of the suspects suggest that they are part of Xinjiang's Uighur ethnic minority, who have in the past protested, sometimes violently, against what they say is the Chinese government's repression of their religion and customs.
© Copyright IBTimes 2023. All rights reserved.