China Imports Fall On Sluggish Raw Material Purchases, Exports Dip On Falling Global Demand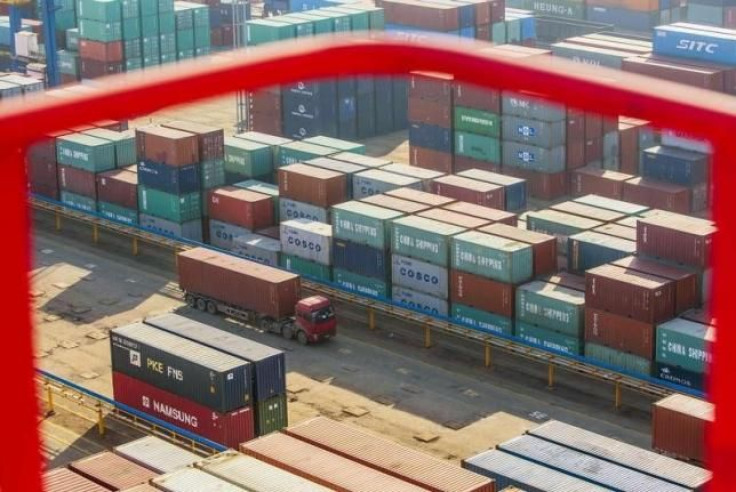 China's imports contracted further in October, according to reports citing official data released Sunday, as the world's second largest economy struggled with sluggish domestic demand.
Imports tumbled 16 percent to 833.14 billion yuan ($131.2 billion) as China cut back on purchases of coal, steel, copper and aluminum used in its heavy industries. Meanwhile, exports were down 3.6 percent, a shade above the previous month's 3.7-percent contraction as foreign demand for Chinese goods also slowed. Overall, China's foreign trade dropped 9 percent, marking the eighth consecutive monthly decline.
"The mix of the data is again not encouraging," Commerzbank economist Zhou Hou told the Wall Street Journal. "Trade momentum is unlikely to turn around in the near term."
China reported in October that its GDP grew at 6.9 percent in the third quarter -- its slowest since 2009 -- and President Xi Jinping announced that the government would seek an annual growth target of 6.5 percent through 2020, just days after Chinese Premier Li Keqiang acknowledged that it won't be easy for the country to reach its target of "about seven percent" growth for the year.
On Friday, China's Ministry of Commerce released a report, cited by the China Daily, that said imports may fall substantially and exports are expected to remain flat, citing a sluggish global economy, high costs and slumping commodity prices. The country boosted its purchases of crude oil and soybean to take advantage of low prices, according to reports.
As Beijing looks to transition to a consumer-driven economy, lower property rates, overcapacity in the manufacturing sector and battered consumer confidence have presented challenges within China and abroad.
The fall in Chinese imports are also expected to spell trouble for resource-rich countries such as Australia and Brazil, which count China as a major client. And China's slowdown was also cited by U.S. Federal Reserve Chairwoman Janet Yellen as a reason for delaying a hike in U.S. interest rates, which would be the first since 2009.
© Copyright IBTimes 2023. All rights reserved.