China June Economic Data Preview: Q2 GDP, Trade, Inflation, Industrial Output, Retail Sales, Fixed Asset Investment And Bank Lending Data On Tap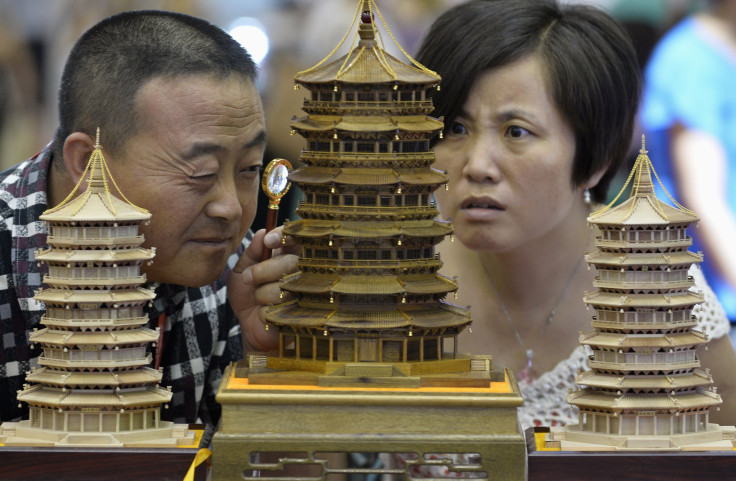 A batch of Chinese economic data due for release in the coming two weeks will be closely scrutinized for clues as to whether the weakness seen in China's twin June manufacturing PMIs reflects a true softness in the economy or mostly a result of the government's rebalancing efforts.
Both of China's manufacturing PMIs published Monday came in below May levels, pointing to lackluster growth in the second quarter. The official PMI dropped to its lowest level in nine months in June. The private measure, known as the HSBC/Markit Purchasing Managers' Index, fell to 48.2 last month, from 49.2 in May. Readings below 50 indicate a shrinking in factory activity.
Those readings may have been dragged down by a negative turn in sentiment after a credit squeeze that began last month. China's central bank allowed short-term borrowing costs to spike to close to 30 percent on June 20, sending a blunt but effective message to overstretched banks that it was determined to bring risky lending under control.
Although the end-quarter scramble among banks for deposits to meet their regulatory requirements has now passed, the cash crunch's impact is still likely to be felt with a lag. Analysts say these financial pressures could suppress growth further for the world's second-biggest economy.
Less than five years ago, China was only the world's fourth-largest economy. Powered by a 4-trillion-yuan ($586 billion) stimulus plan, China surpassed Germany in 2008 and Japan in 2010. It was clear that, as credit grew, so did gross domestic product growth -- and some other things: home prices, bad debts and wasteful investment.
The Chinese government doesn't want to make the same mistake again. China's economic growth eased to a 13-year low of 7.8 percent last year, from 9.3 percent in 2011 and 10.3 percent in 2010. Economists predict that China will likely slow further, but probably remain in the 7.0 percent to 7.5 percent zone for the year.
Premier Li Keqiang said last Friday that the country could still meet its 7.5 percent growth target. "China's economic growth is on a steady track," said Li, according to the state-run China Daily.
The National Bureau of Statistics will report second-quarter gross domestic product figures July 15. China's GDP grew 7.7 percent in the first quarter from a year ago, slower than the 7.9 percent hit in the last three months of 2012.
China's new administration, which formally took office in March, has signaled its intention to rebalance the economy away from a reliance on exports and investments for growth and toward a greater emphasis on domestic consumption. The new leaders face a delicate balancing act as they lay out plans to reform the economy.
After years of pressure on local officials to hit ambitious growth targets, expectations are shifting. So far, the Xi-Li administration has demonstrated that weaker economic growth will be tolerated in exchange for a higher-quality growth.
President Xi Jinping declared Saturday against evaluating the performance of local officials solely on economic data. Rather, Xi said, they should be measured by their ability to improve quality of life.
"We should never judge a cadre simply by the growth of gross domestic product," said Xi, according to the Xinhua news service.
Will this stop the local governments from fudging the numbers? In the first quarter, the national GDP came in at 7.7 percent. In all defiance of the law of averages, no single province (out of a total of 31) claimed a real GDP growth rate lower than the nationwide number. And the contradiction between the national and provincial data is nothing more than a continuation of a long-time trend. It'll be interesting to see what figures we'll get for the second quarter.
June Data Outlook
July 9 -- Consumer Price Index and Producer Price Index: May's fall in consumer price inflation was almost entirely due to a sharp drop in vegetable prices. These have stabilized in recent weeks, while pork prices have rebounded, according to Capital Economics analysts Mark Williams and Wang Qinwei. Around this time of last year, pork prices were still falling. Both factors should push up food price inflation in June. By contrast, non-food price inflation is likely to have been stable. "Looking ahead, headline inflation is likely to rise further on the back of rising pork prices, but with little evidence of inflation pressure, it should stay below 4 percent to the end of this year," Williams and Wang said.
July 10 – Trade Balance: Export growth slowed sharply in May after the government cracked down on inflated reporting. The unusual strength of exports and imports in May last year also contributed to the slowdown. Shipments reverted to trend in June last year. As a result, Capital Economics expects the unfavorable base effect to drop out of the upcoming data. The firm forecasts that exports will increase by around 6 percent and that June's trade surplus will be large.
July 15 -- Industrial Production, Fixed-Asset Investments And Retail Sales: Growth in overall industrial production edged down in May. Output from heavy industry seems to have held up relatively well, which is consistent with evidence elsewhere that recent rapid credit growth has mainly helped local government financing vehicles and supported infrastructure construction, Williams and Wang said. However, the strength here has been offset by the weakness in light industry. Strong infrastructure spending in turn is helping prop up the investment figures, although overcapacity concerns are holding back investment in manufacturing. In addition, with consumer confidence low, retail spending will likely come in on the weak side.
July 10-15 -- Bank Lending: Bank lending started June extremely strong. Local media reported that net new loans reached nearly 1 trillion yuan ($163 billion) in the first 10 days of June. Banks assumed that the PBOC would inject liquidity to accommodate rapid growth in credit, but the PBOC held its line. "Anecdotal reports suggest that high interbank rates caused a sharp pullback in lending in the second half of the month, with some bank branches halting lending altogether," Williams and Wang noted. On net, they have penciled in lending of 600 billion yuan for the entire month of June. That's close to the level seen in May.
© Copyright IBTimes 2022. All rights reserved.
FOLLOW MORE IBT NEWS ON THE BELOW CHANNELS