China Slowdown Hits Domestic Auto Companies, But Foreign Makers Like GM Remain Unfazed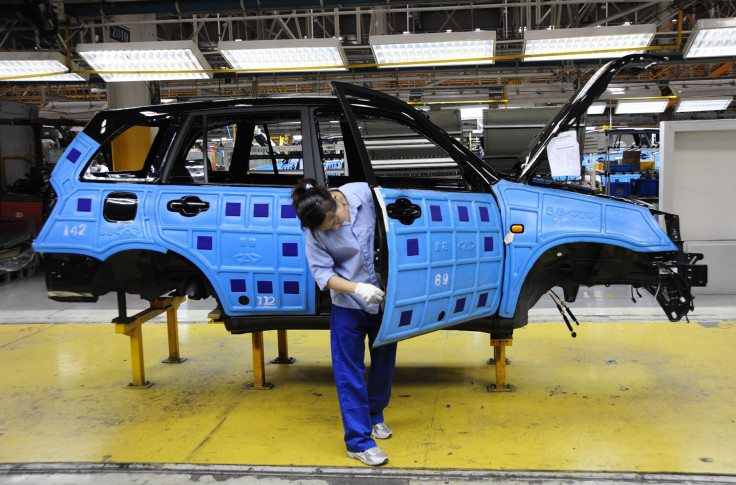 China is facing its slowest economic growth in 15 years along with a multiyear credit surge. Now, automakers are beginning to feel how these broad economic concerns are slowing sales in world's biggest and fastest-growing market for cars and trucks.
The pace of new-vehicle sales growth in China is half of what it was just a year ago. Some 18.99 million new cars and trucks were sold in the first 10 months of 2014, a 7 percent increase over the same period a year ago, according to the China Association of Automobile Manufacturers, but in the first 10 months of 2013, sales grew 14 percent compared with the same period in 2012.
So far, foreign automakers such as General Motors Co. and Volkswagen Group continue to invest billions in China while snatching market share from domestic producers. "It's a kind of 'build it they will come' attitude," James Chao, director of IHS Automotive Asia-Pacific, told Automotive News in a report published Monday.
Even as auto sales decline overall, foreign makers are reporting strong sales growth, suggesting that China's domestic makers such as Geely, Great Wall Motors and Chery are feeling the pinch. In the first six months of the year, domestic car companies sold only 38 percent of all domestically purchased cars, and that share is declining.
On Monday GM announced it set a sales record in China for the first 11 months of the year, at 3.18 million vehicles. GM is benefiting from domestic joint ventures lead by Shanghai GM, which produces Chevrolet, Buick and Cadillac vehicles, and SAIC-GM-Wuling, which makes Wuling microvans and the Baojun 630 sedan, a car aimed at lower-income buyers in China's smaller cities.
IHS Automotive predicts that auto manufacturing in China will decline considerably in the coming years, from above 90 percent capacity four years ago to 70 percent through the end of the decade. Domestic manufacturers have struggled for years with quality and safety issues that are pushing Chinese consumers toward foreign brand names, especially Volkswagen and General Motors.
The declining output in China makes the U.S. the world's only market where capacity is increasing at a blistering pace. In the U.S., production capacity is expected to hover over 90 percent through 2020, up from 68 percent in 2010, a year after the Great Recession sent sales to a 30-year low.
The decline comes as foreign car companies are betting billions on China's long-term growth prospects. General Motors, the second-largest foreign automaker in China after Volkswagen Group, is spending $14 billion to open five production plants with its domestic partners, while it main rivals Volkswagen, Fiat Chrysler Automobiles and Ford are following suit with added factory floor space.
It's not just the prospect of hundreds of millions of new customers, but also the expectation that Chinese consumers will, similar to their American counterparts, embrace financing and leasing, driving sales even further.
"In 2013, only an estimated 20 percent of Chinese buyers opted for auto loans to finance their vehicle purchases," according to a recent analysis from PwC Autofacts. That's compared with 85 percent in the U.S. and 71 percent in Germany, Europe's largest auto market.
Chinese consumers still largely prefer cash purchases for new vehicles, but as the government increasingly promotes awareness of new-vehicle financial leasing, coupled with deregulation of the market, auto-financing deals are expected to grow 25 percent every year to the end of the decade.
© Copyright IBTimes 2023. All rights reserved.