Is China A Threat? Beijing Tells US To Stop Threatening War Over South China Sea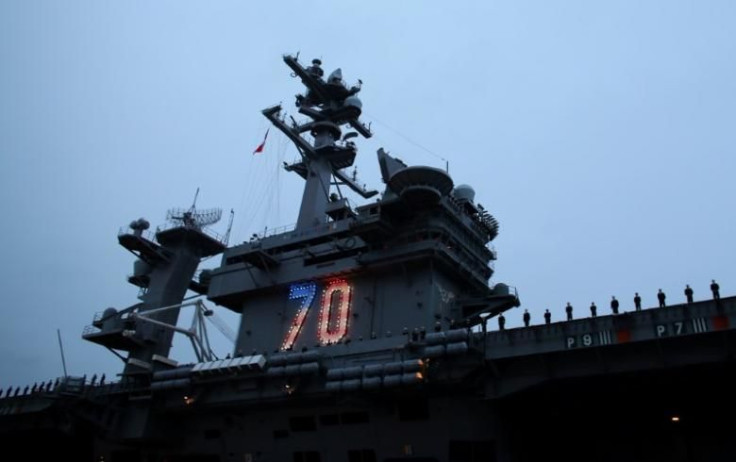 China's defense ministry has warned countries to stop making war threats and attempting to aggravate tension in the South China Sea. The comments, made Thursday, came on the heels of the deployment of the U.S. aircraft carrier USS Carl Vinson in the South China Sea.
According to the defense ministry spokesman Ren Guoqiang, the situation in South China Sea is becoming peaceful and stable.
"Countries outside of the region shouldn't purposefully stir threats of war or tension, but should inject positive energy into this good development," Ren, who also addressed the relations between China and the U.S., said.
"[A] healthy Sino-U.S. military relation adheres to the basic interests of the two nations' people, as well as being beneficial for peace and security in the Asia-Pacific region and the world," Ren said. "It needs China and the US to jointly maintain it. We hope both sides can work together, strengthen communication, avoid misunderstandings and push forward military relations on the right track."
On Saturday, Rear Adm. James Kilby said the USS Carl Vinson carrier was patrolling the South China Sea. Previous such patrols have upset China, which has called them a provocation.
Beijing has been consistently accused of asserting and laying claims to almost all of South China Sea, from where about $5 trillion worth of maritime trade passes every year. It has been reportedly building runways and ports on islands in the contested region to further its claim. However, China has maintained it does not intend to start a conflict and that its operations will actually add to the safety of the region. It has also blamed the U.S. for militarizing the South China Sea and increasing tensions.
Brunei, Malaysia, the Philippines and Taiwan also have laid claims to the disputed waters.
© Copyright IBTimes 2023. All rights reserved.