US Preparing For War? China Closely Watching US Navy Ship In South China Sea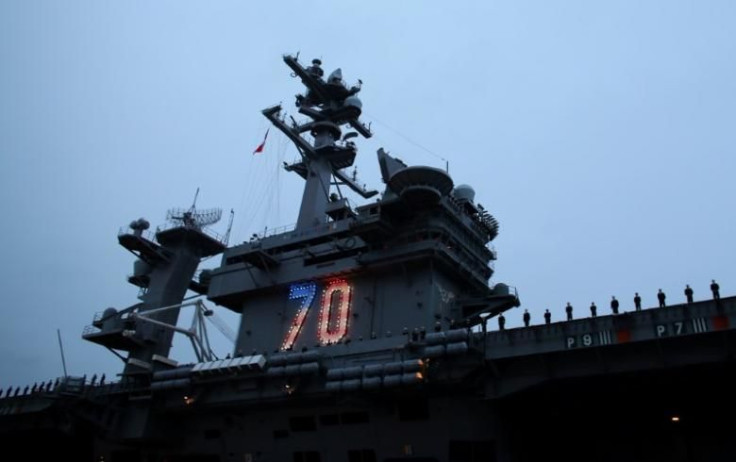 As tensions between China and the U.S. over South China Sea heighten, Beijing's defense ministry said Thursday it was aware of the deployment of a U.S. aircraft carrier strike group in the disputed waters. While urging America to maintain sovereignty and security of China, defense ministry spokesman Ren Guoqiang said its nation respected freedom of navigation for all countries in the waters.
Last week, Rear Adm. James Kilby said the carrier USS Carl Vinson began operations in the South China Sea, a day after China wrapped up its own exercises. China has earlier called U.S.' "freedom of navigation" exercises a serious breach of law as well as a provocation.
"China hopes the U.S. earnestly respects the sovereignty and security concerns of countries in the region, and earnestly respects the efforts of countries in the region to maintain peace and stability in the South China Sea," Ren said in a regular monthly news briefing, according to Reuters. "Of course, we also respect freedom of navigation and overflight for all countries in the South China Sea in accordance with international law."
While noting that the situation in South China Sea was generally stable, Ren said: "We hope the actions of the U.S. side can contribute positive energy towards this good situation, and not the opposite."
Tensions between the U.S. and China spiraled after President Donald Trump accepted a congratulatory phone call from Taiwanese President Tsai Ing-wen, making him the first U.S. president to directly contact Taiwan in four decades.
China has repeatedly blamed the U.S. for heightening tensions in the South China Sea, through which over $5 trillion of maritime trade passes annually. Brunei, Malaysia, the Philippines and Taiwan also have conflicting claims to the waters.
On Wednesday, two U.S. officials told Reuters that China is close to finishing the construction of structures capable of housing long-range surface-to-air missiles. Beijing has also built military-length airstrips and conducted weeklong training drills amid the ongoing territorial dispute.
© Copyright IBTimes 2022. All rights reserved.
FOLLOW MORE IBT NEWS ON THE BELOW CHANNELS