China Won't Become World's Largest Economy Until 2028: CEBR
While the U.S. eventually is forecast to lose its position as the world's largest economy, this day is now expected to come later than many previously suggested due to both strength in the U.S. economy and the relative slowdown in China's domestic economy, according to a study released Thursday.
The annual world economic league tables from the Center for Economic and Business Research (CEBR) predicts China won't eclipse the U.S. economy until 2028.
"China's spectacular economic development has continued and although the increasing maturity of its economy and relatively unfavorable demographics mean that growth will inevitably slow, we still expect China to overtake the U.S. to become the world's largest economy in 2028 for the first time since 1890. This will reflect not only stronger economic growth than in the Western economies but also the continuing rise of the RMB," the CEBR analysts said.
India, meanwhile, is set to overtake Japan in 2028 to become the world's third largest economy. CEBR said the Japanese yen, which has declined about 20 percent against the dollar this year, is likely to bring Japan's position in the league table down in money GDP terms.
"In addition [to the weak currency] Japan's demographics are uniquely unfavorable and the combination leads to Japan losing its position as the world's third largest economy to India in 2028," CEBR said. However, India will still be a fifth of the size of the next largest economy in 2028, so it is unlikely to change positions again for a very long time despite favorable demographics and growth.
Meanwhile, the U.K., currently sixth in the world league table, will move up a place by 2018, overtaking France. But by 2023 it will have dropped to seventh, having been displaced by India and Brazil. But by 2028 the U.K. economy is forecast to be only 3 percent smaller than the German economy and is likely to overtake Germany to become the largest Western European economy around 2030.
"A combination of weak European economic growth, a depreciating currency, the requirement to bail out ailing economies in the rest of the euro zone and increasingly adverse population trends mean that in this forecast Germany eventually slips down the league table," the report said.
However, "if the euro were to break up, Germany's outlook would be much better. A Deutsche mark-based Germany certainly would not be overtaken by the U.K. for many years if ever."
Other euro zone countries will suffer even sharper falls down the league table, the CEBR said. France, currently fifth, will drop to 13th by 2028, while Italy, eighth, will be the world's 15th biggest economy in 15 years. Spain will fall from 13th this year to 18th in 2028.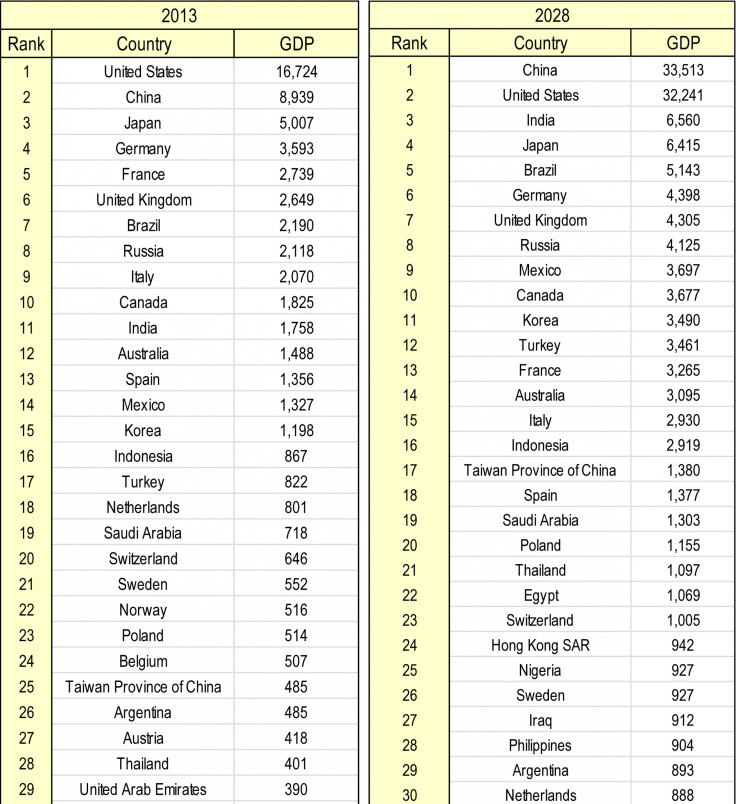 © Copyright IBTimes 2022. All rights reserved.
FOLLOW MORE IBT NEWS ON THE BELOW CHANNELS