China's Ride-Sharing Market Heats Up: KuaiDi, Didi Talk Merger Ahead Of Uber's Arrival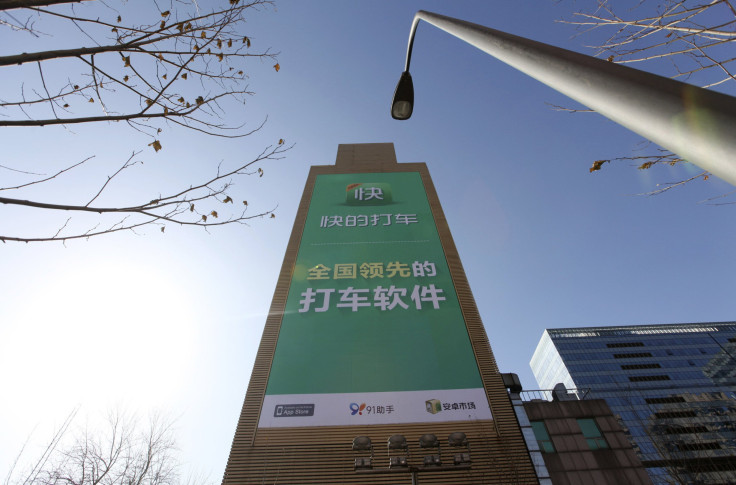 KuaiDi Dache and Didi Dache, China's two largest car-service booking application providers, the former backed by Alibaba Group Holding Ltd. and the latter by Tencent Holdings Ltd., are discussing a merger, the Wall Street Journal reported, citing people familiar with the matter.
A successful merger would create a dominant player with more than 95 percent of China's mobile car-service booking app business ahead of any serious expansion there by Uber Technologies Inc., which in December was bolstered by an investment by Baidu Inc., sometimes called China's Google.
KuaiDi Dache most recently raised $600 million in a financing round led by the Japanese Internet and telecommunications company SoftBank Corp., which has taken stakes in similar car-service booking app firms across Asia. Alibaba and New York-based hedge-fund operator Tiger Global Management LLC also participated in that investment round. Launched in 2012, KuaiDi Dache has grown to provide booking services to more than 1 million taxis in 300-plus cities in China, including Hong Kong, the company said in a press release.
The latest available data provided by the Beijing-based consultancy firm Analysys International in November 2014 showed Kuaidi Dache leading the industry in China, with a 54.4 percent share of the mobile taxi booking market by user accounts, the company said in its release.
Didi Dache had a 44.9 percent share of the market, Tech in Asia reported, citing the same Analysys International data. At the time, there were more than 150 million car-service booking app users in China, the technology-news site reported. At the end of 2013, the two companies commanded a combined 90 percent of the market.
In India, too, SoftBank-backed Olacabs is in early merger negotiations with its smaller rival TaxiForSure, but a deal in any form has yet to be finalized. Meanwhile, the talks between KuaiDi Dache and Didi Dache are at an advanced stage, the Wall Street Journal reported. A successful deal would create a company valued at $6 billion based on their recent fundraising rounds. A combination could be announced within days.
© Copyright IBTimes 2023. All rights reserved.