SoftBank Bets Big On Uber Competitors In Asia In Winner-Takes-All Rideshare App Business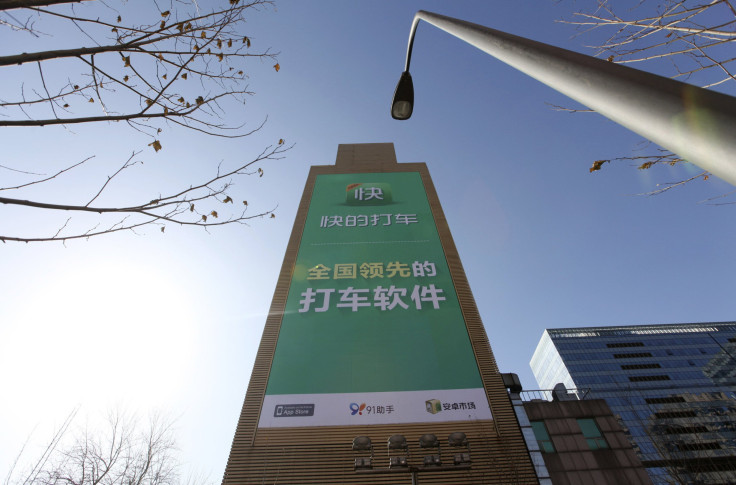 BANGALORE, India -- Growing demand for mobile app-based rideshare services in China and India is driving the growth of Uber-like startups in the world's two most populous countries. Japanese telecommunications and Internet giant SoftBank Corp. has been along for the ride, investing more than $1 billion in these companies in China, India and other Asian markets.
SoftBank's latest move was a $600 million investment in China's KuaiDi Dache, which the rideshare company announced on Jan. 14. In December, SoftBank invested $250 million in GrabTaxi, a Malaysian startup that has a presence in five other southeast Asian countries, including Indonesia and Vietnam. In October, SoftBank announced an investment of $210 million in Ola Cabs alongside existing investors in India.
SoftBank, led by former Google Chief Business Officer Nikesh Arora, has committed to investing $10 billion in India, including in online commerce, as the subcontinent's Internet user base increases with smartphone penetration. But SoftBank's focus on local taxi startups indicates that the Japanese telecom titan is betting that Uber will have a hard time competing in Asia against homegrown competition. "As evidenced by their rapid growth in short spans of time, their leadership and teams have formidable local know-how," SoftBank told International Business Times.
Given the nascent state of the smartphone market, there's still an opportunity to be first to the home screen. "In Asia, the markets are less penetrated from international competition, but the way the smartphone market is growing, it's a fast-growing audience ... and as that grows, the key to getting into these types of services, being early is really crucial," said Jack Kent, a director for mobile technologies at IHS, a consultancy.
Winner Takes All
Investing in smartphone-based services such as ridesharing is basically a play on the timing of smartphone maturity. And this has happened across the globe.
Taxi and ridesharing apps raised almost $5 billion in disclosed funding in 2014, accounting for 17 percent of the total raised by mobile companies last year. Apart from China and India, these included startups in Estonia, Mexico, Brazil, the Philippines, Singapore South, Korea and several developed markets in the West, according to IHS research.
Another reason investors have aggressively put money into local rideshare startups that show the most promise is the need to scale rapidly. "The world over, these tend to be winner-takes-all or winner-takes-most of the market type of businesses," Tarun Davda, a director at Matrix Partners in India, an early investor in Ola Cabs, told IBTimes in a phone interview from Mumbai. "You aren't going to have more than two taxi apps on your phone," Davda said.
Ola Cabs, GrabTaxi and KuaiDi Dache have "excellent prospects for growth in their respective regions," SoftBank said in an emailed statement to IBTimes on Tuesday.
Four-year-old Ola Cabs is available in 52 Indian cities today, about twice as many as only a couple of months ago. The company has said its more than 60,000 cabs handle some 200,000 rides a day. Still, demand is so strong that the rideshare provider could be losing out on as many as four booking requests for every request it fills, Davda estimated.
"They could have been doing a million bookings a day" if they'd been able to expand any faster, he said. The Indian rideshare business expects to expand to 100 cities, Anand Subramanian, director of corporate communications at ANI Technologies Pvt. Ltd., Ola's parent company, told IBTimes in December.
As the startups add more drivers, they get more customers, and as they get more customers, they get more drivers looking to benefit from the growing business. "This virtuous cycle keeps repeating" but only for the business that manages to scale fast, Davda said. This is where backing from SoftBank and Matrix (a repeat investor) and others becomes important.
"There are very well-funded players in the country today who understand that this is network-effect business, and they are spending very aggressively to scale their businesses. Competitive intensity in the short term is a very large challenge," Davda said.
Local Regulations, Competition
The question is whether these bets spread across the region will slow down the expansion of Uber, which is already present in China, India and the Southeast Asian markets. Until now, homegrown companies have been dominant in their respective markets, but Uber recently raised $1.2 billion, in part to expand in Asia.
Whether it is established local businesses or international companies, "It's all about getting that network of drivers and users," Kent said. Of course, understanding on-the-ground nuances may give local competition an advantage.
In any new city or market, there are local or regional regulations and the need for compliance that "requires local knowledge and local investments, however big your international focus is and how much funding you have," Kent said.
In China, international companies will also face well-financed local competition that might be part of bigger content and services ecosystems. The Chinese market already includes services owned or backed by leading companies such as Tencent Holdings Ltd. and Alibaba Group, while Baidu Inc. is an Uber investor. In Japan, popular messaging app LINE recently made a move into this space, he said.
KuaiDi Dache launched in 2012 and has grown to become one of the leading and most widely used mobile taxi booking app providers in the country. The company's app "combines integrated mapping and third-party payment technology to provide widely accessible booking services to over 1 million taxis in more than 300 cities in China, including Hong Kong," Travice Inc., the company that operates the KuaiDi Dache cab service, said in the press release announcing SoftBank's investment.
"In two years, KuaiDi Dache has grown to become a leading player in the Chinese mobile taxi booking industry, and we are convinced it will see further remarkable growth," said SoftBank's Arora.
KuaiDi Dache's top local rival is Didi Dache, which recently won funding of $700 million in its fourth round, led by Singapore's Temasek Holdings Pvt. Ltd., with participation from Chinese Internet company Tencent Holdings Ltd. and DST Global.
All these developments haven't been without some serious fallout, including a temporary ban in India on all such services after an alleged rape by an Uber driver and widespread protests by radio taxi drivers in China, who saw their livelihood caught between modern technology and the backbreaking cut they pay the cab companies that own the licenses.
Investors remain unfazed: "KuaiDi Dache is transforming China's urban travel through technology and enriching the lives of many people in the process," Jonathan Lu, CEO of Alibaba Group, said in the Jan. 14 press release that announced the new investment in KuaiDi Dache.
He added that Alibaba was "committed" to the rideshare provider and "confident" the business would grow, adding "we believe that the mobile Internet is entering an exciting phase, and KuaiDi Dache is well-poised to grow from this."
© Copyright IBTimes 2022. All rights reserved.
FOLLOW MORE IBT NEWS ON THE BELOW CHANNELS