China's Rising Financial Stress: Farmers' Financial Cooperatives In Juangsu Province Fail to Pay Depositors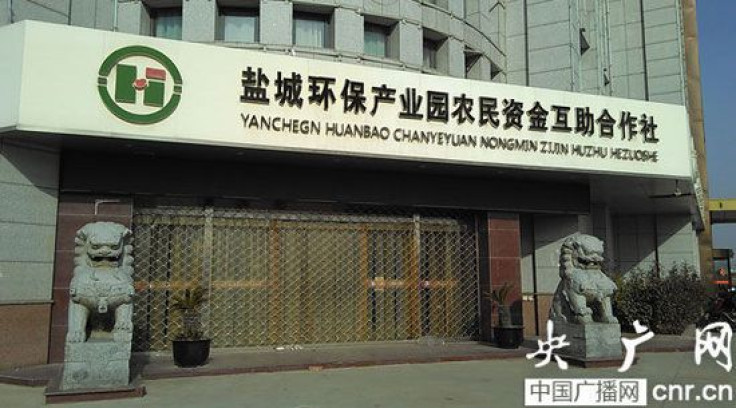 Multiple rural credit unions in eastern China designed to improve financial services in the countryside have been unable to pay depositors since the start of 2013, yet another sign of rising financial stress as interest rates rise and the economy slows.
The so-called farmers' financial cooperatives (FFCs) were part of a pilot program in rural areas administered by the city of Yancheng in the eastern province of Jiangsu, China National Radio reports (in Chinese). According to the state-owned broadcaster, three FFCs have closed operations, while several others have run out of money to pay depositors.
A depositor, identified only as Ms. Xue, told the radio station that since 2011, she has put more than 420,000 yuan ($69,391) in an account with one of the rural credit unions because a representative told her the operation has government backing and her money is safe with them.
"I trust the government, so I trusted him [the credit union representative]," Xue said. "How would I have known that he would come to me in November and tell me the credit union can't pay me back?"
FFCs are small companies set up by farmers to share financial resources and meet internal demand for small loans. FFCs do not take deposits from the general public. Instead they take deposits only from members. They are not owned by the government and do not have access to the lending facilities at the People's Bank of China, Nomura economist Zhang Zhiwei wrote in a note.
Instead of making small loans to farmers who would use the money in agricultural activities, some of the cooperatives' managers misused funds by lending to property projects.
"A government official told the reporter that one of the FFCs currently facing difficulties making payments is a fraud, as its financials reported to the government were inaccurate and the deposits made were actually funneled into property projects," Nomura's Zhang said, adding that the deposits involved in the troubled FFCs could total several hundred million yuan.
China's central bank warned the Yancheng government in 2013 of the risks inherent in these rural credit unions, according to an article (in Chinese) in the 21th Century Business Herald on Sept. 16. The article states that the central government introduced the FFCs in 2006 and launched a pilot scheme in Yancheng. By the first half of 2013, there were 138 FFCs in Yancheng, with total membership of about 200,000 households, 2.5 billion yuan in deposits and 2 billion yuan in loans.
According to Caijing, in January 2013, the interest rate on deposits in FFCs in Yancheng was between 7 percent and 10 percent, while the lending rate was 15 percent to 18 percent. This compares to the benchmark deposit rate of 3 percent and the lending rate of 6 percent.
"It is not clear how many FFCs are currently operating in China, but Caijing reported there were about 5,000 in January 2013," Zhang said.
"We continue to expect credit defaults to occur in corporate, local government financing vehicle, and shadow banking sectors in 2014," Zhang added.
© Copyright IBTimes 2022. All rights reserved.
FOLLOW MORE IBT NEWS ON THE BELOW CHANNELS