China's Wen puts social stability at heart of economy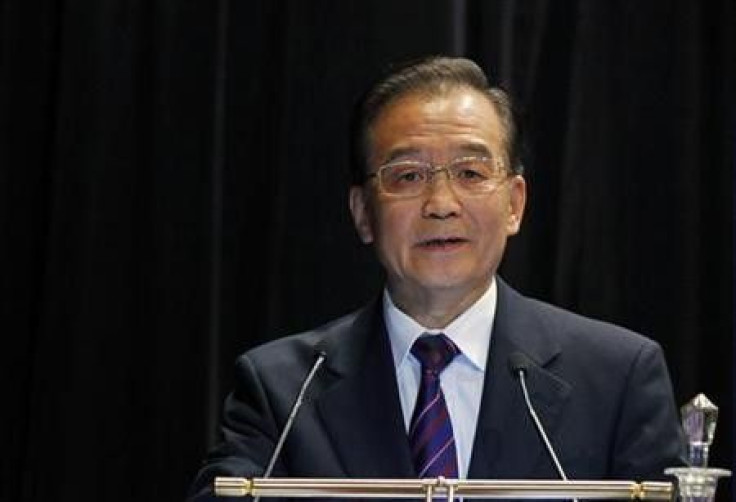 Fighting inflation is a priority for China and the government must ward off threats to social stability stemming from rapid price increases and pressure to raise the value of the yuan, Premier Wen Jiabao said on Sunday.
Wen's comments ahead of China's annual parliament session from March 5 showed the sensitivity among ruling Communist Party leaders to public grumbling about rising real estate and food prices.
That wariness has been amplified by jitters about fallout from the unseating of authoritarian rulers in the Middle East.
Wen, speaking on an online forum, steered clear of problems in the Middle East, stressing instead that his real fears are homegrown and bound up with economic pressures, especially disquiet about prices, jobs and corruption.
Rapid price rises have affected the public and even social stability, Wen said.
The Party and government have always made a priority of keeping prices at a generally stable level.
China has ample grain and abundant foreign exchange reserves that would help to keep price rises in check, Wen added. But he did not say how the government might use its foreign exchange reserves for that end.
Wen also said that maintaining social stability was central to the country's foreign exchange policy, and required a cautious approach to increasing the value of the yuan.
China would adjust exchange rate police in a prudent, step-by-step, gradual way, so that our businesses can steadily adapt and overall social stability is maintained, he said.
The jobs of millions of poor rural migrants were at stake, said Wen, fending off criticism from foreign governments, particularly the United States, that have urged a more rapid rise in the currency that would make Chinese exports more expensive.
If the yuan saw a one-off large appreciation, that would cause many closures of our processing enterprises and make many export orders shift to other countries and many of our workers will lose jobs, he said.
China has about 242 million rural residents who work off the farm, and about 153 million of them are migrants who work outside their home towns, including tens of millions in export zones making cheap goods for the rest of the world.
Let them think about that. If businesses go bankrupt, workers become unemployed and rural migrant workers go home, then what do we have to expand domestic consumption, where will increased consumption come from?, Wen said of his critics.
STAMPING OUT CORRUPTION
Wen, whose term ends in early 2013, highlighted the political risks if the public starts to see inflation as a side-effect of official self-enrichment.He said the government was determined to stamp out graft and corruption, citing the recent dismissal of Liu Zhijun, the former railways minister who is suspected of corruption.
I have in fact said before that if price rises become linked to the problems of graft and corruption, that will be enough to spark public discontent, and even create serious social problems, Wen said.
Wen said the official GDP target was 7 percent per year for the 2011-2015 growth plan. That rate is significantly below the average annual 11.2 percent growth in the last five-year period, but official targets tend to undershoot actual performance.
Chinese annual inflation accelerated lower-than-expected 4.9 percent in January, but price pressures remain strong. Food prices rose 10.3 percent.
To help rein in inflation, China raised interest rates on February 8, the third rate increase since Beijing began a monetary tightening cycle in earnest in October.
Beijing has also imposed a slew of measures to target property prices that have stayed stubbornly high.
I'm confident that through our efforts, we'll see results in reining in speculative and investment purchases of housing, said Wen. The government aims to ensure that 36 million units of affordable housing for poorer workers are built by 2015, he added.
© Copyright Thomson Reuters 2023. All rights reserved.