Chinese Authorities Raid Uber Office In Guangzhou Amid Crackdown On Ride-Booking Apps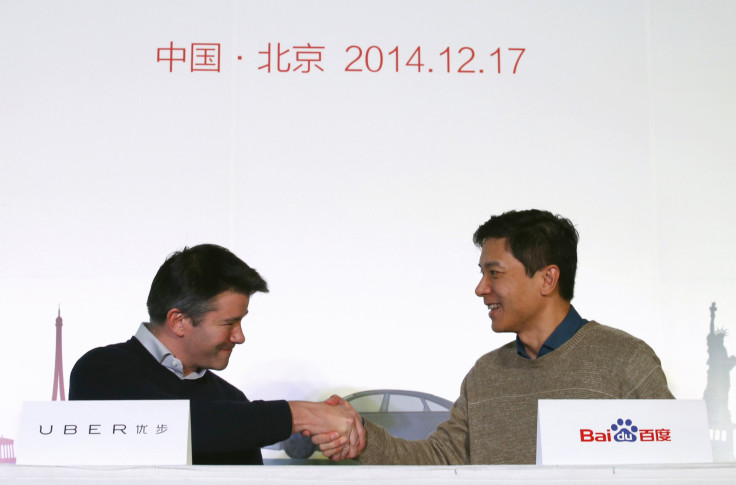 SHANGHAI -- Police, transport and commercial officials in the southern Chinese city of Guangzhou have raided the local offices of online car service company Uber, amid continuing tension in China over the legality of ride-booking apps using private vehicles, which officials say have disrupted the country's heavily regulated taxi market.
The Guangzhou Daily newspaper published photographs of officials at Uber's office in the city, and quoted a statement from the city's transport commission, which said the three departments were currently pursuing a "special campaign" against unlicensed and illegal businesses. As part of this, it said, officials had "inspected a company which is suspected of organizing private cars which are not qualified to provide passenger services, and of not having registered with the commercial authorities."
The statement said that a number of mobile phones had been "temporarily confiscated" during the raid, and the investigation was continuing. The transport commission added that apps offering ride services were not allowed to employ private cars and drivers -- it said any company offering such vehicles for rent "would be suspected of illegal business activity, and action would be taken." And it said the Guangzhou police would not relax their "high pressure stance" toward cleaning up "illegal operators who disturb the transport market."
A spokesperson from Uber's Guangzhou office later told the Southern Metropolis News that the raid was just a routine check by the government. The spokesperson said there had been no impact on its services in Guangzhou, and added that the company had always cooperated actively with the Chinese authorities, and was now "communicating with and seeking clarification from the government departments concerned."
Uber, based in the U.S., describes itself as an "information service provider" that "collects fees on behalf of car rental services and drivers." It has said that its "people's Uber" service in China, involving private drivers, is simply a type of car-pooling service. However, the company has faced challenges since entering the Chinese market in 2013. Not only is it competing with established Chinese providers, such as Didi Dache and Yidao Yongche, but Chinese authorities have launched a series of crackdowns on app-based car services.
In December last year, police raided an Uber training session for drivers in the central city of Chongqing. And in recent months drivers in many Chinese cities working via Uber and other web platforms have been stopped by police, fined, and have had their vehicles confiscated. The Guangzhou Daily said that the recent crackdown in the city had uncovered many individual cases of illegal car rentals, and that all drivers caught had had to pay a fine of 30,000 yuan (approximately $4,840).
The incidents are a reminder of the tensions caused in China by the arrival of taxi- and car-booking apps in the country. In recent months, taxi drivers have gone on strike in several Chinese cities, in protest both against the high charges they have to pay to the mainly state-run companies that dominate China's taxi industry, and also against private drivers, who they say are taking away their livelihood. Customers, on the other hand have complained that many taxi drivers themselves have been using apps to take bookings -- often for more than the standard taxi fare -- thus making it hard for passengers to hail taxis on the street. The Shanghai government recently restricted the use of apps by taxi drivers during rush hours, in an attempt to tackle this problem.
But some private drivers have questioned the logic of the official crackdown, in a market where many passengers complain that taxis are hard to find, and often provide poor service. More and more people seem willing to challenge the rules, which allow car rental services to operate -- but only with full-time licensed drivers. In many cities, young professionals appear prepared to risk fines by working as drivers in their spare time, either simply to earn more money, or as one finance professional in Shanghai put it, because "it's fun and you meet a lot of people."
Indeed, one private driver who was fined 20,000 yuan and had his car confiscated after taking two passengers to a railway station in the city of Jinan is now suing the local transportation department, in what has been seen as a test case by some observers.
Despite the setbacks, Uber, which says its goal is to allow people to change "the city you're from for the better," has said it remains determined to break into the Chinese market. It has been reported to have held talks on cooperating with Chinese rival Yidao Yongche, though no announcement of a deal has been made. On Friday it was still offering car services in Guangzhou on its website -- and was also advertising for operations managers in Guangzhou, and for staff in at least 10 other Chinese cities.
Analysts say there is no doubt that many customers appreciate the service provided by private-hire firms, whose cars are often cleaner and more comfortable, and drivers sometimes more polite than those provided by traditional Chinese taxi companies. Fu Weigang, a researcher at the Shanghai Institute of Finance and Law, told Caixin Media recently that there was a gap between supply and demand in the industry in China, and said "strict licensing rules covering taxi and car rental companies" were to blame.
And there are some signs that Chinese authorities are beginning to realize that the arrival of the car-booking apps means the market will have to change. According to the Guangzhou Daily, the city's transport commission said it had "become aware that traditional taxi services are limited in nature, with poor standards of service, and cannot satisfy the varied and diverse transport needs of citizens." The commission said that in order to "solve such contradictions," the Guangzhou government was "studying the possibility of using online platforms to offer car booking services, and is in active discussions with all web platforms, in order to make the best use of new technology, and to provide excellent, regulated and legal service to citizens."
However, it did not give any further detail of how such services would operate, or which companies would be involved. And the statement also called on citizens and businesses to "follow existing laws" -- a reminder that Chinese authorities may face a challenge to balance public demands for a more flexible service with pressure from big taxi companies and taxi drivers to protect their own livelihoods.
FOR FREE to continue reading
✔️ Unlock the full content of International Business Times UK for free
offer available for a limited time only
✔️ Easily manage your Newsletters subscriptions and save your favourite articles
✔️ No payment method required
Already have an account?
Log in
© Copyright IBTimes 2023. All rights reserved.