Chinese Stocks Climb Amid Major Deals And State Promises As Other Economic Indicators Fall Short Of Market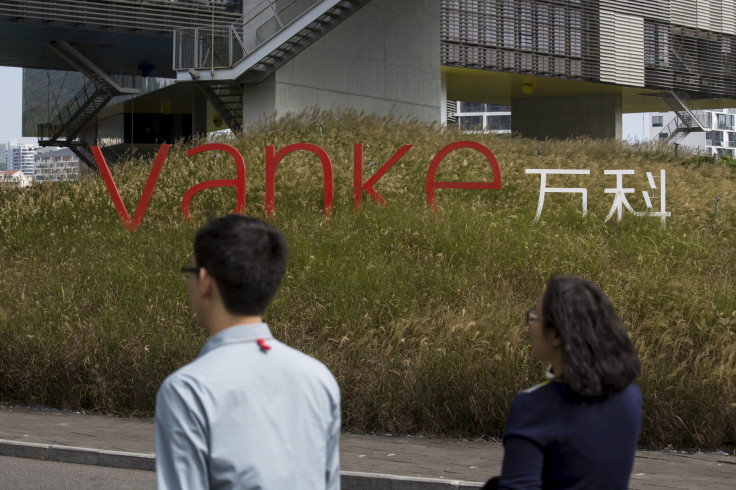 Chinese stocks got off to a strong start Monday, spurred by a $9.3 billion deal between subway operator Shenzhen Metro Group Co. and real estate company China Vanke Co. and indications from Liu Shiyu, chairman of the China Securities Regulatory Commission, that the state will continue to prop up the Chinese market.
"Liu's vow to help with the market's recovery brought back some investor confidence," Castor Pang, head of research at Core-Pacific Yamaichi Hong Kong, told Bloomberg.
The Shanghai Composite Index rose 1.8 percent Monday, and Hong Kong's Hang Seng Index gained 1.2 percent, while an index of smaller companies, ChiNext, jumped 4.6 percent. Overall, stocks saw some of their greatest gains in more than a week. Chinese markets have experienced months of turmoil since August, when China's central bank devalued the country's currency in a move that triggered an 8.5 percent drop in the Shanghai Composite in a single day, all within part of a broader economic shift in China, whose slowing industrial activity has rippled throughout the global economy.
Liu said that if needed, he will act "decisively" to stave off market panic and that it is too soon for a Chinese rescue fund, which toward the end of last summer bought hundreds of different stocks in a major effort to shore up share prices, to exit the market. From June to September of last year, China Securities Finance Corp. went from owning two stocks to owning 742. By the end of November, government rescue funds owned at least 6 percent of the mainland stock market.
Company shares rose Monday with the news of several major deals. Not only did shares of China Vanke Co. rise 10 percent after it signed a memorandum of understanding with Shenzhen Metro Group for the transit company to become a major investor in the real estate group, but shares of China Overseas Land and Investment rose 1.36 percent after it said it would spend 31 billion yuan, or $4.77 billion, on residential assets from Citic Group Corp.
Recent economic indicators continue to fall short of projections in China. Retail sales in January and February grew 10.2 percent over the previous year, versus the 11 percent predicted, while aggregate financing, forecast at 1.84 billion by Bloomberg, was at 780.2 billion in February, according to the People's Bank of China.
© Copyright IBTimes 2023. All rights reserved.