Chinese University Denies Involvement In US Espionage Case, As Chinese Media Call For Tougher Government Response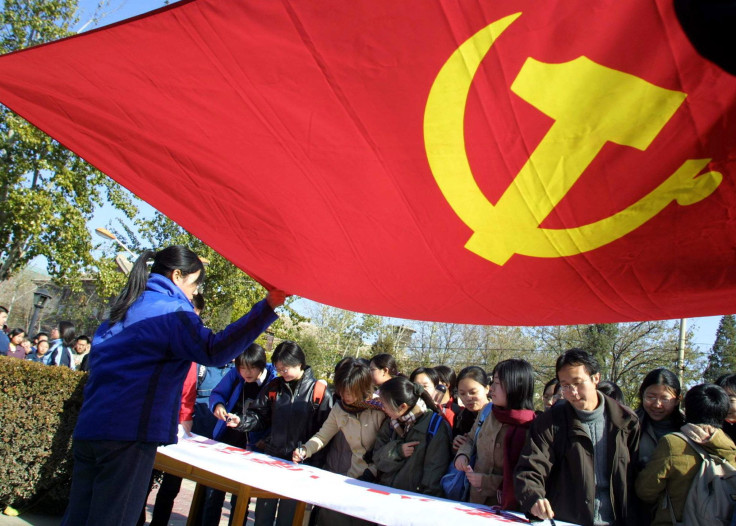 SHANGHAI -- A Chinese university has denied involvement in a case of alleged economic espionage, for which three of its professors have been indicted by the U.S. Department of Justice. The three were among six Chinese citizens accused of stealing mobile technology from two U.S. chipmakers and providing it to a Chinese company.
However Tianjin University said on Thursday that it "angrily rejected" any suggestion that it was involved in the case, which was revealed this week following the arrest of one of the academics, 36-year-old Zhang Hao, when he arrived in the U.S. to attend a conference. According to the China Youth Daily, it said the U.S. indictment, and media reports, had implied that the university had been involved in inappropriate activities, and the institute reserved the right to take legal steps to protect itself against any "unprovoked accusations."
The university also said that the U.S. was "politicizing" its professors' scientific research, which it said was conducted openly, in what it described as a "technical dispute." And it said it would provide necessary humanitarian and legal assistance to Zhang, who is currently in detention in California.
The U.S. indictment alleges that the academics stole trade secrets from two U.S. chipmakers, Skyworks Solutions, where Zhang once worked, and Avago Technologies, where one of the other professors worked, and provided them to a Chinese firm with links to both the university and the government. The technology involved is used in mobile phones and tablet computers, but can also be applied in the field of military communications.
On Wednesday, before the university's formal statement, its spokesman said the charges "could be a U.S. fabrication," according to IDG News. China's foreign ministry expressed "strong concern" about the case, and said on Wednesday that it was "trying to get more details" about the matter.
However, an editorial in the Global Times, a populist and sometimes nationalist tabloid published by China's official People's Daily, on Thursday suggested that the Chinese government should take a more resolute approach -- it said it hoped that the Chinese government and organizations involved would "make timely and necessary responses to U.S. espionage cases involving ethnic Chinese individuals."
The Global Times also expressed doubts about the credibility of the charges -- it said at the very least the U.S. was hyping up a dispute over intellectual property into a case of "industrial espionage," adding that the professors' work in the field of mobile technology had always been conducted openly.
The paper also noted that the U.S. had a long tradition of using charges of "espionage" against citizens of Japanese and Russian origin, and said it hoped "that Chinese residents of the US will not suffer the same fate due to China's rise." However its English edition noted an increasing number of cases involving "Chinese spies" in the U.S. in recent years, but said "most of the charges are not solid." It cited the recent case of Sherry Chen, a hydrologist with the U.S. National Weather Service in Ohio, who was accused of spying for China after reading information about dams on a government website, but against whom charges have now been dropped. As a result of such cases, it said, "grave concerns about the US abusing its Espionage Act" were now "spreading among Chinese scientists living in the US."
The Global Times quoted Zhang's wife as saying he had been "wronged," and it suggested that his arrest, after being invited to the U.S. to attend a conference, was "probably entrapment by the FBI." It quoted one Chinese academic as saying that such prosecutions of Chinese nationals "can be labeled as a symbolic act by the US to attract support within US."
The Chinese-language commentary added that if such cases became "a common U.S. strategy towards ethnic Chinese, China should give a systematic response, and put pressure on the US to show restraint on this issue." And it added that given the "complicated" state of Sino-U.S. relations, Beijing "may have no choice but to prepare further responses."
It is not unheard of for the Global Times to take a stronger public stance than the Chinese government on an issue involving diplomatic relations. However, such articles sometimes reflect the views of more hawkish factions in the Chinese establishment, and at the very least these comments suggest the depth of emotion that such issues can stir in China. The Global Times also cited the case of Wen Ho Lee, a Taiwanese-born scientist at the Los Alamos nuclear laboratory, who was indicted in 1999 for stealing research files, and held in solitary confinement for nine months, but was later cleared of all but one of 59 charges, and received a public apology from President Bill Clinton. The Global Times said that despite such "repeated mistakes," the U.S. lacked "introspection" about this type of issue.
Last year the U.S. also indicted, in absentia, five Chinese military officials for hacking into several private companies, including Westinghouse Electric, and the United Steelworkers union, in order to benefit Chinese state enterprises and "other interests in China." China denounced the allegations as "made up."
The latest indictment comes at a time of renewed tension between China and the U.S. -- during a visit to Beijing on Saturday, Secretary of State John Kerry called on China to "reduce tensions" regarding its reclamation of land on islands in disputed waters in the South China Sea -- but China's Foreign Minister Wang Yi said Beijing's resolve to continue with the project was "as hard as a rock" -- and China on Wednesday repeatedly warned a U.S. surveillance plane flying over the islands to leave the area.
© Copyright IBTimes 2023. All rights reserved.