Chris Brown Rejects Plea Deal In Washington Assault Case; Lawyer Says He Is Innocent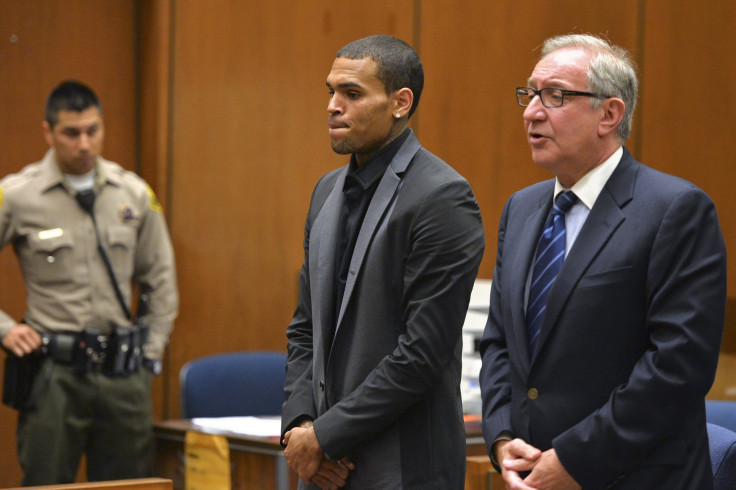 Singer Chris Brown rejected a plea deal in Washington on Wednesday and his lawyer said he was not guilty of breaking a man's nose in October.
Brown, 24, and his bodyguard, Christopher Hollosy, 35, were charged with misdemeanor assault as they allegedly hit a man, identified as Isaac Adams Parker, 20, outside a hotel in downtown Washington when he tried jumping into a picture that was being taken of the R&B singer.
According to reports, lawyer Mark Geragos said, of the decision, in an exclusive interview: "It was rejected because he's not guilty." Geragos reportedly said that the prosecutors looked at surveillance video footage right after the incident took place but came up empty-handed.
"I've seen everything I need in this case, so absent prosecutors turning over video footage of [Brown] doing it, there's little or no chance of any plea deal," the lawyer said. Prosecutors continue to gather additional security video footage from the night of the incident, which could be used as evidence in the next hearing of the case.
The plea deal offered by the prosecutors was similar to the original charge, which also could be a reason for its rejection. If found guilty, Brown and Hollosy would face a maximum penalty of 180 days in jail and a $1,000 fine. The two accused reportedly declined to comment after the hearing.
The hearing, which took place in District of Columbia Courts on Wednesday, lasted less than 10 minutes. It was attended by Brown, his girlfriend Karrueche Tran and his bodyguard Hollosy. According to reports, Brown did not speak a word during the hearing. Brown's lawyers reportedly said that they expect a trial date to be set at another hearing, which is scheduled for Feb. 20.
Reportedly, Brown's lawyer had previously suggested that Hollosy, who was also charged with the assault, threw a punch on the man while the singer said, "I'm not down with that gay [expletive]" and "I feel like boxing."
The singer's lawyer said after the case hearing in October: "We understand that his security staff acted to protect Mr. Brown and his property as is authorized by District of Columbia law."
According to reports, Brown voluntarily checked himself into rehab just after the assault incident. But, he was soon thrown out of the facility after he smashed his mother's car windows with a rock, for which a Los Angeles judge sent him to a three-month anger management session in November. Brown remains on probation for his 2009 assault on then-girlfriend Rihanna.
© Copyright IBTimes 2023. All rights reserved.