Chris Christie Bridgegate: What's Next Following Media Backlash, Federal Investigation and Damage Control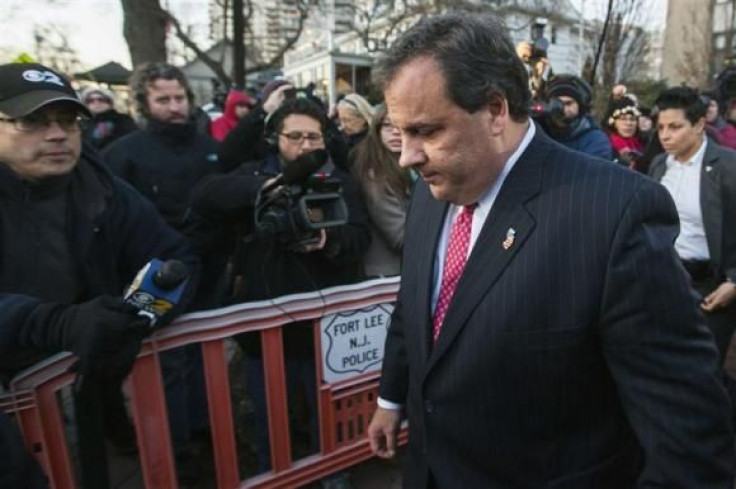 It was a tough week for New Jersey Governor Chris Christie. He faced the press over the scandal, dubbed "Bridgegate," that has rocked his administration, and watched as the media pulled apart his handling of the scandal.
Christie has denied any knowledge of the political retribution campaign during a two-hour press conference on Thursday. He also fired a top aide, Bridget Anne Kelly, implicated in the scandal and denounced another. Critics have questioned his version of the story, but others called it a "stylistic tour de force," in the words of The New Yorker.
The media has exploded with coverage and theories on the scandal. Rachel Maddow's theory is that the "traffic study" was retribution, but not for Ft. Lee Mayor Sokolich. According to Maddow, it was for N.J. Senate Democratic leader Loretta Weinberg instead, for a Senate tussle over Supreme Court reappointments.
Others point out that even if Christie did not know about the retribution campaign, the fact he didn't indicates he is not in control of his organization. This lack of leadership, argues his critics, make Christie unfit for service both in New Jersey and Washington. Some have called for his resignation as governor but Christie quickly squashed any possibility of such on Thursday.
If Christie does decide to run for president in 2016, critics say the scandal could still sink his chances. Christie's less than stellar relationship with establishment Republicans and Tea Partiers mean they won't be quick to defend him on in the national spotlight because of his tendency to shun his party's identity. RedState.com editor Erick Erickson goes as far as to say Christie and his staff "operate as divas."
According to Christie however, a 2016 campaign is not on his radar. "I am not preoccupied with that job," he said on Thursday, "I'm preoccupied with this one. And as you can tell, I have plenty to do, so it's not like I got some spare time to spend."
One of the things he has to do is participate in an investigation of the scandal. Christie says he and his staff will cooperate and answer questions, and that his administration "has nothing to hide."
Yesterday, New Jersey U.S. Attorney Paul Fishman confirmed that the U.S. Justice Department is investigating the scandal, reports the Wall Street Journal. A Port Authority probe announced in December has also been turned over to the U.S. Attorney's Office. David Wildstein, the PA official at the center of the scandal, has announced via his lawyer that he is seeking immunity from federal and state investigators before he testifies before New Jersey legislators.
Meanwhile, lawsuits have been filed on behalf of people affected by the September lane closures. One, a class-action suit, was filed in federal court and claims residents were hurt financially by the traffic jam. Another was taken out by a personal injury lawyer from Ft. Lee on behalf of six residents who suffered alleged damages because of the jam. That lawsuit names the state of New Jersey, the Port Authority of New York and New Jersey, Christie and his aides as defendants.
Readers can take a look at the most recently released documents relating to the scandal themselves here.
© Copyright IBTimes 2022. All rights reserved.
FOLLOW MORE IBT NEWS ON THE BELOW CHANNELS