Chris Cornell Final Words To Wife Vicky Karayiannis, What Did He Say During Fateful Phone Call?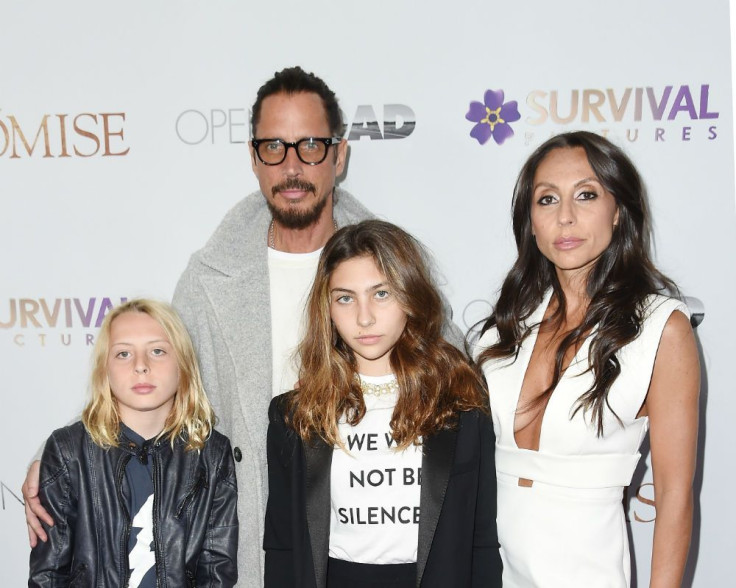 Update 7:02 p.m. EDT Saturday, May 20:
According to CNN, Cornell's funeral will be held in Los Angeles on Friday, May 26 and he will be buried at the Hollywood Forever Cemetery.
"The family is thinking about a (public) memorial for fans, but is coping now with their loss and the funeral service," a source told the news organization.
Update 5:06 p.m. EDT Saturday, May 20:
During his final performance in Detroit on Wedensday night, one-time roadie and friend Kevin Morris, who was in attendance at the show, noticed that something seemed off with Cornell while he was on stage, echoing Karayiannis' statement from after her conversation with him.
"The whole performance you could tell something wasn't right. Into the second song he started getting disoriented or something. I just figured he wasn't feeling well," Morris said. "Everybody felt there was something going on. Like he wasn't with us. Like he was on a cloud. It was like he was really fighting to get through the show."
Original Story:
She was the last person to speak to him before his sudden and unexpected suicide on Wednesday night, and now, the details of Soundgarden singer Chris Cornell's death have been revealed through a police report. Among the details revealed are the last words the 52-year-old said to his wife, Vicky Karayiannis, before hanging up from a phone call with her.
Cornell was found dead in his hotel room bathroom at the MGM Grand in Detroit in the early hours of Thursday morning, mere hours after he performed a show with his band. His death was officially ruled as a suicide, and he reportedly seemed different when he spoke to his wife on the phone shortly before his death.
According to a family statement in the police report (obtained by The Detroit News), Cornell was slurring his words while speaking to his wife, which alarmed her, and also repeated "I'm just tired," several times before hanging up. He was found dead two hours later.
Read: Vicky Karayiannis Breaks Her Silence About Chris Cornell's Death
In her own official statement regarding her husband's death, Karayiannis revealed she had grown concerned by the phone call and asked for a bodyguard to check on her husband, but blamed Ativan, a prescription medication for anxiety that he was taking, for his death.
"...When we spoke after the show, I noticed he was slurring his words; he was different. When he told me he may have taken an extra Ativan or two, I contacted security and asked that they check on him," she said. "What happened is inexplicable and I am hopeful that further medical reports will provide additional details. I know that he loved our children and he would not hurt them intentionally by taking his own life."
According to the police report, Cornell was found lying on his bathroom floor "with blood running from his mouth and a red exercise band around [his] neck." He reportedly had fastened the band to a carabiner, which he used to hang himself from the top of the hotel bathroom door.
Read: Who Is Vicky Karayiannis?
Though an initial autopsy officially determined his cause of death to be suicide by hanging, Cornell's family is maintaining that if the musician took his own life, it was while suffering from the adverse effects of Ativan or potentially other substances.
"Without the results of toxicology tests, we do not know what was going on with Chris—or if any substances contributed to his demise. Chris, a recovering addict, had a prescription for Ativan and may have taken more Ativan than recommended dosages," a lawyer for the family said in a statement. "The family believes that if Chris took his own life, he did not know what he was doing, and that drugs or other substances may have affected his actions."
Ativan is a drug which is used to treat both anxiety and seizure disorders like epilepsy. However, side effects that the drug can cause do include drowsiness, confusion, depression, self-harm and suicidal thoughts. It is also known to cause dependency in individuals with histories of alcoholism or drug abuse.
Cornell did have a history of substance abuse, admitting in the past that he did drugs as a teenager, and also sought treatment for addiction while going through his divorce from his first wife, Susan Silver.
Prior to his death, Cornell took to social media to not only promote his upcoming shows, but to also acknowledge Karayiannis in a tweet for Mother's Day, where he expressed his love for her, calling her an "angel" and a "lioness."
Since her initial statement, Karayiannis has not spoken out about her husband's death. No details have been revealed regarding the family's plans for a funeral service.
© Copyright IBTimes 2023. All rights reserved.