Chrissy Teigen Jokes About Being Prince Harry's Fiancée Instead Of Meghan Markle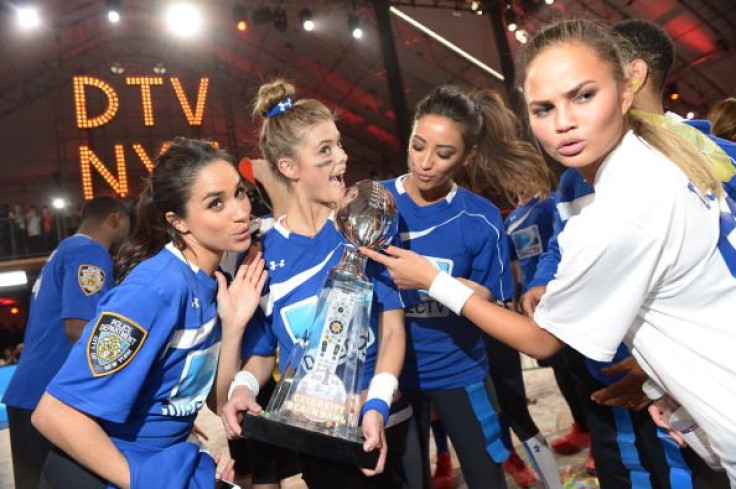 Chrissy Teigen recently appeared on "The Ellen Show" where she talked about Meghan Markle and Prince Harry, among many other things.
During her conversation with talk show host Ellen DeGeneres, Teigen revealed that she and Markle worked as briefcase girls on "Deal or No Deal" in 2007. Markle was cast in the show in 2006, and she appeared in a total of 34 episodes, according to The Telegraph.
Teigen, on the other hand, was cast in "Deal or No Deal" in 2007, and she starred in only eight episodes. "I tell John all the time: 'That could be me. I could be Princess Harry," Teigen said.
During her guesting, Teigen also played a game called "You Don't Know Jack About John," which basically proved how much she knows – or doesn't know – her husband John Legend. DeGeneres asked Teigen very simple questions about her partner, and the talk show host was surprised that Teigen had a hard time answering them.
DeGeneres asked which "Fifty Shades" movie Legend's song is featured in, and Teigen was unable to give her an answer. The host revealed that Legend's song is in "Fifty Shades Freed," and Teigen was surprised that it is. She said that she and Legend always fight about these things because he never tells her anything about his work.
"This is a big fight we always have. He doesn't tell me about things he's producing. We went to Sundance and he was like, 'Oh, we're showing my movie' and I was like, 'Your movie? What are you talking about?'" she said.
Teigen also opened up about her pregnancy, as well as her adorable daughter Luna. Teigen and Legend have not yet decided on what to name their son, who is due in June. As for Luna, the couple gave her the unique name because of the blood moon that happened during that time.
"It was a very beautiful night, really big vivid red moon and just gorgeous. I have a love for space. I think about space camp all the time and my days at space camp as a youngster. And so I thought Luna was just perfect," she said.
© Copyright IBTimes 2023. All rights reserved.