Chuck Schumer Urges Congress To Hasten AI Regulatory Efforts As EU Nears Finish Line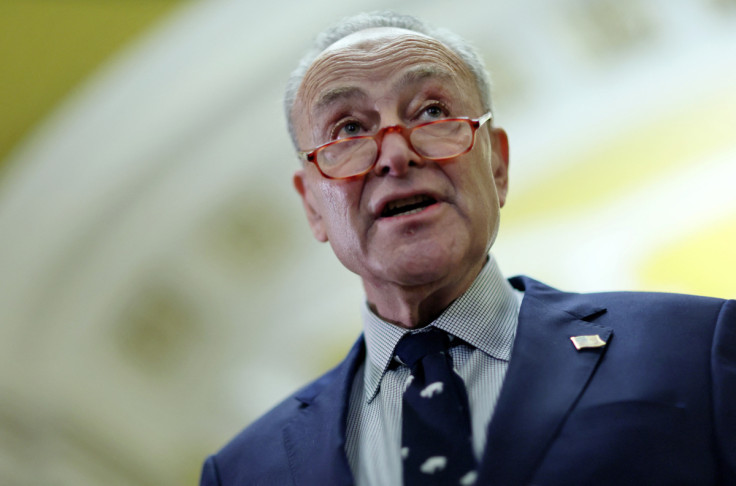 KEY POINTS
Schumer acknowledged that AI was unlike any common issues Congress had dealt with
The Senate Majority Leader wants forums to start as early as September
The EU is nearing the last stage before its AI Act becomes an official law
Senate Majority Leader Chuck Schumer, D-N.Y., has introduced a strategy on how lawmakers can regulate artificial intelligence (AI) as the United States tries to catch up with the European Union in reining in the fast-evolving technology.
Schumer first acknowledged in a speech Wednesday that policymakers "are starting from scratch" as AI "is unlike anything Congress has dealt with before," Semafor reported.
The veteran senator proposed that instead of conducting hearings to come up with possible regulations for the tech, Congress should establish "AI insight forums" that involve tech leaders, critics of AI, labor representatives and lawmakers.
Schumer proposed at least nine panels that should identify and convene the most difficult questions regarding AI regulations. The first forums should already kick off by September, Schumer said, as per CNN.
The forums will reportedly target various topics such as national security risks, AI workforce, copyright and intellectual property, as well as "guarding against doomsday scenarios."
Schumer also admitted the criticism of the government's seemingly slow pace in regulating the fast-advancing technology. However, he pointed out that AI's an entirely different topic compared to novel issues encountered by Congress. "Experts aren't even sure which questions policymakers should be asking," he said, according to the outlet.
The Democratic senator said he and his team have held discussions with more than 100 AI developers, scientists, industry leaders and workforce experts to come up with a legislative framework.
For Schumer, there are five pillars that should take center stage in the framework of AI innovation. Innovation should come first, "but with security, accountability, foundations and explainability," in what Schumer calls "SAFE Innovation for AI," CNN reported.
He also mentioned that an agreement may be raised regarding government intervention in AI innovation being limited to a certain scale.
Schumer's proposal came after Time reported on OpenAI's lobbying efforts in the European Union to lift the designation of general-purpose AI systems such as its own ChatGPT chatbot as "high-risk" technology.
OpenAI reportedly proposed changes to the bloc's comprehensive AI Act starting last year, and some of the company's proposed amendments were later applied to the regulation's final text, as per documents Time obtained through freedom of information requests from the European Commission.
Sarah Chander, senior policy advisor at advocacy group European Digital Rights, said OpenAI "got what they asked for" and that it only shows how tech companies "mask" their financial interests in weakening regulations by using "the argument of utility and public benefit of AI," according to Time.
While lobbying EU officials for softer AI rules, OpenAI has simultaneously been calling for governments to speed up work on regulating the tech.
OpenAI CEO Sam Altman told lawmakers in May that the company believed "regulatory intervention by governments" was critical in ensuring that risks posed by AI would be mitigated.
The issue of allowing tech leaders to be heavily involved in creating legislation for technology was opposed by former European Union lawmaker Marietje Schaake in an op-ed for the Financial Times, which was published earlier this month.
"Lawmakers must remember that businesspeople are principally concerned with profit rather than societal impacts. Policymakers must not let tech CEOs shape and control the narrative, let alone the process," she wrote.
Meanwhile, the United States remains behind the EU in AI regulation. Unlike the EU, which already saw its AI Act passed by Parliament earlier this month, the U.S. has yet to come up with similar legislation.
The White House under President Joe Biden has unveiled a "Blueprint for an AI Bill of Rights," but it only serves as "a guide for a society that protects all people" from the threats of unregulated AI.
The Biden administration has also launched research on potential accountability rules for AI systems and is seeking public input on the matter.
The EU, on the other hand, only needs to secure the approval of all bloc member nations before its AI Act becomes an official law. The EU government looks to reach an agreement with all member countries by the end of 2023.
© Copyright IBTimes 2023. All rights reserved.