Cinema Camera Maker RED Announces $1,195 Android Smartphone With Holographic Display
RED, the high-end digital camera company, has announced its very own premium Android smartphone called Hydrogen One. The upcoming smartphone features a holographic display and is now up for pre-orders for a whopping $1,195.
RED is mostly known for its high-end digital cameras, most of which are now being used for Hollywood films. "Guardians of the Galaxy Vol. 2" for example was shot with the RED Weapon 8K digital cinema camera. So it was a surprise that the company would be interested in making its own smartphone.
The RED Hydrogen One comes with a 5.7-inch hydrogen holographic display. The company says that this type of display allows users to view content in traditional 2D format at full screen resolution, as well as 3D content without having to wear 3D glasses. RED didn't specify how this technology works, but it sound pretty similar to how the 3D displays on Nintendo's 3DS systems work, as pointed out by The Verge.
READ: Nokia Renews Partnership With Zeiss Optics For Its Android Smartphones
RED also says that this display will allow users to view RED Hydrogen 4-View content, or H4V for short. The company will also have a dedicated channel where users will be able to create, upload and download H4V content for the Hydrogen One smartphone and it will be simply called RED Channel. This channel will also include games and other apps that are using the H4V format.
Although the company shared pretty much all of the capabilities of the Hydrogen One's holographic display, it still didn't give out information on the display's actual screen resolution.
"Our display is technology you haven't seen before," RED founder and CEO Jim Jannard said. "It is not lenticular, which is inferior tech in every way, has been tried many times before and failed for good reason. Lenticular display dramatically lowers resolution, cannot be turned off for standard 2D content, only works in one direction (usually landscape), has color crosstalk… to name just a few issues."
The RED Hydrogen One also comes with software that uses the company's H3O algorithm that converts stereo sound into "expansive multi-dimensional audio." The company described it as a 5.1 channel surround sound audio for headphones. This type of audio capability was added so that it could match the H4V content, but should also be great for simply listening to music.
RED actually hasn't fully revealed what the Hydrogen One will look like, but it did share a teaser image showing its back. The 3.5mm headphone jack is still present and is accompanied by what appears to be a USB Type-C port. The circular camera bump can also be seen, but what's really interesting are those metallic dots at the bottom.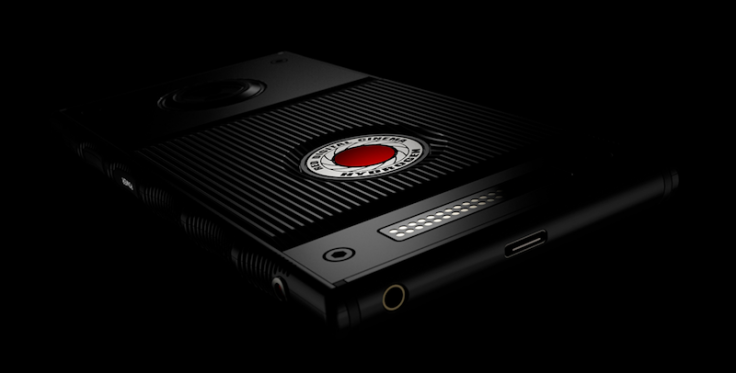 READ: Budget Android Smartphones Under $250 To Look Out For
This is what the company calls as the Hydrogen System, a new high-speed data bus for attaching accessories. It's reminiscent of the Moto Z's Moto Mods. RED did't give out details on what types of accessories will be used for the Hydrogen One, but did say that future attachments should allow users to shoot higher quality motion and still images and even holographic images.
Lastly, the Hydrogen One smartphone can also be used as a control system for users' RED cameras. Users will be able to control their cameras with the phone while also allowing it to function as a monitor. The company says that this feature is compatible with its Scarlet, EPIC and Weapon cameras.
Information on its processor, RAM, storage and battery capacity were not given. The device will run Android OS, but again, RED didn't say which version of the software will be on its smartphone.
The RED Hydrogen One doesn't have a release date, but the company says that it should start shipping during the first quarter of 2018. The Hydrogen One costs $1,195 for the aluminum version and $1,595 for the titanium version.
© Copyright IBTimes 2023. All rights reserved.