Clark Kent Quits 'The Daily Planet' Likely Starting 'Drudge Report'-Like Blog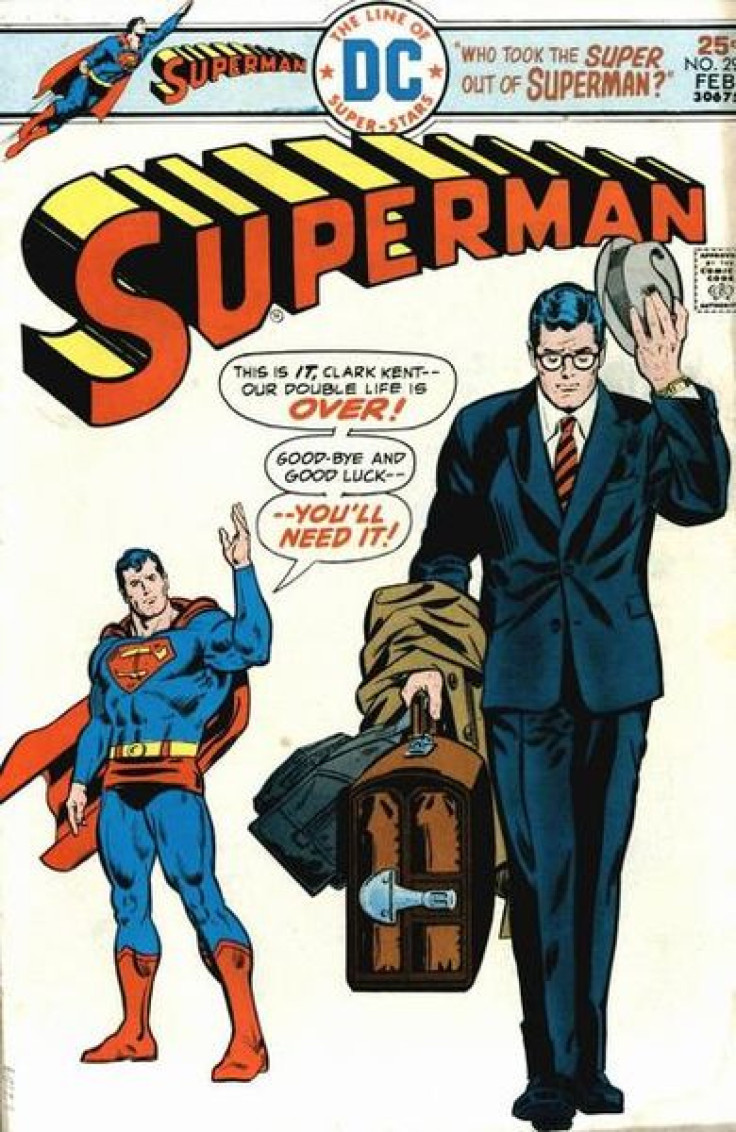 In a sign of the times, USA Today reported that fictional newspaper man Clark Kent will be quitting his job at the Daily Planet in an upcoming issue of "Superman," because he is exasperated with the current state of journalism.
Kent accepted a job at the daily in 1938, and for the most part, has worked there continuously for the past 74 years (despite the fact that he is only 27). A 1971 plotline saw Kent briefly leave his desk for a stint as a television news anchor, while had Lex Luthor buy out the newspaper and fire most of its staff. But despite the big change, Superman's journalist alter ego will most likely not be hitting the pavement or checking the classified section any time soon, said new "Superman" writer Scott Lobdell.
"I don't think he's going to be filling out an application anywhere," said Lobdell, author of September's "Superman" issue #0. "He is more likely to start the next Huffington Post or the next Drudge Report, than he is to go find someone else to get assignments or draw a paycheck from."
Lobdell also revealed that Kent will announce his departure in a call-to-arms of sorts, rallying his colleagues to stand up for a higher standard of journalism, justice "and yeah – I'm not ashamed to say it – the American way."
One of Kent's colleagues, entertainment reporter, Cat Grant, will also be leaving with Kent and joining him on his next project, where she will add "a whole other set of skills."
Lobdell also hinted that the move would help lead to a potential outlet for Kent to vent his own opinions and frustrations, which he has so far been unable to do while trying to maintain his low-profile at the Daily Planet. "This is really what happens when a 27-year-old guy is behind a desk and he has to take instruction from a larger conglomerate with concerns that aren't really his own," said Lobdell.
"Superman is arguably the most powerful person on the planet, but how long can he sit at his desk with someone breathing down his neck and treating him like the least important person in the world?" he explained. "Rather than Clark be this clownish suit that Superman puts on, we're going to really see Clark come into his own in the next few years as far as being a guy who takes to the Internet and to the airwaves and starts speaking an unvarnished truth."

But while fans seem ready for the Man of Steel to move on to the next phase in his life, Lobdell said that he was initially worried that DC Comics wouldn't go for his ideas. "I wrote a proposal for the series and I remember more than once thinking 'No way they'll let me do this -- not in a million years!' But then I'd look up at the Post-It® over my computer that says 'Scott, Go Bold Or Go Home!' and I just kept writing! For weeks after I turned it in I kept waiting for the phone call that said 'Uh, yeah. Interesting. But never in a million years, Lobdell!' Instead I got a text that said simply said 'Congratulations,'" said Lobdell.

"So strap yourselves in, people, because we're going up up upper and awayer than we've ever gone before!" he added. The newest issue of "Superman" will be available in stores and digitally on Wednesday.
© Copyright IBTimes 2023. All rights reserved.