Climate Change And Economy: Food Waste Costs Global Consumers $400B A Year While Boosting CO2 Emissions, Study Finds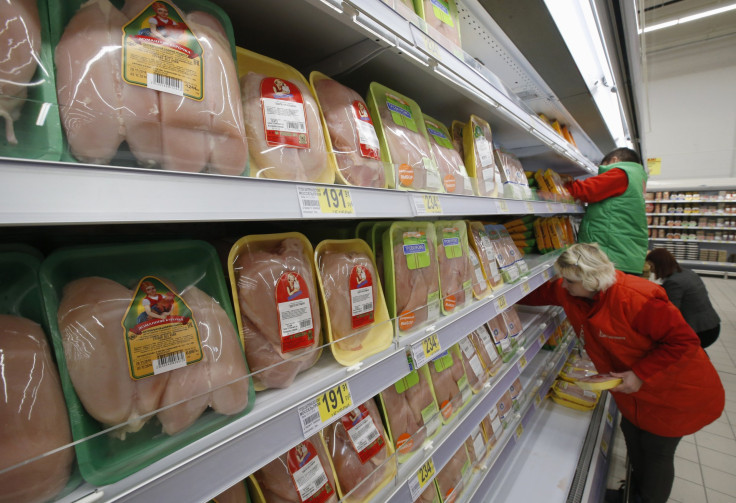 A rotten apple or cup of spoiled yogurt doesn't seem like much wasted food. But collectively, global consumers spend around $400 billion a year on produce and snacks that ultimately get trashed. All that garbage adds to landfill pollution and makes for unnecessary shipments, with food waste accounting for 7 percent of the world's annual greenhouse gas emissions, according to a report this week.
The Global Commission on the Economy and Climate, an independent initiative of countries, says it sponsored the study to help identify problems that, if addressed, would benefit both consumers and the environment.
"We looked for major areas that were both opportunities for growth and also had the potential for major emissions reductions," Helen Mountford, program director for the commission's New Climate Economy project, says. "There's real gains to be made here, in terms of economy efficiency … and climate mitigation."
About a third of all the food produced in the world ends up in the garbage, in part because consumers grab more then they need at the store but also due to poor refrigeration and trucking in some countries, which leads to food rotting on the shelves or in transit.
Cutting food waste levels in half would save the world up to $300 billion by 2030, the report found. At the same time, emissions would fall by up to 1 billion metric tons of carbon dioxide emissions per year -- equal to roughly one-seventh of all U.S. greenhouse gas emissions. In the United States alone, an average family could save around $1,600 a year by eating leftovers and shopping smartly, Mountford says.
For consumers, a large part of the problem is that people don't even realizing they're wasting food, says Richard Swannell, director of sustainable food systems at WRAP, the British organization that authored the report released late Wednesday. "It's the waste we forget we make. It's the hidden waste," he says.
WRAP works with U.K. government officials and residents to calculate the levels of food waste and develop programs to reduce it. The group recently surveyed British households and found that 90 percent of people didn't believe they were wasting food -- despite the fact that households threw out about 7 million metric tons of uneaten edibles in 2012, Swannell says.
He says consumers often tossed out perfectly good products because they were confused by time stamps on the packages. Families regularly cooked more food than they needed but didn't use the leftovers in next-day meals. They also didn't know handy tricks for preserving produce, such as storing bags of apples in the fridge instead of on the countertop.
In homes, food waste "tends to be relatively small amounts on a regular basis," Swannell says. "You don't realize how much you're using."
The group also tracked food waste from U.K. manufacturers, supermarkets, catering companies and hospitals, which together sent an additional 8.2 million tons of food to the garbage heap or composting facilities in 2012. Most of this waste could have been avoided through better packaging and storage techniques, smarter planning at events and in cafeterias and improved inventory systems, Swannell says.
Still, the U.K.'s food waste figures are a stark improvement from previous levels. Working with the government, WRAP launched a series of awareness efforts and educational campaigns in recent years. As a result, household food waste dropped by 15 percent from 2007 to 2012, saving the average family about $210 a year and avoiding 4.4 million metric tons of greenhouse gas emissions -- the equivalent of taking 1.8 million cars off the road, according to WRAP.
This week's global food waste study is aimed at inspiring similar programs and data-tracking efforts in countries worldwide. But Swannell says the nature of the problem is vastly different between developed and developing countries.
In poorer nations, more food is wasted in the supply chain than in homes. Some countries might lack proper storage facilities or refrigerated trucks to keep food fresh as it moves from farm to table. Vendors and grocery stores also often lack the infrastructure to preserve produce and meats for longer. Households, by contrast, waste relatively little food.
Wealthier countries have the opposite challenge: Households throw away the bulk of wasted food, since supply chains are generally efficient and stores usually have properly cool and dry spaces for meats and vegetables.
Emerging economies such as Brazil, China, India, Mexico and Indonesia are somewhere in the middle, Swannell says. Food distribution networks are steadily improving, but consumers are tossing more eats in the trash.
Mountford says the Global Commission-backed report is part of a broader effort by climate and economy experts and government leaders to develop a uniform approach to tackling food waste. The New Climate Economy and other groups are working on a protocol for calculating food and economic losses and creating best practices, she says.
"Everyone is fairly new to this, so we're trying to measure and understand what's preventable out of that [food waste]. How do we tackle that?" Mountford says. "We're very much at a stage of trying to learn from each other and move forward."
© Copyright IBTimes 2022. All rights reserved.
FOLLOW MORE IBT NEWS ON THE BELOW CHANNELS