Complete Crypto Ban Comes With Practical Challenges, Says IMF Chief Economist
KEY POINTS
Cryptos need regulation like other investment classes: Gita Gopinath
Says cryptos more attractive to emerging markets
India is set to introduce tough regulations on cryptos
It is not possible to completely ban cryptocurrencies in any nation because of their widespread growth and multiple economic factors, the International Monetary Fund's (IMF) chief economist, Gita Gopinath, said Wednesday.
A complete ban on cryptocurrencies is not possible because of their decentralized nature, the Business Standard reported her as saying. The statement comes at a time when India is aiming to bring tough regulations over cryptos.
Gopinath stressed that imposing regulations on the crypto sector is very important. "If people are using this as an investment asset, then the rules which are there for other investment classes should apply here as well," she said.
Cryptocurrencies work as a mode of payment and as an asset class as well. However, the Indian Crypto Bill is reported to only accept crypto as an asset class and India's market watchdog SEBI (Securities and Exchange Bank of India) will be asked to regulate crypto as an asset class.
India's cryptocurreny bill will be delayed by a number of weeks, some reports said. The government initially reported to have planned to bring the bill before Parliament this month. The reports said it is unlikely that the bill will be up for a discussion before January.
Gopinath, who spoke at an event organised by National Council of Applied Economic Research (NCAER), spoke of the popularity and increased adoption of cryptocurrencies in the emerging marktes like India. "It would seem that cryptocurrencies are more attractive for emerging markets compared to developed economies," she said.
"However, emerging markets have exchange rate controls, capital flow controls, and cryptocurrencies can impact that," Gopinath said. She is set to become the first deputy managing director of the IMF early next year.
The chief economist also talked about rising inflation and said that it is necessary for India to maintain an "accommodating fiscal policy for a few quarters, and afterwards unwind, gradually."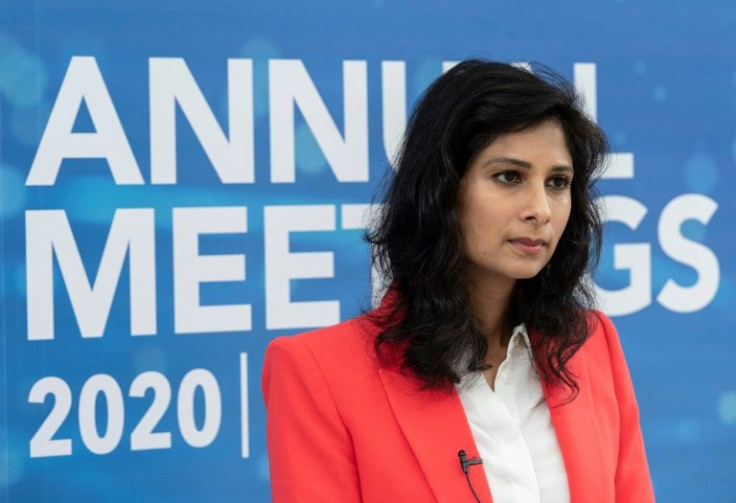 © Copyright IBTimes 2023. All rights reserved.