Coney Island Ferry Crashes In NYC After Hitting Sandbar [Video, Photos]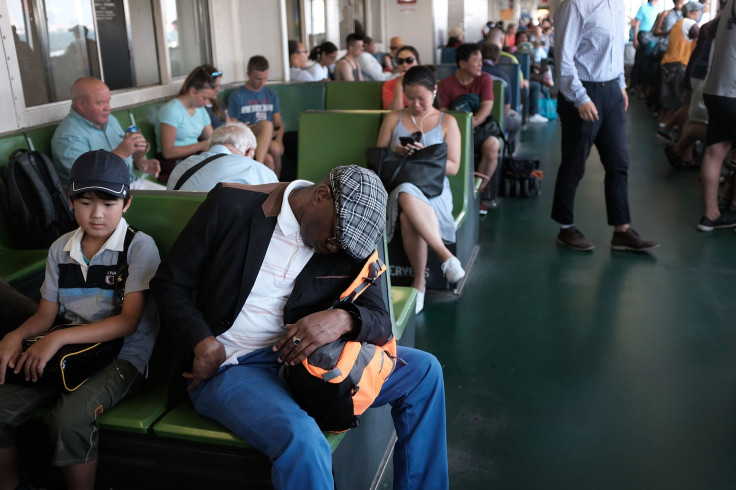 UPDATE: 10:45 p.m. EST — All 27 passengers on board the NYC Ferry that crashed into a sandbar in Coney Island were evacuated safely by NYPD and FDNY. No injuries were reported and the stranded vessel is expected to removed overnight by a tow service.
An NYC Ferry boat carrying more than two dozen passengers ran aground on a sandbar off the Rockaways in Coney Island Channel on Wednesday evening, in what was the second incident in just a month for the new service. The boat was stranded for hours in sub-freezing temperatures as the water was too shallow for a rescue, the Coast Guard said.
"We're waiting for either the tide to come up or the NYPD to come with its shallow draft boat," a Coast Guard spokeswoman said.
The ferry, which departed from the Rockaway Park terminal at 5:15 p.m. EST en route to Wall Street's Pier 11, was said to have hit the sandbar after 6 p.m. EST near Rockaway Point Boulevard and Beach 201st Street.
There were 27 people on board, and no injuries were reported after the incident, Skye Ostreicher, a spokeswoman for ferry operator Hornblower said.
The ferry also did not sustain any apparent damage and was not taking on any water, a Fire Department of New York (FDNY) spokesman said.
However, the heat on the boat was turned off a while before 8 p.m. EST, a passenger named Jake Nicholson told the New York Post via a phone call.
Nicholson was riding on the ferry with his friends to a Rangers game when he felt a jolt after the vessel passed the edge of Breezy Point.
"The boat stopped on a dime, you can clearly tell we hit something," he told the New York Daily News.
"I almost went over one of the rows, that's how quickly he stopped," he added.
This incident marked the second stranding in exactly a month for the new NYC Ferry service, which was launched May 1 and was operated by Hornblower.
Officials initially planned against evacuating the stranded vessel, however the decision changed sometime before 7:30 p.m. EST, and they had been preparing to bring all the passengers to the NYC Ferry terminal at 108th Street and Beach Channel Drive, the FDNY said, according to the New York Post.
An FDNY Medical Emergency Response Vehicle, five fire trucks, four ambulances, and dozens of emergency workers were stationed at the NYC Ferry terminal as they awaited the arrival of the passengers.
As of 8:50 p.m. EST, six among the 27 passengers on board were taken off, including a child, according to CBS New York.
© Copyright IBTimes 2023. All rights reserved.